Suella Braverman QC MP's appointment as the government's chief legal adviser will not cause 'endless pyrotechnics' in the legal system, the lord chief justice said yesterday, instead expressing hopes for a 'period of calm reflection' on constitutional arrangements such as the scope of judicial review.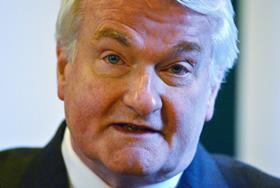 Speaking at the swearing-in of Braverman as attorney general for England and Wales, Lord Burnett of Maldon claimed commentators 'enjoy speaking of conflict' when discussing the constitutional commission promised in the Conservatives' election manifesto.
He said: 'There would be little mileage in stories suggesting that a period of calm reflection on various aspects of the constitutional arrangements in the United Kingdom is called for, of which the impact of the Human Rights Act and developments in judicial review are but one part. But that, I trust, is what we might see. Many will play their part in that but I fear collectively we will disappoint if what commentators are expecting is a display of endless pyrotechnics.'
He added that the UK is 'currently on a journey' and the new attorney general will 'have a part to play in many aspects of our nation's life'.
The lord chief justice's remarks will be interpreted as a peace offering amid speculation that Braverman will be at the forefront of attempts to curb judicial power. Braverman has written in the past of the 'chronic and steady encroachment' of judges into the political sphere.
In an article for Conservative Home, the former Brexit minister wrote: 'Restoring sovereignty to parliament after Brexit is one of the greatest prizes that awaits us. But not just from the EU. As we start this new chapter of our democratic story, our parliament must retrieve power ceded to another place - the courts. For too long, the Diceyan notion of parliamentary supremacy has come under threat. The political has been captured by the legal. Decisions of an executive, legislative and democratic nature have been assumed by our courts. Prorogation and the triggering of Article 50 were merely the latest examples of a chronic and steady encroachment by the judges.'
Braverman has also criticised the Human Rights Act, claiming 'strained interpretations of the Article 8 right to private and family life have meant that inherently political decisions to do with immigration and extradition have been overturned by the courts'.