Former Quindell boss Rob Terry is seeking to sue its successor company for £14.7m, it was confirmed this week. Watchstone Group plc told the London Stock Exchange it has received an application from Terry seeking permission to bring a counterclaim over the sale and purchase of shares in the company.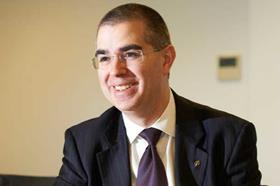 Watchstone has ongoing High Court proceedings for breach of a share purchase agreement and says Terry's counterclaim is considered to be 'without merit and lacking in credibility'.
Terry's claim is said to be for negligent misrepresentation from an oral tax indemnity agreement that he alleges was granted to him by Watchstone in 2011. Terry, who was executive chairman of Quindell, alleges that in 2013 the company made false representations that it would not challenge the validity of the oral indemnity and would not seek to recover any amount paid under this agreement.
Terry now says that, relying on these alleged representations, he did not seek to sell 22.59% of his then shareholding for three months and thereby suffered a loss of around £14.7m, based on the price he eventually sold his shares between November 2014 and January 2015.
Watchstone says its solicitors have written to Terry's representatives to 'identify deficiencies' in the proposed counterclaim: if the action is maintained, either in its current form or otherwise, the company will 'defend it vigorously'.
Terry and other connected parties have already claimed £1m in respect of further capital gains tax liabilities. The High Court has ruled Watchstone cannot challenge the claim on the issue of the oral indemnity agreement, with an appeal against that ruling listed to be heard in November 2019. If the appeal is allowed, Watchstone would be entitled to repayment of the sums paid under the oral agreement, said to be more than £4m. The Watchstone claim is therefore contingent on the outcome the November appeal.
Watchstone is expected to face a trial in October defending a £637m claim from national firm Slater and Gordon, which bought Quindell's professional services division for that sum in 2015. The firm alleges a breach of warranty and/or fraudulent misrepresentation. Watchstone has said it is determined to 'robustly' defend the action.