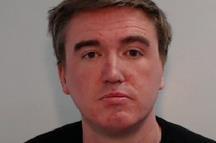 A conveyancing solicitor who fixed property deals for mortgage fraudsters has been jailed for seven years.
Ross McKay, 39, was sentenced at Manchester Crown Court last week after being found guilty of three offences of money laundering.
McKay provided conveyancing services to a criminal gang in order to launder money made from drug-dealing, tax evasion, and mortgage and property fraud, the court heard.
Deposits were put down on houses where the true, illegal source of the funds was disguised from the lenders; mortgage applications used nominees instead of the names of the legitimate purchasers; and claims about income were wildly exaggerated to secure loans.
McKay was responsible for more than 80 property transactions for various criminals, all of whom were subsequently convicted of offences including money laundering and fraud.
Police said McKay, from Handforth in Cheshire, was the gang's 'go to' solicitor as they knew he would carry out property transactions without asking questions about the nature of their business, the sources of the deposits or the connections between parties in the transactions.
Senior financial investigator Adrian Ladkin, of Greater Manchester Police's economic crime unit, said: 'McKay was fully aware that the purpose of the transactions was to launder criminal proceeds and he was deliberately dishonest in facilitating them. As a solicitor, McKay was in a position of trust, but he spectacularly failed in his legal duties through his corrupt and unlawful actions.'
McKay's involvement was uncovered through Operation Isidor, an investigation run by the economic crime unit into the activities of criminal gang members.
In sentencing, it has been reported that Judge Timothy Smith told McKay he was expected to act with the 'utmost integrity and honesty' in his role as a solicitor.
'In trial you portrayed yourself as being an average solicitor, one that helped to support your family but any outward show of professionalism was a charade,' said the judge. 'You allowed criminal property to be obtained and assisted these people in organised crime.'
Last month, confiscation orders were obtained against defendants, including one who was ordered to pay £3.5m – the largest proceeds of crime case ever undertaken by Greater Manchester Police.
McKay, admitted in 2004, is still listed on the roll as a non-practising solicitor. He will now be referred to the Solicitors Regulation Authority.