The relative poverty of the justice ministry has been highlighted in parliament as Conservative MPs suggest budget decisions may need to be reconsidered. Bob Neill, chair of the House of Commons justice committee, led a debate in the chamber yesterday to examine the options open to the Ministry of Justice.
Neill pointed out that the MoJ ranks 12th in terms of spending by government departments and its budget allocation amounts to around 1% of total public spending across the UK.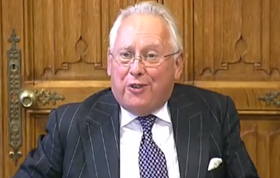 Despite this, he said resources have been reduced considerably, with department spending down 29% in real terms from 2010/11 to 2016/17. The time was right, Neill said, for all parties to highlight such spending restraints and argue for greater investment in prisons and probation, courts and legal aid.
'Over the years, many [justice ministers] have been friends and they work really hard to deal with a difficult situation, but parliament needs to take a look at whether we give adequate resource to the task required of them,' said Neill. 'Ultimately, justice is not a transaction; it is something that underpins the way in which we live our lives and the way in which we treat each another in a civilised society. Perhaps it should be measured more by its impact than purely in monetary terms.'
His committee colleague Alex Chalk, also a Conservative and a barrister, pointed out that the Department for Work and Pensions spends the equivalent of the entire Ministry of Justice budget in about 10 days.
While justice issues may not grab the public's attention in the same way as other areas of spending, this was not a reason to neglect them, he said. 'I do not for a second doubt the government's sincerity when they say they want to prioritise the rule of law and access to justice, but that is none the less a startling suite of statistics. It is important that although this area does not necessarily have support within the media, it has its champions here in parliament.'
Last November, chancellor Philip Hammond reiterated that the MoJ would have to make £600m in savings by the end of the decade. In budget documents, the Treasury committed to reduce the department's spending from £6.6bn in 2017/18 to £6bn by 2019/20.
Newspaper reports last month suggested that Hammond has warned the cabinet that 'no more money' is available once an extra £25bn has been found for the NHS, as promised by the prime minister.