The lord chief justice has made clear that the courts system will never again operate as it did before the coronavirus pandemic struck.
Lord Burnett of Maldon told peers that judges and practitioners had found the use of remote hearings just as successful and often more convenient in many types of case. This has been facilitated by a 'quite remarkable' transformation which has kept the court system in England and Wales open where others in the world have been closed.
In a virtual appearance before the House of Lords constitution committee today, Lord Burnett acknowledged problems with litigants in person accessing technology, but said that 80% of civil and family hearings have been able to proceed in some form since lockdown began. He also revealed the Cloud Video Platform – used sparingly so far in some criminal cases and certain tribunals – will be rolled out to all civil and family courts in the next two weeks.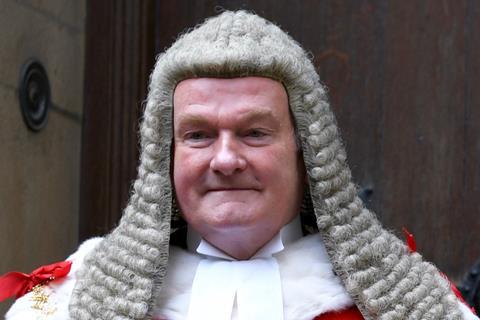 'Over the last two months we have had to move forward otherwise the system would have collapsed,' Lord Burnett told peers. 'I sense from practitioners but also from judges there will be increased demand for [remote technology].'
He added: 'There will be no going back to where we were. We had to deal with this from the second week of March onwards, and there will be no going back to February 2020 in the courts – of that I am confident. It seems to me that we have, by necessity, taken three steps forward and done so using poor technology. We will probably take step back [once the pandemic ends].'
Lord Burnett said the rapid changes in how courts operate had highlighted the under-investment in the system for years prior to the lockdown. That has changed in recent years with money spent on modernisation, but there have been question marks about whether further funds will be allocated to complete the programme.
He added: 'I wish to make it absolutely clear that what has happened in the last couple of months demonstrates how vital it is that the investment continues. When, as we all hope, the time will come that things are capable of returning to something approaching normal, we won't be back at exactly the same position of having to argue for every penny.'
On criminal justice, Lord Burnett acknowledged that if severe constraints on social interaction stay in place for 'more than a handful of months', then imaginative thinking would be needed to address a resulting backlog of cases.
But asked specifically about juries not sitting, he made clear this would have to be a last resort.
'I would see it only as an option in extremis,' said Burnett. 'I would hope parliament would take a deep breath before authorising judge-only trials even temporarily.'
*The Law Society is keeping the coronavirus situation under review and monitoring the advice it receives from the Foreign & Commonwealth Office and Public Health England.