Manchester family specialist Hall Brown has pledged £12,500 a year for three years to safeguard the future of a pioneering substance-abuse problem-solving court scheme, as momentum builds to save a support hub from closure.
Family drug and alcohol courts aim to tackle parental substance misuse when it is behind local authority decisions to bring care proceedings. They were pioneered in London by district judge Nicholas Crichton in 2008. There are now 10 specialist teams working in 15 courts covering 23 local authorities.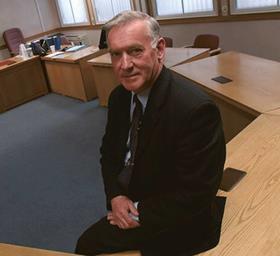 Last month, Sir James Munby, president of the family division, revealed that the FDAC National Support Unit, which was set up only three years ago, would close in September due to a lack of government support.
The unit was set up three years ago and costs £250,000 a year to run.
Hall Brown, whose managing James Brown and senior partner Sam Hall, met Crichton to discuss saving the unit, has urged other family firms to donate similar amounts.
Crichton told the Gazette that he has received several angry and distressed responses from FDAC judges and public law lawyers. 'There is no doubt that they all feel that the more humane and less adversarial approach of FDAC is not only fairer to parents (and of course to children) than "normal" care proceedings. Fairness is, of course, what court proceedings should be about,' he said.
District judge Michael Batey, lead judge for Kent & Medway FDAC, said he was sad to hear about the unit's closure.
Speaking in a personal capacity, Batey said: 'The National Unit is doing a great job in supporting and promoting FDAC local units and its closure is likely to bring an end to more local FDACs being set up, as well as jeopardise existing ones which will be starved of the support, resources and oversight that the National Unit provides.'
Steve Bambrough, FDAC National Unit director, said the 'outpouring of support' from judges, partnership organisations, and former and current parent graduates of FDAC 'has been a source of great pride during this difficult time'.
He added: 'We hope the possible closure of the FDAC National Unit, the central hub established to roll out new FDACs and to support, train, quality assure and promote local FDACs, will not jeopardise the continuing viability of existing FDACs and the important work teams do to support some of the most vulnerable and marginalised parents and children in our society.'