Justice minister Dr Phillip Lee MP quit the government today to allow him to campaign for MPs to be allowed a vote on the EU withdrawal deal. In a surprise postscript to a speech on human rights he urged the government to amend the legislation so 'we are not stuck with a bad deal or no deal'.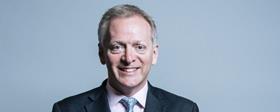 'It is hard to be part of a government that would countenance such a breach of fundamental principles,' he told a conference 'Fighting for Freedom' organised by Conservative thinktank Bright Blue.
Depriving parliament of a vote on the withdrawal deal 'would be something we would rightly criticised if it happened elsewhere,' Lee said.
Lee, a medical doctor by profession, was appointed minister of state at the Ministry of Justice in 2016.
Earlier in his address he had spoken out strongly in favour of the UK remaining in the European Convention of Human Rights and under the Human Rights Act. He also revealed that a strategy for women offenders would be published soon, and would include measures such as replacing women's prisons with a 'better form of detention'.
Lee, MP for Bracknell, placed the commitment to human rights firmly in the tradition of reformers such as Burke, Walpole and Disraeli, drawing parallels with the fight for the abolition of slavery and child labour. 'Taking those positions was not the free market choice or the profitable choice, but it was the right thing to do, the Conservative thing to do,' he said.
In a statement, Lee said: 'I will miss the Ministry of Justice and the enormous privilege of guiding our government's work to turn around the lives of vulnerable young offenders and female offenders; to mobilise the remarkable power of sport to transform lives and cut crime; and to improve how we deal with offenders' health and mental health which drives so much human behaviour.
'I have had the privilege to work with inspiring, dedicated people; to be touched by the appalling stories that some of those caught up in our criminal justice system have shared with me – both victims and offenders; and in a small way to bring some influence to bear to help make our society more just and more secure.'