Legal aid should be extended to cover work done for victims of the Windrush immigration scandal seeking compensation, a cross-party group of MPs has recommended.
The House of Commons home affairs select committee heard evidence from law firms who spent as much as 103 hours helping Windrush Compensation Scheme claimants with their applications. The committee's recommendations are outlined in a report published today.
In written evidence to the committee's inquiry, law firms highlighted the complexity of the scheme. Leigh Day spent an average of 45 hours per client – based on a range between 32 and 103 hours - preparing claims. To evidence two clients' loss of earnings claims, Hudgells Solicitors had to obtain complete tax and national insurance records, and prepare a detailed statement explaining the loss and how it arose.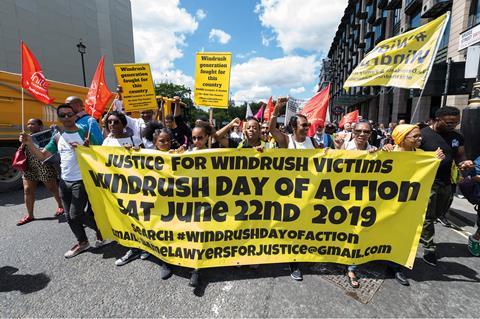 The National Audit Office found that, on average, it takes 154 hours to process a case through to payment approval, considerably longer than the Home Office's original estimate of 30 staff hours.
The committee said the limited help provided by the claimant assistance service funded by the Home Office was insufficient to 'obviate' the need for specialist legal advice.
The committee told the Home Office to consider extending legal aid to cover work done under the compensation scheme and waive the means test for this work; establish an approved panel of law firms, with a funding scheme to pay for their services; agree a tariff payment for legal costs to be reimbursed to claimants; and establish a dedicated fund for free legal assistance.
A Home Office spokesperson said: 'The home secretary overhauled the scheme in December to ensure more money is paid more quickly – since then the amount of compensation paid has risen from less than £3m to over £31.6m, with a further £5.6m having been offered. There is no cap on the amount of compensation we will pay out.
'We are pleased this report welcomes the changes made to the scheme in December and we continue to make improvements, such as simplifying the application process, hiring more caseworkers and removing the end date. We firmly believe that moving the operation of the scheme out of the Home Office would risk significantly delaying vital payments to those affected.'