A pressure group today highlights ways in which the current fee structure for criminal legal aid has created 'perverse incentives' that may be preventing clients from receiving the best possible defence.
Transform Justice's latest report - Zealous advocate or cog in a machine? Criminal defence in an age of austerity - will be required reading for the Ministry of Justice, which is currently reviewing fee structures and says it wants to limit perverse incentives.
Lawyers told the authors of the report, Penelope Gibbs and Fionnuala Ratcliffe, that the fixed police station fee, which ranges from £131.40 for each police station attendance in Hartlepool to £274.66 in Heathrow, is too low and too fixed. The report says the fixed fee creates a financial incentive for the most experienced lawyers to do the least complex cases because they tend to be the quickest.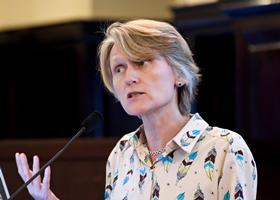 Lawyers get paid no more to deal with a serious assault trial in the youth court than they do for a theft trial in the magistrates' court. The report says there is a perverse incentive for under-18s to be represented by less experienced advocates for very serious cases, when they need the most experienced lawyers.
In an afterword to the report, Jon Black, president of the London Criminal Courts Solicitors' Association, says the current criminal legal aid contract is becoming infeasible for firms who pride themselves on high-quality provision, 'leading to the rise of the Ministry of Justice's own Frankenstein's monster - firms which put profit before those they represent'.
Today's report paints a detailed picture of the criminal defence landscape based on reviews of research, guidance and documents relating to the quality of criminal defence services, interviews with seven criminal defence lawyers, an online survey of 56 magistrates, three focus groups with 21 people who have used criminal defence lawyers, and roundtable discussions with 17 practitioners, academics and user-group representatives.
The report concludes that a 'perfect storm' is undermining the quality of legal advice and advocacy. 'Remuneration for legally aided lawyers has been cut over the years, leading to good lawyers leaving criminal work, to a fall in morale and to a lack of trust between lawyers and the government. The way fees are paid disincentivises lawyers from giving the best advice, spending the requisite time, and from doing some kinds of work. The old model whereby higher and lower fees would "even out" no longer works when all fees are too low.'
Recommendations include improving defendants' ability to feedback easily and confidentially about firms and individuals, and promoting a positive image of the duty solicitor, dispelling the misconception that they work for the government.
The report also recommends expanding not-for-profit defence companies and operation of freelance practitioners, reforming the audit process so that small firms are not overburdened, and encouraging practitioners to adopt interventions deployed in other sectors to improve performance.