Judicial diversity figures released today show a fall in the number of court judges from a solicitor background.
As of 1 April 2018, just 34% of court judges were from a 'non-barrister' background, virtually all of whom were solicitors. This was a 3% drop since 2014.
In the upper echelons of the judiciary, solicitors comprised 3% of Court of Appeal judges, 2% of High Court judges, 13% of circuit judges and 6% of recorders. The lowest courts are heavily populated by solicitors, who make up 74% of district judges and 70% of deputy district judges in the County Courts.
In the tribunal system, solicitors make up two-thirds of tribunal judges, and representation in the higher positions is more evenly split between solicitors and barristers. Some 58% of tribunal presidents, vice and deputy presidents were from a solicitor background; as were 45% of upper tribunal judges, and 54% of deputy upper tribunal judges.
In terms of gender balance, the number of women judges in the courts has risen since 2014, but is still only 29%. Nearly one quarter of High Court judges were female, along with 26% of deputy High Court judges. The largest concentration of women was at district judge level, with 39%.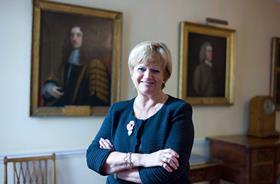 Women are more strongly represented in the tribunal system, comprising 46% of tribunal judges overall, with a third of those in the most senior roles.
The figures showed significant regional variations in the number of women judges, however. While the south-east had the highest percentage of women judges, at 39%, the south-west had the lowest, with just 21% of court judges being women.
The statistics for ethnicity show that black and minority ethnic representation among court judges aged 40 or over, which accounts for 98% of judges, was only slightly below that of the general population in each age band. BAME representation among tribunal judges was higher than that of the general population at all working age bands from 40 and over.
Lord chief justice Lord Burnett of Maldon said he was 'encouraged' to see a rise in the number of women judges, but added that 'there is still progress to be made'.
Last April the Judicial Diversity Committee chaired by Lady Justice Hallett set out a number of steps to be taken over the next 12 months. These include working with The Law Society to ensure the judiciary is doing all it can to reach 'the broadest range of talent', and developing strategies to enable career development and progression of under-represented groups within the judiciary.