A question mark has been raised over the future of the government's regional divorce centres, which have been widely criticised for delays and inefficiencies.
Sir Andrew McFarlane, president of the Family Division, said last week that the 11 centres 'are being phased out during the current 12-month period and replaced by an online system based in the new national Civil and Family Service Centre at Stoke on Trent'.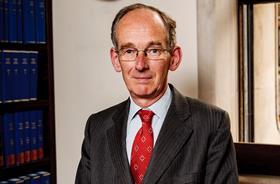 A government spokesperson told the Gazette that jobs will be lost as work is moved to new service centres being opened as part of the £1bn courts reform programme – but that no final decision has been made on the divorce centres. The Ministry of Justice expects the total of full-time equivalent courts staff to fall from 16,000 to 11,300 by the end of the programme.
Family law group Resolution urged the retention of experienced staff. Vice-chair Juliet Harvey said: 'It is hoped that longstanding members of court staff with an understanding of the process will be redeployed within the courts and tribunal service. Staff will still be required at local courts to deal with administrative issues and processing paper-based work.'
The Public and Commercial Services (PCS) union, which has 11,000 members in the MoJ, said it recently entered into a dispute over HMCTS's failure to consult staff about the movement of work into new service centres in Birmingham and Stoke-on-Trent.
In evidence to the Commons Justice Select Committee's inquiry into the courts and tribunal reforms, PCS said: 'Our concerns included HMCTS management advertising for roles without the necessary redundancy avoidance measures having been agreed, and staff being required to make a decision on their future before they were clear on all the options available to them.'
Earlier this year, McFarlane told Resolution's conference that the 11 divorce centres 'have not worked well'. Days later his predecessor, Sir James Munby, said in a family court judgment that the centres had become 'bywords for delay and inefficiency, essentially because HMCTS has been unable or unwilling to furnish them with adequate numbers of staff and judges'.