A revised UK corporate governance code should make specific reference to the general counsel, senior in-house lawyers will tell the financial reporting watchdog.
The Financial Reporting Council, which sets accounting, audit and actuarial standards, is currently consulting on revising the code to improve its effectiveness in promoting good corporate governance.
However lawyers are shocked that the revised code fails to mention the crucial role that GCs and in-house legal teams play in decision making, risk management and corporate culture.
A consultation response signed by dozens of in-house lawyers says: 'The most significant observation underpinning our response is that the general counsel (or chief legal officer) of any company has fundamental professional duties that align with and reinforce the corporate governance objectives of the FRC and the code. This is backed by our collective experience and academic research demonstrating the efficacy of in-house lawyers in risk mitigation.
'Given that fact, we find it extraordinary for there to be no specific reference within the code or its supporting guidance to the role of the general counsel. This is all the more important given that in some organisations there is weakness in governance from the general counsel reporting to individuals who themselves do not sit on the board and who may have operationally conflicting priorities. In this respect, we maintain that the FRC's intentions through issuing the code are actually undermined and can be remedied as a priority through this consultation process.'
Suggestions include amending the code to require all directors to have access to the GC, who would have the right to attend all board and committee meetings. 'If this is not the case, a company would need to explain why not, given the "comply or explain" regime of the code,' the letter says.
More than 30 people have signed the response, which was posted on LinkedIn by lawyer and strategic adviser Jenifer Swallow (pictured).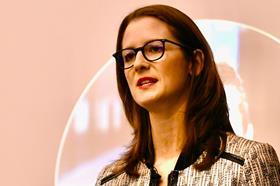 Swallow described the consultation as a 'critical opportunity to address a historic omission: failure to formalise in regulation the role of general counsel and in-house legal departments in decision making, risk management and corporate culture'.
The consultation closes on 13 September.