The Overseas Operations Bill returns to the Lords this week after MPs rejected a number of amendments voted for by peers in a row that led to the departure of a defence minister.
Before the Commons vote last week, the government announced it would exclude Northern Ireland veterans from a new five-year limit on criminal prosecutions and exclude torture, genocide and crimes against humanity from the new rules. Defence minister Johnny Mercer MP left his post in response, saying 'no discernible efforts' had been made to protect Northern Ireland veterans.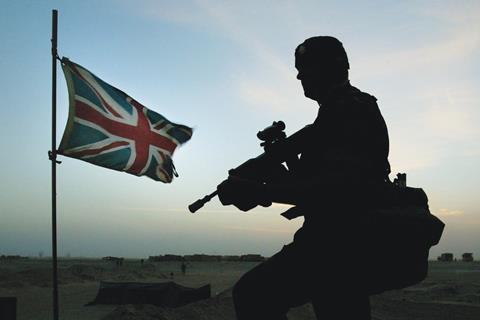 Leo Docherty, Mercer's replacement, said the presumption against prosecution does not prevent investigations or prosecutions for any category of crimes, but creates a higher threshold. He denied that expanding the list of excluded offences makes UK service personnel more likely to face prosecution by the International Criminal Court.
Attempts to halt the proposed six-year limitation period for veterans bringing personal injury claims against the MoD were defeated. Docherty said just 6% of claims would be affected, and that personnel would continue to have access to the armed forces compensation scheme.
Hilary Meredith, chair of Hilary Meredith Solicitors and Visiting Professor of Law and Veterans' Affairs at the University of Chester, said the six-year longstop gives the MoD the power to 'manipulate the claims process and deny British troops justice' in valid civil claims.
'It is deeply flawed and will significantly disadvantage those who have served abroad,' she added.
'It is totally unacceptable for the government to deny those who put their lives on the line for our country overseas the same employer liability rights as the UK civilians they defend. It is also a breach of the Armed Forces Covenant. The contradiction here is as clear as day.'