A civil service union has added its voice to court safety concerns as HM Courts & Tribunals Service continues to reopen more buildings.
Criminal practitioners have been chasing HMCTS for risk assessments for their local courts to help them decide whether or not it is safe to attend court. The FDA, formerly known as the Association of First Division Civil Servants, has now written to HMCTS chief executive Susan Acland-Hood demanding its members, which include prosecutors and managers, be allowed to conduct their own risk assessments.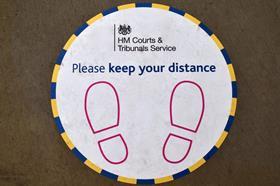 FDA national officer Steven Littlewood says: 'We have received disturbing reports of HMCTS being unable or unwilling to share health and safety risk assessments at courts. We have also been informed that HMCTS is not allowing CPS staff, including trade union representatives, to conduct their own independent risk assessments of court buildings prior to them reopening.
'Our members are dedicated to ensuring that justice continues to function but this must not come at the cost of their own safety. It is imperative that they are provided with all risk assessments carried out by HMCTS and that CPS personnel are allowed to conduct their own risk assessments to guarantee the safety of staff.'
HMCTS reopened 16 more courts last week. Criminal defence solicitors have since been told that Crewe Magistrates' Court will reopen for criminal work tomorrow.
A spokesperson for HMCTS said: 'It's essential court users are satisfied that their workplace is safe and that's why, once completed, our risk assessments are available to anyone who requests them.
'It is our legal duty to assess the safety of the whole building, making sure we comply with the latest public health guidance. Our staff objectively evaluate every court, but that does not prevent other people or organisations making their own assessments about the areas in which they work.'
HMCTS said local risk assessments are available on request and released once they are quality assured. As of 15 June, 172 out of 186 completed assessments of open courts are available to share. HMCTS says it has a statutory duty to ensure health and safety in its buildings, not the CPS or its union. Completed assessments are shared with the CPS. CPS staff can perform risk assessments in their own room of a court building.
Criminal defence practitioners have asked that risk assessments be published more widely.
Michael Gray, managing director of Chester firm Gray & Co Solicitors, was fuming that he had to chase HMCTS for a risk assessment for Warrington Magistrates' Court. He finally received the document last Tuesday. After reviewing it, he remains concerned about safety and will continue not to send out his staff.
*The Law Society is keeping the coronavirus situation under review and monitoring the advice it receives from the Foreign & Commonwealth Office and Public Health England.