A judge raised concerns about the risk posed by unrepresented litigants in 'heated' proceedings, the Supreme Court heard today in a case that will clarify whistleblowing rights for judges.
District judge Claire Gilham is appealing against a 2017 Court of Appeal decision that judges are not workers and are therefore not afforded the same legal protections as whistleblowers. Today, the Supreme Court heard that the 'offer' letter made to Gilham for her district judge appointment, and the terms and conditions associated with the post, had 'all the characteristics of an employment relationship'.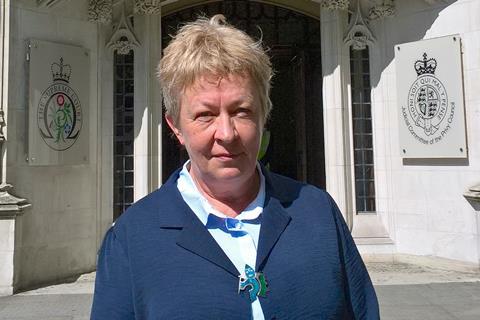 For Gilham, Karon Monaghan QC, of Matrix Chambers, told the court that there were no internal arrangements permitting Gilham to make a whisteblowing claim and secure protection in respect to it. Gilham's claims concerned cuts to the court service, excessive workloads and a lack of court accommodation.
Monaghan told the court that an investigation by Lord Justice Tomlinson at the time 'made clear that the grievance procedure, the only means by which the appellant could make a complaint, was not a suitable route or tool for investigating the matter. Lord Justice Tomlinson did pick up on the safety issues - the risk posed to judges by the absence of safe rooms...
'There's no internal mechanism for whistleblowing however serious the allegation, in this case the risk posed by unrepresented litigants sometimes in heated litigation, for example family disputes, in rooms unsuitable for protecting the safety of judges.'
Monaghan added: 'It will be my submission that the ability to whistle blow is a fundamental importance in maintaining the independence of the judiciary. It is not in conflict - quite the reverse.'
Before the hearing, Gilham read a statement outside the court. She said: 'I am pleased that after six long years, this important case on whistleblowing rights is finally being heard today. Judicial independence is important and the right to report shortcomings and blow the whistle is a safeguard to protect it.
'Whisteblowers everywhere will welcome clarity on how their status as a judge, office holder or any person working other than under a contract limits their rights and protection from unfair treatment. We look forward to receiving the Supreme Court's judgment in due course.'
Hearing the two-day case are Lady Hale, president of the Supreme Court, Lady Arden, Lord Kerr, Lord Carnwath and Sir Declan Morgan.
Karon Monaghan QC, of Matrix Chambers, instructed by national firm Irwin Mitchell, is appearing for Gilham. Ben Collins QC and Robert Moretto, of Old Square Chambers, are appearing for the Ministry of Justice. Daniel Stilitz QC, of 11 KBW, and Christopher Milsom, of Cloisters, instructed by human rights firm Leigh Day, are appearing for Protect, a whistleblowing charity that was granted permission to intervene.