Justice campaigners last night demanded a moratorium on court closures, projecting examples of the government's reforms on hoardings and scaffolding covering the site of a former London court.
Members of Justice Alliance, a campaign group, and other practitioners congregated opposite the site of the former Bloomsbury County Court last night, holding candles as they watched a slideshow highlighting the fate of some of the 162 magistrates' and 62 county courts that have closed.
According to the slides, Tottenham Magistrates' Court was sold in 2016 for £4.5m and is currently unused. Lambeth County Court was sold in 2017 and is currently unused. Tower Bridge Magistrates' Court was sold in 2013 for £8.5m and converted into a hotel, where rooms can be booked for £220 to £440 a night. The Bloomsbury & Marylebone County Court site was sold in 2013 for £105m and planning permission was granted for 73 homes.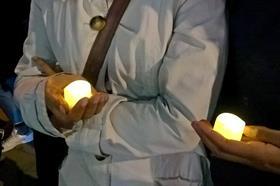 The group said: 'Court closures are denying thousands of people access to justice because they cannot get to their hearings. This means innocent people may be found guilty, and people may be made homeless because they don't have the opportunity to explain their situation. Over the same period, legal aid has been cut, so that people cannot get the specialist legal help and representation that they need to challenge wrong decisions.'
Sue James, a solicitor at Hammersmith & Fulham Law Centre, said: 'The Ministry of Justice is selling off publicly owned court buildings leaving people without access to a local court. They have done no research on how that is affecting people's ability to attend vital court hearings. The Justice Alliance says that there must a moratorium on any further court closures until proper independent research on the effects on access to justice has been carried out.'
Over the past few weeks the House of Commons justice select committee, which is conducting an inquiry into the court and tribunal reforms, has been publishing the written evidence it has received. Submissions so far have been overwhelmingly critical. These include the Association of Her Majesty's District Judges, Hammersmith & Fulham Law Centre, Fair Trials, the Legal Committee of HM Council of District Judges, Thames Valley Police and the Law Society.