The weather smiled again on the Law Society Yacht Club's annual outing to Seaview Yacht Club on the Isle of Wight, racing classic Mermaid dayboats. Our opponents this year were the University of Sheffield, the Institution of Civil Engineers - and of course our regular 'grudge match' rivals, the bar.
After a slightly late start waiting for a lift across the Solent and devising arrangements for being one boat short (no, we didn't sink it), we enjoyed six races in a perfect sunny force 4 breeze, interrupted by massive roast lunches on the terrace. The result? Joint third with the Institution of Civil Engineers.
We'll be back next year...
In the meantime, the club is celebrating its own platinum jubilee: it's exactly 70 years since we adopted the golden shark burgee and badge design. Covering the news in 1952, the Gazette reported that, after the annual rally, the club held a 'dinner for members and their ladies'. In 2022, Obiter is glad to say that the club's 'ladies' knew their place: at the helm of all three of our boats.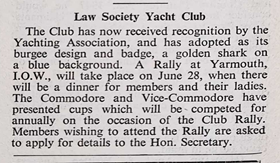 The Law Society Yacht Club welcomes new members of all levels of sailing experience for a range of racing and cruising events. For more information email secretary@lawsocyc.org.uk.