A warm welcome to Carl Baudenbacher, who is visiting the UK this week to offer a solution to one of the apparently intractable problems posed by Brexit. This is the question of dispute resolution forum given: (a) the UK's rejection of the Court of Justice of the EU as a neutral arbiter; and (b) the EU's aversion to any body other than the CJEU making European case law.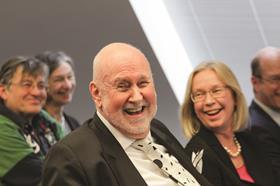 Baudenbacher has been touring the world (in a personal capacity, he stresses) promoting an off-the-shelf alternative. The Swiss jurist and competition law expert is president of the European Free Trade Association Court. The Luxembourg-based English language court has a reputation for quietly resolving disputes arising between the EU and Iceland, Liechtenstein and Norway. In 2016 it handed down some 26 judgments in matters ranging from the freezing of beef fillets to social security payouts.
All very worthy, and no doubt big news in Oslo, Reykjavik or Vaduz. But it would be understandable if the court's judges sometimes yearn to play on a bigger stage. After all, when the court was originally founded in 1992 it dealt with disputes involving seven states, including the president's home country.
On a personal website, which lists his full title as Prof. Dr Iur. Dr. Rer. Pol. H.C. Carl Baudenbacher, the president says: 'I have always considered myself as a life entrepreneur. As a consequence, I have always been wearing more than one hat.'
Of course an expanded jurisdiction would involve the court appointing a UK judge, as well as some cultural changes to handle inquiries from a stroppy UK media (at the moment it doesn't even have a press office). It might also have to move to neutral territory: Switzerland would be pricey, though the flag's a big plus…