It was a race of two halves when the Law Society Yacht Club returned to the water yesterday for the first time since lockdown. Our crews took on teams from the bar and Sheffield University alumni, racing classic Mermaid dayboats at the Seaview Yacht Club on the Isle of Wight. (Alas our other old rivals, the House of Commons, declined to appear this year.)
After an unpromising morning of rain and flat calm, the weather lifted after lunch to give us a brisk afternoon racing a tight course around the buoys. As the event is not all about winning, Obiter will refrain from listing the team scores - but congratulations to the bright young things of Sheffield University anyway.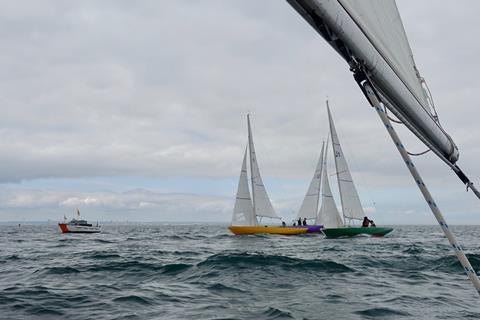 The day's legal celebrity sighting: Supreme Court justice Lord Briggs of Westbourne (Michael Briggs QC) on board his beautiful 1904 vintage yacht.
The next event in the yacht club's calendar is the Round the Island Race at the beginning of July. One crew berth is still available. For more information email secretary@lawsocyc.org.uk.