Our series moves across the pond to the US, as we hear from Daniel H Erskine, who works at Project Execution Services LLC and as a sole solicitor and attorney in Connecticut and New York
English law thrives in America
English law thrives in the US as an alternative to American jurisprudence in cross-border deals, internal subsidiary transactions, acquisitions, and in-bound sale of goods.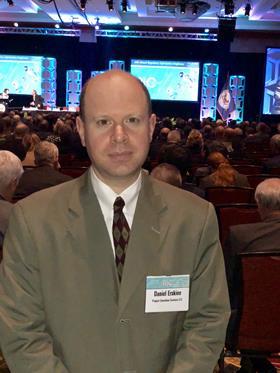 I began my legal career as a shareholder and counsel to a business involved in relocating large scale commercial production facilities from the US and foreign locations. Exposed to English law during this period as well as during my initial legal training with a summer stint in London, I pursued an LLM in international and comparative law because of the practical need to interact and comprehend different legal regimes while negotiating transactional agreements.
After leaving my first legal position, I began a sole practice focused on high technology transactions representing small and medium sized (SME), foreign and domestic companies which manufacture bespoke software, provide managed services, or big data storage solutions.
While I still maintain my sole practice, I also serve as in-house counsel to a New York company providing project execution solutions to owners, general contractors, and specialty sub-contractors who supply the electric power generation industry (especially commercial nuclear power) with specialised personnel and services.
UK companies need dual qualified lawyers
I witnessed UK companies entering the US market via subsidiaries, and it became clear that there was a need for competency in both US and English law.
Clients desired a lawyer who understood English legal concepts who could advise on the translation of those requirements into US compliant agreements, while explaining the key differences.
As a result, I sought and obtained qualification in England and Wales as a solicitor, obtaining dual qualification in 2009 and maintain an active Practising Certificate to date.
Despite the pandemic, UK companies continue to create home bases in the US either through subsidiaries, distributorships or sales agencies. Often, English law forms are the backbone of internal transactions between a UK parent company and a US subsidiary.
Given the divergence between US and UK corporate and employment law, I found that having competency in both systems helps meeting client expectations.
US and international parties are comfortable with English governing law as a structuring device in mergers and acquisitions of US entities. This is also true in some joint ventures. This is aided by the smooth interaction between English and US law covering different aspects of these contract documents governing certain deal aspects harmoniously coexist.
Brexit
Despite Brexit, US companies remain keen to enter the UK market. This is despite some concerns in the US about the breakup of the UK and the EU. These include angst about stability, entry of goods, data protection and compliance burdens.
On balance, I believe a return to traditional English common law precepts, coupled with the innovative UK information technology sector will benefit the UK, even when it's unbound by EU legal regimes.
Hopefully as the UK emerges from Brexit, a new trade agreement with America will further boost growth in Anglo-American business ventures. Such a treaty could see increased reference and utilisation of English law in the US.
Data protection and ADR
Data protection compliance remains a key worry for US parties dealing with UK counterparties. As individual US states – such as California – enact data protection requirements, some even more robust than the General Data Protection Regulation (GDPR), Americans gain increased competency in the lingo of data protection and the regimes governing conformity.
Yet, considering the Schrems series of decisions in the EU, hesitancy abounds by US businesses about compliant data transfers in the post Brexit era. Key leadership, action, and clarity by the Information Commissioner's Office (ICO) will assuage these worries to define a comprehensible business-friendly legal regime for trans-border data transactions.
As the pandemic drove technology spend and courts in the US undertook limited operations, alternative dispute resolution processes gained even greater traction as did increasing recommendations to resort to expert determination.
Particularly in the bespoke cloud IT area – cross-border agreements between US businesses and foreign cloud providers increasingly elected English governing law – which contained multipart dispute resolution clauses mandating mediation conducted by a UK-based provider with reference to arbitration.
In sum, use of English law in the US remains robust – by no means replacing the selection of US legal regimes – but providing a viable strong alternative for parties to select, assured of its venerable tradition together with authoritative interpretive reasoned guidance.
Daniel H Erskine is chief legal officer of Project Execution Services LLC, as well as a solo practitioner focused on corporate and high technology cross-border transactions
Find out more information about the Law Society's work in the Americas and Caribbean
Read about the Law Society's Global Legal Centre campaign