We return to Asia in our series examining how English law is being used in different jurisdictions. This time we hear from Ton van den Bosch, partner and head of the Singapore office of Addleshaw Goddard
English law remains the default choice in Singapore
The Association of South East Asian Nations (ASEAN) is the third largest economy in Asia, it has an aggregate consumer market of 670 million people and it's one of the fastest growing economic blocs in the world.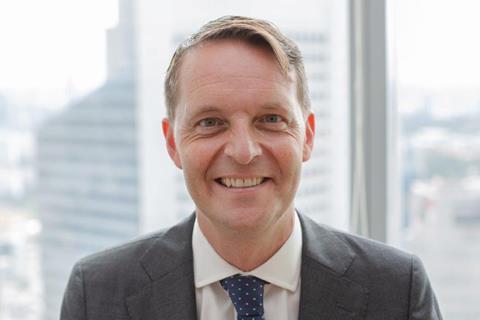 Although one of the smallest ASEAN nations, Singapore is the gateway to ASEAN. It is a tropical, safe and very efficient global financial centre and the pre-eminent business hub in Southeast Asia.
Singapore is a multicultural city-state with ethnic Chinese, Malays and Indians making up the majority of the population of around 5.6 million people.
The name 'Singapore' derives from the city's Sanskrit name 'Singapura,' which means 'lion city.' Legend has it that a Srivijayan prince from Sumatra – who ruled Temasek, a settlement on this island during the early 14th century – mistook a Malayan tiger for a lion, so Singapore's name was almost certainly inspired by a Malayan tiger instead.
Strategically located at the tip of the Malay Peninsula on the Strait of Malacca, it is in the middle of global trade flows. It is one of the most open trading nations in the world and it has the world's second busiest port as well as the world's best airport.
Singaporean business hub
Addleshaw Goddard's Singapore office operates as a hub, supporting clients with diverse business interests, including in key sectors such as renewable energy, logistics, ports, terminals, infrastructure, agri and offshore oil and gas.
The lawyers in our team have lived and worked in Southeast Asia for many years and have a deep understanding of the business culture and of geopolitical, legal and commercial challenges in this region.
I am originally from the Netherlands and after nine years with an international law firm in Jakarta, Amsterdam, Singapore and New York City, I moved in-house to become the general counsel (GC) of an oil and gas contractor and, more recently, the GC of a global terminal operator headquartered in the Philippines.
I moved back into private practice in 2017 and am now the head of our Singapore office.
We advise on English, New York and Dutch law and have a dedicated network of local counsel throughout South and Southeast Asia to provide seamless legal services.
We have represented clients on innovative projects, restructurings and corporate transactions across Asia, including Indonesia, Malaysia, Laos, Taiwan, Bangladesh, Pakistan, Timor-Leste, India, Myanmar, Thailand, Vietnam and the Philippines.
Like other former British colonies, Singapore's legal system is based on English law. Although Singapore law is increasingly accepted, English law remains the most adopted governing law in cross-border transactions in ASEAN.
Our work involves advising on project development and cross-border investments and regardless of where in Southeast Asia our clients are doing business, English law remains the default choice.
Multinationals and investors are increasingly exploring opportunities in the dynamic markets in Southeast Asia and companies are moving supply chains out of China. This trend started as a result of rising costs in China and the US-China trade war and it is accelerating in the wake of the global pandemic.
Countries such as Vietnam, Indonesia, Malaysia, Thailand and the Philippines are expected to benefit from the relocation of manufacturing capacity and this will also boost Singapore's role as ASEAN's logistics, financial and legal centre.
Ton van den Bosch is a partner and head of the Singapore office at Addleshaw Goddard