While the residential conveyancing market is showing tentative signs of recovery, leading practitioners are focusing on raising standards in a volatile environment
Communing with a group of residential conveyancing professionals is no longer akin to intruding on a wake, the Gazette can exclusively reveal. Senior practitioners gathered for the fourth Gazette roundtable see grounds for cautious optimism in recent UK housing market data. Transactions are up. Enquiries are up. There is more innovation in mortgage products, for example in guaranteed lending. And the number of first-time buyers is at its highest for five years, suggesting the enduring mortgage drought for new borrowers is easing a little. 'The very worst may be over,' declared the Royal Institution of Chartered Surveyors last week.
This was certainly the consensus, though the recovery – if it can be called that – is very localised. 'We've seen some figures showing the market is busier than it has been for two or three years,' says Jonathan Smithers of CooperBurnett, chair of the Law Society's Conveyancing and Land Law Committee. 'But it's very patchy and regional. In some very large towns and cities the market is still pretty bad, in some more affluent areas it's much better. The raw statistics can be misleading.'
Consultant Chris Smyth, former company secretary at Cheltenham & Gloucester, is ideally placed to offer the lender perspective. He is encouraged by the government's Funding for Lending scheme, introduced last August to make cheap funds available to banks and building societies. A total of 60,500 loans worth £7.6bn were advanced to first-time buyers in the last quarter of 2012, a 14% rise on the same period in 2011. 'There are signs that this is going to free up some of the mortgage lending that has been very tight while lenders build up capital reserves. That should have a trickle-through effect for the mortgage market and therefore conveyancing.'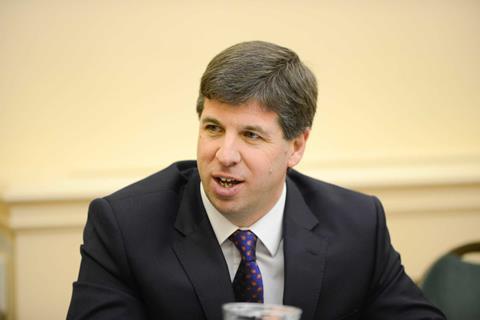 It's very hard for someone doing the job properly to distinguish themselves from someone who's not

Jonathan Smithers
Broader consumer confidence is critical, Peter Rodd, chair of the Law Society's Property Section, stresses: 'Buying a property has always been about confidence – it's never been about interest rates. We had a booming conveyancing market when interest rates were at silly figures. If people start to believe that the economy is actually improving, and the chances are they will remain employed, then we'll gradually see light coming into the market.'
Conveyancing Association chairman Eddie Goldsmith, of Goldsmith Williams, adds: 'We speak to lots of mortgage brokers and mortgage intermediaries and universally they all appear more positive than they have been for a number of years, when it was once a case of having to "talk them off the ledge". The lenders are competing again with each other for the first time in ages. But they don't want bad business, so it's still not easy to get those applications through.' The remortgage market is also beginning to recover, he adds.
Smithers points to the clear need for more housebuilding to stimulate activity. As the mainspring of new transactions, first-time buyers need houses to buy, and there have been very few small housing units created. But FTBs are not the whole story. Older people are much more likely to move than was once the case, because they want to downsize or move near grandchildren, he stresses. Both Smithers and Rodd point to the dangers of 'reinflating the bubble', questioning the degree to which lessons have been learned from the latest crash. Will we see 120% mortgages again within a few years?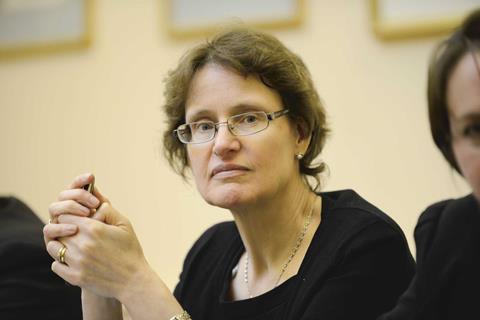 There is a new generation of people with huge debts arising from their education. The mortgage market has to create products to cater for them

Kate Baigent
Smyth says: 'The Financial Services Authority is taking a much closer interest in things like interest-only loans and affordability. I accept that things are cyclical but lenders will be much more severely controlled by the FSA in the coming years. The mortgage market review and the new mortgage lending rules will see to that.' The imperative for the lenders then is to be creative with their products without being irresponsible. Their customers face challenges that are equally unprecedented. 'There is a new generation of people with huge debts arising from their education,' points out Kate Baigent of Brachers. 'The mortgage market has to create products to cater for them.'
In an era of more cautious lending, transactions will continue to be significantly fewer than at the height of the boom. This, together with a more crowded market post-Legal Services Act, and the urgent need to deter mortgage fraud estimated at £1bn in 2010, prompted the Law Society to introduce the Conveyancing Quality Scheme. This aims to establish member solicitors' firms as the most trusted conveyancing community among consumers, with CQS accreditation as the guarantor of excellence. It was a bold move. There were some who protested – and still protest – that the professional qualification of 'solicitor' ought to be enough.
Smyth, who has worked closely with the Society on CQS, recalls: 'The genesis of the scheme, whether we like it or not, was that a lot of the trust that had formerly been placed in the profession had gone.' 'Not so much by clients, but by others such as insurers and lenders,' Smithers adds. 'There have always been a large number of people in conveyancing working to extremely high standards. Unfortunately, over a period of years there has developed a number of people who weren't doing the job as well. And we are one profession. It's very hard for someone doing the job properly to distinguish themselves from someone who's not.'
CQS is both a means of drawing that distinction and raising standards, he adds. It is not a mechanism for competing on price. In that case, asks Sam Cherry, of title insurer Conveyancing Liability Solutions, how does CQS help one ensure, on a day-to-day basis, that a firm is doing all the right things? Rodd responds: 'To become accredited, you have to show that you have certain core practice management standards in place.' Smithers adds: 'At the start, people fill the forms in, they show they've got those standards in place, and we look at complaints, negligence and so on. They get through the gate, they go in to the CQS. They've signed up to use the protocol. It's only been going two years and practices are still coming in. So a lot of people are still getting to grips with some of that.
At the table were: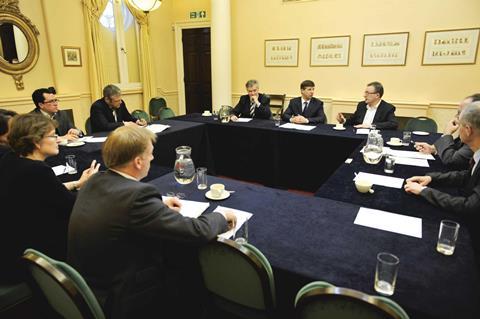 Paul Rogerson, editor in chief, Law Society Gazette; Eduardo Reyes, features editor, Gazette; Jonathan Smithers, Cooper Burnett, chair, Law Society Conveyancing and Land Law Committee; Christopher Bean, Gaby Hardwicke; Myfanwy McDonagh, Furley Page; Kate Baigent, Brachers; Peter Rodd, Boys & Maughan, chair, Law Society Property Section; Sam Cherry, Conveyancing Liability Solutions; Chris Smyth, consultant; Eddie Goldsmith, Goldsmith Williams,chairman, Conveyancing Association
'The challenge for the Society now is to ensure the monitoring and enforcement is up to speed and that's what we're doing.' Remote monitoring through desk-based assessments is one enforcement tool already being employed. Feedback suggesting that another practice may be breaching the protocol is also monitored. We're taking that information and trying to help people. This is meant to be a carrot not a stick. We help people to meet their obligations properly. If they don't do that we have turned to enforcement against some firms determined not to do the job properly.'
Firms can (and have) been ejected from the scheme; and Smyth observes that referral to the SRA is the ultimate sanction for serious irregularities. However, Smyth says, the 'challenge from lenders is not only "does the CQS have enough teeth?", but also "is it raising the standards of conveyancing?"'. The latter 'is what lenders want to see more of', he adds. Broadly speaking, the lending industry sees the scheme as very positive: Santander has said panel members have to be panel-accredited by the end of next month, while all CQS firms will be able to act for HSBC.
Had CQS not been devised, asks Goldsmith, where would the profession be with lenders now? Both Rodd and Smithers point out that the idea predates the problem of lender panel membership: five years ago the concept went under the title 'Transaction plus'. 'Sometimes the Law Society can "see over the parapet" better than the members,' says Smithers. 'We knew that, although we didn't quite understand the parameters of the threats to come, if we didn't do something, we would have no answer. We had to look at raising standards because some people were not doing a good enough job.'
An issue related to CQS membership and criteria for panel membership is client choice. At the Gazette's last roundtable, on alternative business structures, it was suggested that the Legal Services Board ought to look into this. LSB chief executive Chris Kenny demurred, arguing it was a matter for the FSA. Smithers observes: 'The Law Society has always made it clear that it respects the right of any lender to choose who is on their panel. Where we parted company is with regard to the necessity for an open, transparent policy, so that you can know whether you are going to be properly on that panel or not. And although the lender is a client, it is a different kind of client. The client buying a house isn't regulated. Lenders are regulated by the FSA and they have a duty to treat their customers fairly. You're not treating the customer fairly if you are taking a firm off a panel, effectively restricting choice without saying why [unless the client wants to pay for separate representation].'
Myfanwy McDonagh of Furley Page avers that the public are even more 'fettered' when they remortgage. 'The package dictates that they will give the client a remortgage and there will be no fees if you use "our" solicitor. The choice is taken right away from the lay client. The client has no choice in the remortgage market.' Goldsmith says: 'There is an issue there because I don't think the client understands that they are not being looked after.' Smithers says the Society continues to have frequent discussions with different lenders: 'Each will have different management criteria, so the requirements they have will all be different.' The focus now needs to shift to making the transactional process better for the client, Smyth suggests. An e-conveyancing portal remains in development which will serve that end, but in a diversified market with many firms of varying sizes, the portal needs to be inclusive. This is a complex process.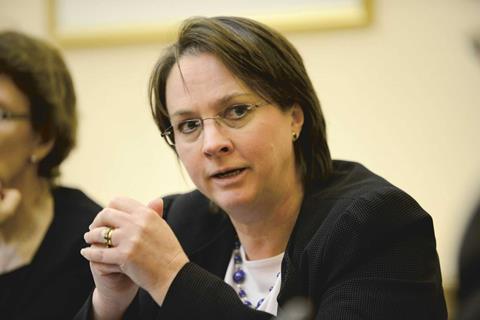 The choice is taken right away from the lay client. The client has no choice in the remortgage market

Myfanwy McDonagh
One catalyst for CQS was liberalisation of the legal services market through the advent of alternative business structures. But this does not seem to faze anyone on the panel, including Christopher Bean, of Gaby Hardwicke. 'Over a year on it hasn't really had any impact,' he says. 'We're an LDP so we're going to become an ABS but that's just a fact of life for us. We're watching with interest the personal injury market, where ABSs are certainly taking off. We're seeing lots of joint ventures with insurance companies in response to the ban on referral fees. There's been a lot of talk about banning referral fees in conveyancing, but thankfully that seems to be off the agenda now. 'I guess we'll see activity if something major like that comes into our arena, but there's no indication that is happening.'
However, Smithers cautions: 'The big threat is if you get someone like Saga or the Co-op deciding to conduct a huge marketing campaign to try and capture a large part of the market.' Cherry agrees, suggesting it could be a useful loss-leader for the Co-op: 'The big challenge for you is they have traction. They are not seeing their clients once every nine years, but every week, which makes it much harder to go against them.' Goldsmith for one is sanguine: 'If they want to do that, first, there is nothing we can do to stop them. And second, they are not going to take all the market. Whoever goes out there as a loss-leader for a period of time, then that is their marketing strategy. What we should do is decide where we fit in to that market.' Moreover, adds Gaby Hardwicke's Bean, that market is still extremely diffuse: 'You can be successful without doing very much, relatively. We are 16th on the list and we have 0.36%.'
Smithers points to the example of HSBC as instructive. Last year, the bank stipulated that mortgage borrowers must use one of just 43 law firms for legal work, before backtracking later. 'That was partly a marketing idea which was really about selling more mortgages. You cut the panel down, you drive all the work to relatively few firms. And middle England revolted! People said "you are not going to tell me which solicitor to use, I am going to have separate representation". They sold fewer mortgages. That's an example of where someone tried something like that, but it really didn't work because people would not be told.'
Christopher Bean recalls that most of the major estate agencies used to own law firms. 'What you hear is that, today, they are very happy not owning law firms in most cases: because of the risk, the cost, and the fact that conveyancing is a little more complex than "ticking a box".'
Goldsmith counsels that one should not yet dismiss the ABS model in conveyancing; it is just too early. 'Myhomemove is an ABS, for example. I know it's a licensed conveyancer but it is building its market.' And the market is changing, he adds: 'The more sophisticated, internet-based "Generation Y" are looking to buy their services through the web. They want email, a new 21st-century service'. Which is why the new portal is so important, interjects Smithers. If it is 'all about the model', as Goldsmith argues, it will also increasingly be about good service. This is an uncomfortable subject perhaps for the conveyancing community, following the Legal Ombudsman's December report: 'Losing the plot – residential conveyancing complaints and their causes'.
Chief ombudsman Adam Sampson has warned that 'conveyancing factories' pose a potential risk for housebuyers, given that residential conveyancing already accounts for nearly one in five of the complaints handled by his office. Eddie Goldsmith, unsurprisingly, is robust in his response: 'If you read the report, there was a very limited number of cases referred to. In one in particular, the client was on some sort of no-completion, no-fee deal and they got charged £10,000. I don't know where that case comes from. So I think you have to exercise caution. The reality is you have to do a good job, whether you are a small sole practitioner or a big conveyancing organisation. There are certain client care provisions you have to observe if you want to be in this market.'
And, adds Peter Rodd, there are always people who are never going to be happy. 'To be fair to firms like Eddie's, if you are doing 1,000 transactions a month, and 1% of those go wrong, you are going to have a much higher number going to the ombudsman.'
Jonathan Smithers has done some rough calculations, indicating that clients are seven times more likely to complain about a matrimonial lawyer than a conveyancing lawyer, which is 'perhaps something the LeO should be excited about'. Service quality is partly a function of price, or at least it ought to be. Have prices been driven too low to be sustainable, given that some firms have gone bust? After all, Charles Plant (chair of the SRA) is on record as saying that the price paid should be a regulatory issue.
Smithers says: 'This is market-driven economics. The government, regulators and consumer organisations want us to compete, because it supposedly raises standards and helps the consumer. But that only works where you have a completely free and open market. But we don't have one because you have this regulatory superstructure. It's not a justification for [set] fees, but it is a recognition that there's a point at which there is an irreducible minimum if you are doing all the things you have to do in terms of money laundering, compliance and so on, which is expensive to do properly.'
Goldsmith recalls that when he started in practice 30 years ago, there were set minima. 'Routinely we were charging £750 then, which would equate to £2,000 now. In 30 years prices have probably halved, while our wages and expenses have quadrupled. What market doesn't put up its prices in 30 years?'
Competing on quality not price is a fine concept. But how do small firms in particular make their presence felt in the market when they are competing with new and established brands with plenty of marketing collateral? Goldsmith says: 'You set your stall out, don't you. Are you going to be personal service, face-to-face, or interface through technology? Decide what you are going to do, promote yourself, and keep your nerve.'
But, Smyth points out, 'the profession hasn't set out its stall, hasn't made it clear "that if you come to me you will get a personal service, I will be doing all these things".' Bean is pragmatic: 'It's lovely to have that ethos about you. But there is always going to be a competitor that will say "yes, we do all that too, but quicker, cheaper and more efficiently".' But, interjects Smithers, it is possible to find your place in the market and exploit it well. 'There are some very successful firms who have absolutely understood that. They are not competing against a volume operator, or someone paying referral fees.'
Bean brings the discussion back full circle by reflecting that conveyancers remain guilty of not telling the client all that they actually do for them. 'We now have this trusted community to do that, we have accreditation [through CQS]. We need to be telling the clients, somehow, that we are special.'
Time and again, says Smithers, he and (former Law Society president) Paul Marsh stood up 'with trepidation' in front of solicitors to explain the rationale behind CQS. And time and again they were pleasantly surprised. 'So many people shook our hand and thanked us for giving them a mark of quality which said: "We are no longer the department stuck in the basement which does a bit of property, kept apart from the real lawyers."'
This roundtable was sponsored by Conveyancing Liability Solutions Ltd