Criminal defence solicitors are on the way to becoming extinct, according to a graphic depiction published by the Law Society today. A heatmap of duty solicitor coverage shows that in several parts of England and Wales a majority of criminal law specialists are over 50 - and that few young solicitors are choosing the specialism.
The Society says duty solicitors play a vital role by protecting suspects from inappropriate treatment and shielding the police from false mistreatment allegations. However, Chancery Lane's map shows that at least six in 10 criminal law specialists across Dorset, Somerset, Wiltshire, Worcestershire, West Wales and mid Wales are over 50. There are no specialists under 35 in Norfolk, Suffolk, Cornwall and Worcestershire.
Several areas have few duty solicitors. Only two cover Berwick and Alnwick (Northumberland), Dolgellau (Gwynedd) and Southport (Merseyside), three serve Hinckley (Leicestershire), four High Peak (Derbyshire) and Swansea (West Glamorgan), five in Newark (Nottinghamshire) and six in Barnstaple (North Devon).
Society president Joe Egan said: 'The justice system is facing a cliff-edge scenario. Criminal duty solicitors are part of an increasingly ageing profession, and government cuts mean there are not enough young lawyers entering the field of criminal defence work. If this trend continues, in five to 10 years' time there could be insufficient criminal defence solicitors in many regions, leaving people in need of legal advice unable to access their rights.'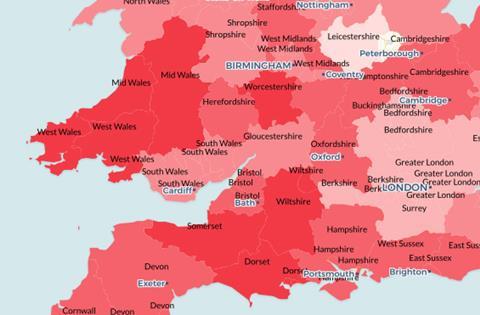 The Ministry of Justice is currently reviewing the impact of controversial legal aid reforms introduced in April 2013. The Society is urging the government to review the long-term viability of the criminal legal aid system and guarantee that fees will rise with inflation.
Egan said: 'Twenty years without any increases in fees, and a series of drastic cuts, have pushed the criminal justice system to the point where lawyers can no longer see a viable career doing this work. Access to independent, expert legal advice is an important right which ensures fair access to justice. If a suspect cannot access free advice and representation, a fair trial would be jeopardised, and cases would collapse.'
Chancery Lane is taking the ministry to court over changes to how much litigators are paid for Crown court work. The cap on the number of claimable pages of prosecution evidence has been slashed from 10,000 to 6,000.
Solicitor Greg Powell, president of the London Criminal Courts Solicitors' Association, told a 'Charter for Justice' event last month that he was paid £440 for a public order case in 1978 - today he would be paid £250.
A 'vigil for justice', organised by the Justice Alliance, will be held outside the ministry's London headquarters tomorrow evening.
Meanwhile 91 out of 350 chambers have declared their support for direct action in protest against the ministry's changes to its advocates graduated fee scheme. In her latest weekly update, Angela Rafferty QC, chair of the Criminal Bar Association, said solicitors 'are playing an invaluable part' in what she described as a 'watershed moment'.