Solicitors have strongly indicated that they will stand shoulder to shoulder with the bar should their barrister 'friends' decide to take action against further government cuts to the legal aid budget.
The Criminal Bar Association will announce on Thursday the results of its survey asking members whether they should take action in protest against the Ministry of Justice's proposals to reform the advocates' graduated fee scheme.
The AGFS scheme determines how legal aid advocates are remunerated. Meanwhile the ministry has reformed the Litigators' Graduated Fee Scheme, which remunerates solicitors for Crown court work, by reducing the cap on the number of claimable pages of prosecution evidence. The Law Society has issued judicial review proceedings over the LGFS reforms.
More than 150 practitioners attended an event at the Law Society yesterday evening where the London Criminal Courts Solicitors' Association, Criminal Law Solicitors' Association and CBA unveiled a 'Charter for Justice'. However, the event, which was also attended by a representative from the Ministry of Justice, was dominated by talk of 'united industrial action' and how to ensure unity within the profession.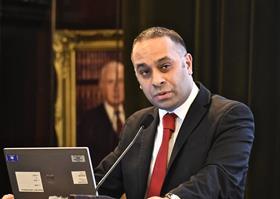 Raj Chada, a partner and solicitor-advocate at Hodge Jones & Allen, told the event that the London firm will support those chambers which adopt a 'no returns' policy. A member of the Criminal Law Solicitors' Association, said the association 'will stand for our friends in the bar. If they feel action is necessary, they will have our support'.
Michael Turner QC, former chair of the Criminal Bar Association who, sitting in the audience, initially raised the question of 'unified industrial action', told the event that the entire justice system 'is on its knees'. In asking his question, Turner said he 'did not just mean the two professions … The best choice we have is to join forces with all of those organisations who are involved in the justice system and take industrial action together. If we do that, then government will listen in my view.'
Greg Powell, president of the London Criminal Courts Solicitors' Association, cautioned that 'practical issues' must first be addressed.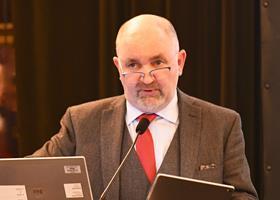 Powell said: 'What we need to agree amongst ourselves is what our demands will be. We need a single, unified negotiating body. No separate, secret legal meetings, no backdoor deals.'
Unity among solicitors will require district meetings, Powell added. 'We can, through face-to-face mediation amongst ourselves, ensure unity at a local level around common goals. Supporting, for example, not to put our higher court advocates where we have them in place of the bar. It can be done. It requires a lot of organisation … It requires all solicitors in this room to come to those local meetings and put effort in and really put in the hard yards – because someone has to do it. The people in this room are the first to hear the message that you have to get off your backside and put in the hard yards. If you do that, then you can win it.'
The event, chaired by former LCCSA president Greg Foxsmith, included speeches from CBA chair Angela Rafferty QC, Penelope Gibbs, director of Transform Justice, Laura Janes, legal director at the Howard League for Prison Reform and barrister Jerry Hayes.
Foxsmith opened the event declaring that 'we as lawyers have watched the wheels come off...and have moaned about it but to ourselves', adding that funding issues were not just about lawyers' fees but all aspects of the criminal justice system.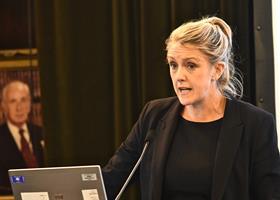 Hayes, of Goldsmith Chambers in London, told the audience to 'fight, fight and fight again for the system of justice that the public deserve'. Highlighting concerns about the government's digital court reform programme, Gibbs said she was worried that 'down the line, all this will become a conveyor belt for guilty pleas'. Janes questioned how it was possible to instil respect for the law among prisoners 'if we exclude them from [its] protection'. The government restored legal aid for three areas of prison law last month following legal action by the Howard League.
Referencing a 2016 Public Accounts Committee report which stated that the criminal justice system was close to breaking point, Rafferty told the event that the justice system is now broken. 'We need this charter more than any other time in centuries. We need to put justice back where it belongs. Is it time to fight for the future of criminal justice in this country? I think it is,' she said.