Unconscious bias is the greatest barrier to career progression for women solicitors, according to Law Society research released today to mark International Women's Day. Where they live is also revealed to be a factor.
Chancery Lane surveyed 7,781 people on key issues affecting women working in the law. Just over half (52%) said unconscious bias was the biggest obstacle. However, only 11% said their organisation consistently carried out unconscious bias training.
The finding is contained in the Society's Women in Leadership in Law report, Influencing for impact: the need for gender equality in the legal profession. The report also contains feedback from the 40 roundtables it hosted, where attendees were asked to focus on the key perceived issues identified in the survey and provide examples of best practice to help women overcome career progression barriers.
Last year women comprised 62% of new solicitors, but only 30% of partners in private practice.
According to the Society's research, firms in the East Midlands, Wales, east and south-east have a higher than average proportion of women partners. London has the lowest proportion.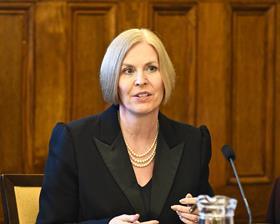 Society president Christina Blacklaws said the profession had made 'great strides' in the century since the Sex Disqualification (Removal) Act, which allowed women to train as solicitors, became law, 'but there is still a long journey to gender equality, particularly senior levels in certain regions of England and Wales'.
Today's report contains 15 recommendations for firms to adopt based on the roundtable discussions.
Male leaders are encouraged to 'take their own concrete, inpactful and measurable action' to address gender inequality, including refusing to participate in all-male panels, conferences and boards.
Organisations should have coaching, mentoring and sponsorship initiatives to empower women to achieve leadership roles. An 'open and honest' culture should be embedded, 'where it is normal to challenge negative gender stereotypes'.
Blacklaws said: 'To create a more diverse senior leadership, diversity and gender equality must be placed at the heart of business decisions. The profession needs to come together to combat unconscious bias, encourage flexible working and meet both men and women's working needs.'
The Society plans to follow up today's report with further insights from roundtables with men. Blacklaws said she wanted to share the data so far to 'provoke further discussion, consideration and, I hope, positive change'.
In June the Society will hold an international symposium entitled 'the power of gender equality to transform the business of law' in London.