Technology to predict the outcome of disputes has 'now very definitely arrived', the head of the High Court has said in a speech forecasting the spread of online dispute resolution and 'smart contracts' based on blockchain encryption.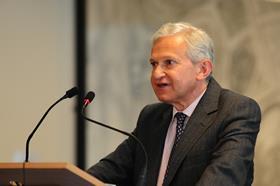 Speaking in Frankfurt, Sir Geoffrey Vos, chancellor of the High Court, said that digital ledgers, smart contracts and artificial intelligence are bringing about 'nothing short of a major revolution'. But he dismissed suggestions that smart contracts - whose terms are executed automatically with tamper-proof encrypted code - will not require a foundation in law.
'You 
cannot have 3 trillion contracts per year globally without expecting some of them to give rise to a dispute,' he said. 'We need to ensure that our judges are sufficiently educated in the legal basis of them, and in the computer code that underlies them, so that we can deal with these disputes and help to shape the legal environment in which these revolutionary developments will occur. We cannot just pretend that nothing is happening.'
Vos was bullish about the adoption of technology to forecast the outcome of disputes - and thus to inform decisions on whether to litigate. 'This has been pioneered in the US, but has now very definitely arrived in Europe,' he said. 'My own view is that it is very useful for big business, because it can identify the most likely outcomes of uncertain litigation.'
However this will not mean the end of lititgation, he said. This is partly because predictions will never be 100% correct - and in any case decisions about whether to pursue a case are not always taken by entirely rational people. 'They will still, I am sure, in some situations want to "take their chances", motivated probably by other less measurable factors including human judgement and bare human emotion aroused by the dispute itself,' he noted. 

Vos stressed the importance of online justice in maintaining the credibility of the courts. 'We will need to move fast to develop online dispute resolution and other forms of speedier alternative dispute resolution, before the millennials lose faith in the way the older generation is content to deliver justice.' Systems being set up under the court reform programme will handle small claims up to £25,000, for divorce, guilty pleas in criminal cases, and many tribunal claims in relation to social entitlements and other issues, he said. 'We should not kid ourselves that commercial disputes will not ultimately follow.''
On the emerging international market in commercial dispute resolution, Vos said 'legal systems are not, and should not be, in competition. I was asked by a group of judges in Wiesbaden yesterday what I thought of the new English-speaking commercial court that is being established in Frankfurt. I answered that I wished it every success'.