Talk of a digital revolution in the justice system is 'frankly laughable' given family courts in London do not have Wi-Fi, the Labour party has been told on the third day of its annual conference in Brighton.
A family law practitioner told a 'Justice in the modern age' event that, while in court, she is unable to look up contact centres or housing resources for clients. Video-link facilities have not worked in cases she has been involved in this year, senior legal figures including shadow attorney general Shami Chakrabarti, heard.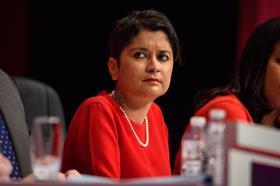 Earlier in the debate, Chakrabarti said there will never be a technological substitute for courts or lawyers 'who literally have to hold people's hands', including those of some of the most vulnerable people in society. 'They're not going to be fixed by a lawbot,' she said.
Shadow justice secretary Richard Burgon, formerly with trade union firm Thompsons, recalled being shocked when he lodged an employment tribunal claim following the introduction of the now-scrapped fees. 'Once you fill in the ET1 form, it says "customer, please enter your credit card details". Of course these people are not customers. Justice should not be seen as a commodity, it should be seen as a right.'
Early legal assistance could not only save the government money in the long run but also ensure the courts do not get unnecessarily clogged up, Burgon added.
On a more positive note, Christina Blacklaws, vice-president of the Law Society, told the event that helping people to access justice through new digital solutions could help to divert 'as much of our resources as possible' to helping vulnerable people. She highlighted CoLin, a legal assistant for Amazon Echo, co-created by the Law Society, which won this year's Legal Geek hackathon event. 'It was a bit rough and ready but we built it in 24 hours. These things are possible.'
Despite the title of the event, technology did not dominate the event, as concerns were also raised about the lack of diversity in the senior judiciary.
Chakrabarti welcomed Brenda Hale's appointment as the president of the Supreme Court, but said it was 'just wrong' that Lady Hale is the only woman so far to have served in the UK's highest court.
Andrea Coomber, director of human rights organisation Justice, noted that next week's arrival of Lady Justice Black means there will be two woman on the Supreme Court bench, 'which is the same number of Jonathans in the Supreme Court'.