The boss of the latest law firm to go public says the move will prompt a sea change in how financial success is measured. Chief executive Nicola Foulston spoke on the day that City firm Rosenblatt listed on the London stock exchange with the issuing of around 80m shares to raise £43m.
The firm said the initial public offering was 'significantly oversubscribed'. Shares placed at 95p and were being traded at 106p on the first morning of trading.
The cash raised is to be spent on acquiring firms with a similar profile and funding litigation.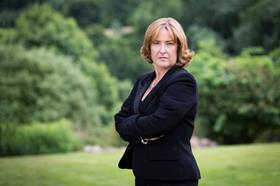 The offering represents a 48.3% stake in the firm, meaning existing owners will retain a controlling interest. Institutional shareholders taking a stake include Fidelity Investments (6.6%), Miton Asset Management (15.8%), Blackrock (6%) and Canaccord Genuity Group (3.6%).
Speaking to the Gazette, Foulston said the company is arranged to ensure there is no conflict between duties to clients and to shareholders, with the legal managers having 'little to do' with commercial decisions that are made by the business.
The regulated nature of a law firm, she said, would help with the transition to running the company as a plc, and she welcomed the extra transparency that comes with new financial reporting requirements.
'The material impact is the cultural shift of the business away from being focused on billing to being focused on profits,' said Foulston, a former owner of the Brands Hatch racing circuit. 'What surprised me [coming into her new role] was how inward looking this sector is. We are still too focused on ourselves and whether we are good at the law. I was shocked at the way clients and the acquisition of clients is discussed, as if somehow we own our clients… this is the last bastion of industry that needed to change and that is what is happening.'
Foulston revealed that the firm is already in discussions about an acquisition of another legal services business, with purchases targeted at the 'high margin end of law'.
Proceeds from the listing will also be invested in financial incentives for people working at the firm, with remuneration aligned with business performance.
The 20-partner firm, founded by dispute resolution and corporate specialist Ian Rosenblatt OBE in 1989, specialises in financial services, banking and real estate. Rosenblatt, who currently owns 59% of the business, will make millions on the sale but remains the largest shareholder with 21.1%.