A news report and a clandestine coffee in Berlin created a transatlantic firm with a billion-dollar turnover, led by two women co-chairs. Eduardo Reyes talks to Bryan Cave Leighton Paisner's Therese Pritchard and Lisa Mayhew
FIRM FILE
Bryan Cave Leighton Paisner


IN FIGURES
Turnover $1bn
Partners 560
Lawyers worldwide 1,400 in 31 offices


CLIENTS
40% of the Fortune 500


CREATED
3 April 2018 by the merger of Bryan Cave and Berwin Leighton Paisner


LEADERSHIP
Therese Pritchard, co-chair; previously a member of Bryan Cave's executive and compensation committees, and Asia coordinator; former regulatory and enforcement lawyer with US government agencies
Lisa Mayhew, co-chair; 'eminent' employment law specialist (Chambers & Partners); previously, partner at Hogan Lovells and Jones Day
Fifteen-person board and 12-strong global management committee
Reports on the affairs of City and international law firms show a weakness for hyperbole. Lawyers do not just move firm – lateral hires are taken in a 'raid'; transactions are 'sexy'; when considering a merger, firms are 'courting'; and when those merger talks founder, the 'weaker' firm has been 'jilted'. Hence, in 2016 when merger talks between Miami-headquartered Greenberg Traurig and Berwin Leighton Paisner (BLP) concluded without success, Greenberg Traurig was described as a 'tiger' with a 'thrusting style', contrasting with a London firm which was 'drifting'. The experience for BLP had been, readers were informed, 'a bruising but short courtship'.
Observing this from Washington was Therese Pritchard, managing partner of US firm Bryan Cave. A one-time regulator and enforcement lawyer who worked on the prosecutions of 'greed is good' stock trader Ivan Boesky and junk bond 'scammer' Michael Milken, Pritchard cast a cool eye straight past the melodramatic prose. 'In my role I follow what's going on. I'd read an article about how BLP had been engaged in discussions with a US firm that had fallen apart,' she recalls. 'That led me to think, "Well, they must be at least willing to talk to US firms, let me find out a bit about them".'
Bryan Cave went through a strategic review in 2014 which determined that the firm needed to focus on growth, and identified its strengths as being in real estate, capital markets, private equity, finance and financial services – areas where the firm 'really wanted to be best-in-class', Pritchard says. 'I discovered, of course, that [BLP] were extremely strong in real estate and in finance,' she continues. 'I also discovered that they had won several innovation awards. Innovation was a very high priority for Bryan Cave. Their financial metrics were similar to ours. So it had all of the hallmarks of at least being worth a conversation.'
She approached BLP managing partner Lisa Mayhew. 'It took me a while,' Pritchard recalls. 'She played a little bit hard to get, but eventually Lisa agreed to meet me for breakfast when I was in London.'
That was in February 2017.
'We then had another longer conversation,' Mayhew says, taking up the story from her London office. 'We met next in Berlin, in secret, and we just spent time walking through the practice groups, the geographies, the cultures, main clients, just to get a sense of the degree of potential alignment and any potential "gating" issues that might make us conclude that this wouldn't be a productive conversation to have.' She says their early contact identified 'exciting strategic alignment and shared cultural values'. Crucially, both thought the resulting entity should be a genuine 'single firm', rather than just being branded as such.
The US is the world's biggest legal market. But we would never even begin to kid ourselves that it could be a market we could crack ourselves organically

Lisa Mayhew
Discussions and negotiations took a further six months, starting with each firm's chief operating officer and key partners. An announcement to the full partnerships followed in October 2017. The merger was effective from 3 April 2018 when the firm became one global financial entity.
It was the fulfilment of a remit handed to Mayhew who, like Pritchard, saw a strategic review completed in the first six months of taking the helm at BLP.
'Seventy-five per cent of the BLP business was in London,' Mayhew says. 'So, BLP had embarked upon its journey of internationalising strengths that it had in certain practice areas. But we always knew if we wanted to fully swim that distance of globalising and extending those strengths we would need to do something transformational like a combination.' She adds: 'The US is the world's biggest legal market. But we would never even begin to kid ourselves that it could be a market we could crack ourselves organically.'
Also in Mayhew's mind were the ongoing challenges of recruitment faced by all firms. 'If you want to recruit great lawyers in particular areas that the firm's committed to, then they require, these days, a certain platform to service the client relationships that they have.'
Pritchard references what she says was a common culture at the two firms, but also notes client behaviour as a reason to grow through merger: 'We see more and more clients doing what they call convergences – reducing the number of law firms they want to use. I think we've created a firm that is as well positioned as any to really address the needs, globally, of clients who want to reduce the number of firms they have.'
As co-chairs of the merged firm, Mayhew and Pritchard had a head-start on the rest of their firms in being, in Pritchard's word, 'connected'. April 2018 saw the first global partnership retreat, at Boca Raton, Florida. This was the first time many of the combined firm's 560 partners had met each other.
Capital idea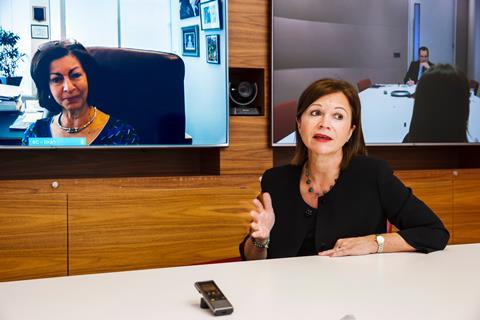 Merger talks between Bryan Cave and Berwin Leighton Paisner commenced after the Brexit vote of June 2016, notwithstanding the uncertainty this generated about the future of the London legal market.
'I think what I fundamentally believed was that London would remain a key financial centre on the global stage,' Therese Pritchard reflects, 'and that the EU and the UK were likely to resolve their differences in a way that enabled everybody to proceed.'
'These are difficult times,' Lisa Mayhew concedes, alluding also to the intensification of US and China trade disputes. 'But I think we've come to appreciate that unpredictability is the new business norm.'
It is early days for Bryan Cave Leighton Paisner. But one year on, Pritchard can say: 'Our partners and all our lawyers really embraced the opportunity that was presented by it and the result was that revenues were up; not a lot, but a little bit, and, given the distractions of the first quarter, the fact that revenues were up and profits were up, we think really speaks volumes about the decision that was made by our partners to do this transaction.'
She adds: 'I just wanted to emphasise that we feel good about this firm for so many reasons, not least of which is the fact that it's been embraced in a way that's leading to some positive financial results.' Profit per equity partner has increased by 5% in the first year.
Other benefits of the combination, both believe, include learning about the other's approach to improving equality and diversity. 'I've learned an awful lot about social mobility since we did this combination,' Pritchard says, 'and it's been eye-opening. I think it's a really important focus that I hope we can broaden throughout the firm.'
But if a focus on social mobility has less form in large US firms, there are equality and diversity initiatives that London is looking to learn from. Pritchard outlines the firm's approach to its sponsorship programme. 'We identify diverse lawyers who are mid-level associates who we think have the potential to be great partners,' she explains. 'We team them up with a senior partner who is a star – a rainmaker and a great lawyer. That senior partner is responsible for helping that person get across the line by developing relationships with people, giving good critical feedback on work… they develop a bond that is very important.'
This approach works, she insists: 'Last year was the first year when a lot of those people came up for partner. I'm very happy to say that our partner class year was 57% women globally and 22% lawyers of colour [in the US]. That's a programme we're very proud of.'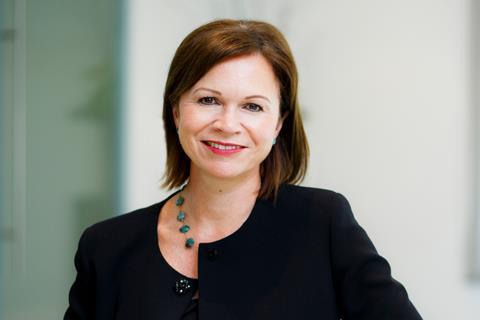 Also of interest to London is the US experience of applying 'the Mansfield rule'. The rule is the product of the Diversity Lab, a US-based 'incubator' for ideas to boost diversity and inclusion in law. Under the rule, Pritchard explains, for every leadership position in the firm 'you have to consider a pool of candidates that's at least 30% diverse'. The firm then appoints the candidate of its choice but, she notes, 'what that does is require you to think broadly about who might be well suited to the position'.
Like all large employers, the firm is subject in the UK to requirements on gender pay gap reporting. Across the City, the gaps reported are wide and Bryan Cave Leighton Paisner is no exception – the mean hourly wage for women is 33.7% lower than for men. Mayhew remains a supporter of the need to produce gender pay data: 'It gets people feeling awkward about a subject that needs attention and change. I think anything that… creates productive discomfort in the law firms… fundamentally, there is an underlying issue there and that's important to talk about and address.'
Clients are taking a direct interest in the equality and diversity record of the law firms they instruct, which of course places pressure on firms to demonstrate progress. Clients are also, Mayhew says, taking a direct interest in 'innovation', notably technical innovation. They are pushing their advisers to meet demands on changes to processes and technology. This is 'the inspiration and the motivation to develop some of the ways of working and technology that we have in our Manchester office', she adds.
Pritchard and Mayhew have taken different routes to the top of Bryan Cave Leighton Paisner. Pritchard had a long career in US financial sector regulation and law enforcement, directing many high-profile fraud prosecutions, and has a string of sectoral and leadership awards to her name. Mayhew is a highly respected City employment lawyer who was formerly a partner at Hogan Lovells and Jones Day.
It remains unusual to have a billion-dollar firm led by not just one, but two women. Mayhew notes the number of events for leaders of top-20 firms when, 'I would literally be the only woman in those rooms'.
'It's a very small group,' Pritchard says, reflecting on her own experience in the US. 'It's important that we do what we can to encourage other women to take roles like this on and to give them the experience and opportunity they need to grow into them.'
Photographs by Darren Filkins


Features editor