How the legal profession is coping with Covid-19
Cris McCurley, the Law Society's access to justice committee, Ben Hoare Bell, Newcastle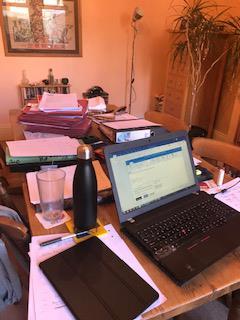 'So, this is now my office. It has taken some adjustment, especially as we are also changing our computer system at Ben Hoare Bell, but I have never felt prouder of my colleagues for the way everyone is so committed to ensuring publicly-funded work for the most vulnerable continues. As a Legal Aid Agency liaison partner, I have been keeping everyone up to speed with changes and eases to the normal rules which is helping. Virtually all our staff are working from home, with a skeleton crew in the offices - who are the glue holding us all together!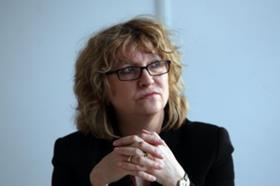 I am also bowled over by my amazing colleagues in the Violence Against Women & Girls sector who are themselves an emergency service and deserve to be respected as such. It is essential that we apply pressure for their funding to be ring-fenced as we know domestic abuse is greatly increasing during lockdown. Refuge workers, independent domestic violence advisors and independent sexual violence advisors are on the front line and we are doing everything we can to do our bit to support them and the clients, especially as the domestic abuse bill has been kicked into the long grass yet again.
I've been thinking a lot about what it will be like when this is over but one thing I'm sure of is I'll never appear in the Royal Courts of Justice in my pyjamas again - not even virtually!'
Alan East, chair, the Law Society's education and training committee and assistant professor at Coventry University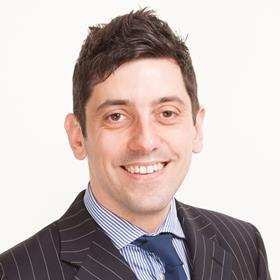 'As assistant professor at Coventry University and chair of the Law Society's education and training committee I have for, some time, been calling for more online teaching and learning. Over the past 18 months, I have been developing online teaching using mobile remote telepresence devices in my law clinics which has allowed students from Australia and South Africa to work on cases with my students in Coventry and learning from one another. So for me, the transition away from face-to-face teaching during the Covid-19 pandemic has been very smooth. Members of staff and I have been keeping in touch with students over Zoom, Microsoft Teams and Moodle and students have been very grateful for our continued support.'
Tony Roe, Pennington Manches, Reading
'I have been impressed by how well key teams in my firm, particularly our IT people, have risen to the challenge of getting the whole firm working remotely. Remote working has quickly become business as usual as it feels that we have been doing it for a long time.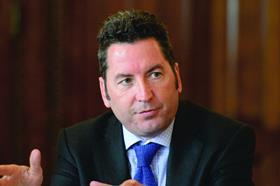 I live in the country where broadband speeds are low. Nevertheless I am using video app Zoom successfully and have also tried Lifesize. I have two small children and am fortunate to have a partner who can help to look after them. Their children's channel streaming services provide competition for my video conferences so we have developed a simple protocol namely that dad's work comes first.
Family lawyers like me have been presented with numerous pieces of guidance from the judiciary and CAFCASS. We are already on the third version of the Remote Access Family Court from Mr Justice MacDonald which runs to 50 pages.
It's clear that various parts of the country are dealing with family court hearings in different ways. Some are giving private children matters and matrimonial finance matters much less priority. Others are commonly adjourning matters.
I believe that lawyers in lockdown are learning new skills and methods of working which will stand us in good stead whenever we reach the post coronavirus landscape but it could be some considerable time before we do.'
Michael Cross, news editor, Law Society Gazette
'As a former foreign correspondent and freelance writer, working remotely is not a new experience for me. Compared with the days of telex machines and canvassing airport check-in queues for volunteers to courier material to London, the broadband age is luxury. Nonetheless, putting together the print news pages at home poses its own challenges - mainly that everything takes a bit longer when you can't just shout across the room.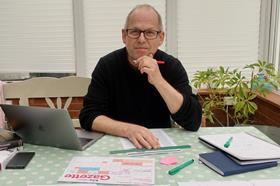 Luckily we're a small close-knit and very experienced team and so far it's worked fine. We're proud of publishing the Gazette's daily news update and weekly print edition without interruption from the many places we've been based since the Chancery Lane fire drove us out of our office at the beginning of February. We're all delighted by readership figures which seem to suggest it's appreciated.'
*The Law Society is keeping the coronavirus situation under review and monitoring the advice it receives from the Foreign & Commonwealth Office and Public Health England.