Private practice solicitor of the year Anne Kavanagh talks about hospitals, career breaks and test cases
BIOG
BORN: County Mayo, Ireland
EDUCATION
:St Vincent's Hospital, Dublin (qualified nurse, 1987), Ealing College, LLB (1989-1992), College of Law, Guildford (1992-1993)
ROLES
: Nurse (1987-1996), Solicitor, Bowling & Co (1996-1998), Associate, Bolt Burdon (1998-2004), Governor and chair of governors, Kintore Way Children's Centre (2004-2011), Solicitor, Devonshires (2010-2014), Solicitor then partner, Irwin Mitchell (2014-present)
KNOWN FOR:
Leading medical negligence solicitor; Solicitor of the Year – Private Practice, Law Society Awards 2021
'You know, they've gone mad. Mental in County Mayo. They have. It's completely lovely for my family.' So says Anne Kavanagh, medical negligence partner at Irwin Mitchell, towards the end of our interview. I had asked what response she got to winning the Law Society's private practice solicitor of the year award.
An hour earlier Kavanagh recalled growing up in a 'very small village' eight miles from the nearest town. The eldest of six siblings, she notes that '35% of the population in Ireland were below the poverty line, and I would say we were probably at that tipping point'. Neither of her parents had finished secondary school and she describes her father as a 'small farmer'.
'There was no prospect of me going to university. It just wasn't a possibility, whereas nursing was very highly regarded'
'There was no prospect of me going to university,' she says. 'It just wasn't a possibility, whereas nursing was very highly regarded.' Aged 17 she headed to St Vincent's Hospital, Dublin, and given her send-off, perhaps the celebrations in Ireland this year are not a surprise. 'When I was leaving… there was a celebration in the village. We had a party in the house, people gave me cards and money and all kinds of things. It was almost like an emigration,' she says. 'I was only going to Dublin.'
Jobs in Ireland were scarce on qualification in 1987 and a jobs board outside a local hotel led her to a position in the south London outer suburb of Orpington. That autumn struck the young Kavanagh as 'a really tumultuous period… within a couple of weeks of my arrival, we'd had the Kings Cross underground fire, then the hurricane in early October, and then the Enniskillen bombing on Remembrance Day'.
Her home village might have been small, but she had a strong urge to be nearer the centre of things. When her six-month contract in Orpington was up, she and a friend joined a nursing agency that had accommodation attached just off Marylebone High Street. But by now she could not see herself in nursing 'for another 30 or 40 years', and soon enrolled in an LLB at what was then Ealing College in west London.
It was a full-time degree, but Kavanagh supported herself through agency nursing – often working nights and through the holidays. Securing a place at the College of Law in Guildford, to study for Law Society finals, she carried on working nights and commuted from Harrow to Guildford every day. 'Honestly, my twenties are a bit of a blur,' she says.
Kavanagh started her training at a small firm in Harrow, but sensed all was not right at the firm. 'Very early on,' she recalls, 'I had suspicions that they weren't entirely honest.' The firm was comprised of remnants of a much larger firm, and as a result the three remaining partners were professional trustees for several significant trusts. 'They were stealing money from the trusts,' she says – 'the wills, trusts, and probate solicitor at the time, his secretary and myself reported them to the Law Society.'
It was an unenviably turbulent start to her legal career. In the two years it took to secure a paralegal position, at east London firm Bowling & Co, she returned to nursing at a private hospital by London Bridge. She qualified into the personal injury department. But then, with the passage of the Court and Legal Services Act, which withdrew legal aid from much personal injury work, the partners closed the department.
In August 1998, Kavanagh started her career anew at Islington firm Bolt Burdon (now Bolt Burdon Kemp), a firm whose focus remains acting for claimants. 'I loved it,' she says, describing founding partners Roger Bolt and Lynne Burdon as 'amazing'.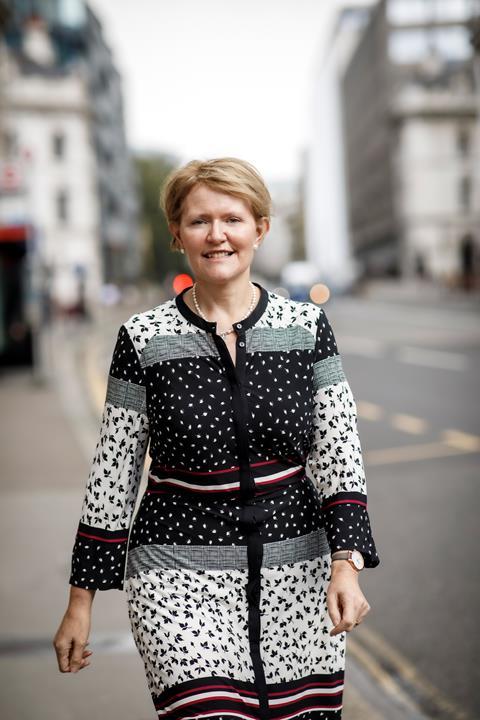 Coping with Covid
'From the end of February [2020] the message from the firm was that people didn't have to come in unless it was for something specific,' Anne Kavanagh says. 'We had to shift very quickly from quite a heavy paper-based system to becoming paperless overnight, and that was huge. But overall, we've adapted to it very well from a management and organisational point of view.'
Within the wider department, she says: 'I know that some of the younger members, particularly those who were in flat-shares or house-shares and really didn't have the facilities to work from home, found it very, very difficult. As soon as things were able to relax, we created bubbles within the London office [for] people who needed to be here.'
The office is now set up for roughly 50% occupancy compared to pre-Covid. 'Essentially, as long as, in a litigation context, you've recorded your hours for the day, you can work pretty much whenever.'
'Roger was a bit of a legend, for so many reasons. A fantastic litigator and great teacher, mentor, fun to be around as well,' she says.
Bolt's 'serious hobby' – guitarist in a rock band – set the tone. She recalls a workplace that was 'way ahead' on flexible working, and where the only dress code was for court appearances or meeting clients. A wardrobe held lawyers' 'best' for such times.
Current talk of the importance of 'workplace culture' leads her to reflect on her time at Bolt Burdon, where she found 'a really engaging, lively culture, where you were encouraged to share stuff. There was no question too stupid to ask within the room. Much better to say it inside, than say it outside and make a mistake or potentially embarrass the firm'.
Kavanagh recalls open debates around the adoption of early case management systems and other technology. 'We had a really lively debate about using precedents and whether that would stifle creativity,' she says, noting 'the other bear trap… people would come to rely on the precedents too much, so they'd rely on process and not really engage their thinking actively.'
What kind of lawyer was Kavanagh back then? 'I think they would've said that I was really conscientious,' she adds. 'We had a big thing at Bolt Burdon about going the extra mile, that was our motto.' That extended to taking cases other firms had turned down. She recalls in particular a case close to limitation where the client had injured her back. The client's union firm had decided the claim would likely not succeed.
'I persuaded Roger to take it on,' Kavanagh says. 'I thought we could do something with it, persuaded the master to give me permission to get fresh experts, and we won. We settled and she recovered a significant amount of money.'
The client, a nurse, insisted a patient she had moved had been very large. The trust insisted he was average size, but, the patient having died, Kavanagh established he had needed an over-size coffin. 'Persistence, detective work,' she recalls. 'Roger, I remember, he'd be so happy when we would succeed where other firms had failed.'
She had joined the firm on the same day as Jonathan Wheeler, now the firm's managing partner. 'We're still great pals,' she enthuses. But unlike Wheeler, Kavanagh was heading for another break from practice. When her second child was born in 2004, her husband, former barrister Nick Stanton, was Liberal Democrat leader of Southwark Council. This was a full-time role with numerous evening meetings.
'We took an enormous economic shock, and I stopped working in 2004,' she recalls. 'The nursery fees for both kids were crucifying. I just wasn't making enough money, really, to justify that and feel good about everything.'
'[Bolt Burdon had a] really engaging, lively culture, where you were encouraged to share stuff. There was no question too stupid to ask within the room. Much better to say it inside, than say it outside'
She took on the roles of nursery school governor and member of the Southwark Diocesan Board, to support governing bodies in primary schools with their governance obligations. 'That period was all interesting,' Kavanagh says. 'But then, my pals at Bolt Burdon started saying: "For goodness sake… you're wasting away. You've got to get back in the game."'
Some of those 'pals' started using her for record-sorting – paginating records, ordering medical records and cases, and offering a risk and merits assessment on claims. It was the loss of Southwark Council by the Liberal Democrats in 2010 – and with it Stanton's role – that took her back to practice; first at Devonshires, where she stayed for more than three years, and then Irwin Mitchell.
A key attraction of the latter is its retention of a legal aid franchise. At Irwin Mitchell, Kavanagh has high praise for Alison Eddy, London managing partner and head of the firm's London medical negligence team. 'One of the things I really admire about Alison's approach is that she has always supported legal aid… our first line is always to apply for legal aid.'
The firm has been the base for Kavanagh to take on numerous cases where the odds seemed stacked against her client. She won her award for some of these.
The case of client 'Lucy' (not her real name) took 10 years to reach the Supreme Court. Lucy had a smear test in 2008, which should have shown she had cervical cancer. Other opportunities at the Whittington Hospital NHS trust were missed between 2008 and 2013, when she was told her cancer was so serious she needed immediate chemo-radiotherapy. Her eggs were harvested for later use, but due to the treatment she cannot become pregnant.
The remedy Kavanagh sought for Lucy was the cost of a surrogate in California, where the law, unlike in the UK, would register Lucy as the mother. The High Court awarded UK surrogacy costs only, which Lucy appealed. 'She and I think the firm were brave,' is Kavanagh's assessment of the appeal.
The Court of Appeal ruled that Lucy was entitled to the costs of surrogacy in California, but the trust then appealed. The Supreme Court found for Lucy: 'It was the last case Lady Hale heard as a sitting judge,' Kavanagh notes. 'It's actually really something to have been the last case that she ever heard.'
'Is the NHS to be a unique tortfeasor which is not required to compensate victims of medical negligence? Medical negligence is a really serious allegation, and it requires due process or fairness to both claimant and defendant'
Also considered by the Law Society awards judges was a case where a GP admitted error in not sending a woman with deep vein thrombosis to hospital, where it is likely she would have survived. Despite that admission, the Medical Protection Society fought the claim to the Court of Appeal.
Despite such wins, and the moral authority that acting for 'victims' brings, claimant lawyers working on medical negligence cases are aware that there is a political spotlight trained on their work. Put simply, medical negligence claims result in payments by trusts which would otherwise be spent on healthcare.
Such arguments, she says, fail to acknowledge the impact austerity and poor planning have had on the NHS – providing the context for many medical errors.
'Jeremy Hunt and Simon Stevens were a very effective double act, despite austerity,' she says, referencing their roles as, respectively, health secretary and NHS chief executive. 'They managed to boost, in so far as it were possible, resources for the NHS. But the Royal College of Midwives, the Royal College of Nursing… they will all tell you that they've been banging on for years that there weren't enough trainees, there weren't enough clinicians in training. [Not enough] midwives, doctors, obstetricians… and Jeremy Hunt knows all this.'
As chair of the Commons Health and Social Care Select Committee, Hunt has been advocating reform of the dispute resolution 'system' for medical negligence cases, calling compensation payment levels 'obscene'.
'He's probably the best-informed politician there is on those issues,' says Kavanagh. 'I don't doubt his sincerity around patient safety. I think he deserves enormous kudos and plaudits for pushing the maternity safety agenda.' But she questions the argument that medical negligence should be treated differently to other claims.
'Is the NHS to be a unique tortfeasor which is not required to compensate victims of medical negligence?' she asks. 'Medical negligence is a really serious allegation, and it requires due process or fairness to both claimant and defendant.'
Kavanagh points out: 'All [NHS] trusts are facing the same [funding problems], but some are demonstrably better managed and run and led than others.'
We end our discussion back in Ireland, in Mayo, and the local response to her award. 'I made the Western People print edition,' Kavanagh relates. 'My father's sight is very poor and when it went on the website, my brother read it to him. But that's no good because he's not online and, you know, it's meaningless to him.
'But it was [then] in the print edition of the Western People – so that counted.'


Features editor