The legal sector, like journalism, is a profession where biscuits are simply a way of life. Empty packets lie strewn in every corner, the realisation that 'we're out' akin to Popeye finding his spinach supplies are out. The waistlines inevitably get wider, all the more so as bums stick to seats in the ceaseless quest for round-the-clock content to satisfy insatiable readers.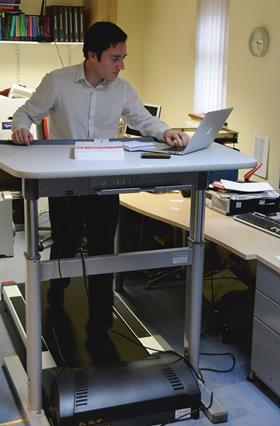 And so we come to the walk-while-you-work machine, a bulky and impossible-to-miss treadmill with the nifty feature of a desk in front. This is a chance to burn calories while burning the midnight oil – a payback for the day's Jaffa Cakes and ginger nuts.
The desk is comfortably big enough to fit a laptop and assorted papers, though the machine takes up a good chunk of the Gazette's cramped attic in Chancery Lane. The machine itself is restricted to 4mph – a brisk walking pace – with adjustable heights for the desk.
To be honest, this contraption is no substitute for a gym session or cycle to work. A 10-minute stint burnt off fewer calories than a fun-sized chocolate bar.
You will also need forgiving (or deaf) colleagues. It makes a fair amount of noise and is probably not suited to skyscrapers – I am told it felt like the stampede scene in The Lion King downstairs when I was in action.
But as a chance to stretch the muscles, escape the indentation in your seat and actually focus the mind, this is a welcome addition to any office. I even managed to focus on an entire Legal Services Board report while walking.
Plus, using the treadmill at least paid lip service to that fitness regime – and easily justified an extra biscuit.
£1999.99, LifeSpan Workplace
John Hyde is a Gazette news reporter