Not a month goes by without an eye-wateringly expensive divorce making national headlines. Read any judgment and the cases are far more interesting than anything a TV writer could come up with. That said, I was excited to attend a preview of the BBC's latest glossy family law drama, The Split, which begins tonight.
The drama has an impressive cast: Nicola Walker (who played Ruth Evershed in BBC spy drama Spooks), comedy actor Stephen Mangan, Anthony Head (remember those Nescafé Gold Blend adverts?), Goodness Gracious Me's Meera Syal, and Stephen Tomkinson (who I always remember as Father Peter Clifford in Ballykissangel).
The show begins a few weeks after top divorce lawyer Hannah Sterne (Walker) leaves the family firm headed by her mother (Deborah Findlay) to join rivals Noble & Hale, straining her relationship not only with her mum but also her younger sister Nina (Annabel Scholey), another divorce solicitor. As if there weren't enough lawyers, Hannah's husband Nathan (Mangan) is a barrister.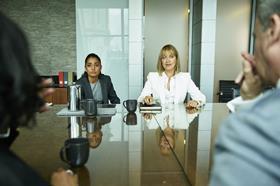 The first episode in the six-part series gets off to a slow start, but the pace starts to pick up midway as Hannah and Nina battle across the table in a nasty divorce involving a stand-up comedian who is being denied access to his son because his ex-wife isn't too happy about being fodder for his new show, 'My Ex-Wife's a Bitch'.
Writer Abi Morgan told a roomful of hacks that she came up with the show after meeting a fellow mum - a divorce lawyer - while watching her daughter's school hockey match. 'By the end of the match I realised it was a great world for a show,' Morgan recalls.
Morgan is 'resistant' to call the show a 'legal drama' - instead, it's more about family and relationships. Equally, many viewers will admire the outfits. However, Morgan 'wants to emphasise less about the high heels - that's the tradecraft of that world. The show is much more than that'.
However, as a fan of the world of law, it's the legal elements of the show that excited me the most in the first episode, such as Hannah's new office, which was filmed in what was Olswang's London home, before the firm merged with CMS and Nabarro, and the legal issues arising from the two cases that unfold in the first episode. It's also nice to enjoy a show dominated by characters who are solicitors.
Divorce and family specialist Emma Hatley, a partner at London firm Stewarts, and Connie Atkinson, senior associate at Kingsley Napley, also in London, advised the show. Morgan says she tried to keep the drama as authentic as possible, 'mainly because the real truth is way more interesting than anything we could make up'.
The Split begins on BBC One tonight at 9pm.