Information Technology and Intellectual Property Law – Seventh Edition\
David I Bainbridge
Bloomsbury Professional, £170
★★★★✩
The niche area of intellectual property law is a complex one. The delicate balance between innovation, reward, protection, competition and consumer stability is an ongoing and ever-evolving challenge for lawmakers, complicated by international discrepancies.
Our lives are becoming more digital every day, from personal property to business assets. As stated by the BBC, the video game industry is now worth more than the video and music industry combined, accounting for more than half of the UK's entertainment market. Despite the wild rise in net worth, computer games and software have yet to find a comfortable place in statute because of how fast digital technology moves. Clearly innovators should be rewarded for their efforts, but we should not offer too much protection as to hinder the speed at which our technology develops.
Reforms are slow in IP. Digital technology has exploded in the past 20 years and lawmakers have the tremendously difficult task of creating fairness within it. David Bainbridge addresses this issue early in his book by highlighting the unsatisfactory law on the protection of computer programs and the ambiguity of passing off through search engines, keyword metatags and online globalisation.
But the main bulk of this book aims to solidify the interaction between IT and IP, while adding clarity to the current law. This is expertly done by contextualising the law using examples of software, retail websites such as eBay, and social media. The book does a great job of bridging these two fields, with relevant UK and EU law.
Essentially this is a very useful book and one that I would encourage my trainees to keep close to hand. It sets out to offer clarity and definition over the media we use every day, such as software and social media, and explain how the current law applies to them. In this seventh edition, there is sufficient detail of the law to be accurate and reliable in the office without excessive application to sift through.
This book is a must-read for any aspiring IP lawyer. But at 700 pages and with statute-heavy content, it is not a book to be read cover to cover. Rather, it is a useful manual with accurate and current information, as and when you need it.
Peter Wright is a solicitor and the managing director of Digital Law
Digital Family Justice: From Alternative Dispute Resolution to Online Dispute Resolution?
Mavis Maclean, Bregje Dijksterhuis
Hart Publishing, £55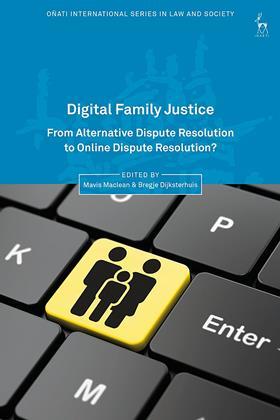 Digital Family Justice describes how digital justice has developed rapidly. The authors question the speed of this development, and stress the need for careful evaluation of how far these services can meet the needs of divorcing families. Digital justice has come at the expense of mediation, which has failed to take the place of courts and lawyers, even where public funding for legal help has been removed.
Experts from Canada, Australia, Turkey, Spain, Germany, France, Poland, Scotland, and England and Wales explore how alternative dispute resolution has fallen behind. They also examine what digital justice can and cannot achieve.