Stand on Parliament Square in the week before the annual Pride parade and look up Whitehall. In place of the Union Jack, there is a rainbow flag flying above HM Treasury, while up the road a Conservative prime minister occupies 10 Downing Street. That would have surprised contemporary opponents of section 28 of the Local Government Act 1988, which sought to control and direct teaching about gay relationships in schools. Yet by 2017, it is already some years since another Conservative prime minister ushered in a same sex marriage act.
'I think it's amazing the changes that have happened during the last 20 years,' says Wesley Gryk, who founded his own immigration firm after a career that included corporate law in the US, and in-house legal positions at UNHCR and Amnesty International. 'When I started out in Wall Street, it was well known that two of the senior partners in the firm I was working at were gay. Nobody made a fuss about it, but there definitely wasn't the support network there. I wasn't comfortable with my own sexuality then and wasn't prepared to come out.'
Attendees
Geraint Lloyd-Taylor, Lewis Silkin;
Gail Taylor, DWF;
Jonathan Wheeler, Bolt Burdon Kemp;
Janine Foster, Reed Smith;
Laura Thornton, Bircham Dyson Bell;
Kevin Poulter, Child & Child;
Brie Stevens-Hoare QC, Hardwicke;
Esther McDermott, Dentons;
Sarah Rock, Gowling WLG;
Rachel Reese, Global Butterflies;
Christopher Morgan, Law Society Council, New Law Solicitors;
John Basnage, Hogan Lovells;
Wesley Gryk, Wesley Gryk Solicitors;
S Chelvan, No5 Barristers Chambers;
Daisy Reeves, BLP.
Gryk came to the UK with UNHCR before moving to Amnesty: 'Just to show how far we've come, in the 1980s Amnesty International wasn't prepared to recognise as prisoners of conscience people in prison for their sexuality. They thought it would rock the boat… scare the membership if they did that. I think that's hard to conceive of in today's world, where LGBT rights are very much recognised.'
In the UK, one key change came 20 years ago in Gryk's own discipline of immigration law: 'In October 1997, the new Labour government recognised lesbian and gay relationships for immigration purposes. That was probably the very first recognition of lesbian and gay relationships in the law in the UK – in any field.
'How quickly everything changed after that – civil partnership and then marriage. Basically, we're there, we're more or less equal. Society itself is not necessarily perfect, we have to work at that. But we're not necessarily disadvantaged, at least in [law]. That's a great achievement.'
In the 1980s Amnesty International wasn't prepared to recognise as prisoners of conscience people in prison for their sexuality. They thought it would rock the boat… That's hard to conceive in today's world, where LGBT rights are very much recognised

Wesley Gryk, Wesley Gryk Solicitors
Jonathan Wheeler, newly elected managing partner at London firm Bolt Burdon Kemp, also reflects on how far we have travelled: 'I think of my experience [as] an articled clerk in a big firm in Liverpool in the early nineties. As part of our induction programme, some of the older members of staff, the people who had been there longer said: "We'll take you out for a night on the town in Liverpool". What I didn't realise at the time as a young gay man was that this included going to a local gay bar "to look at the queers". I remember one of my new colleagues saying, "backs against the wall, Jonathan, as you go in", and that was really, really tough. Now I don't think that would ever happen, certainly in the metropolitan areas.'
He continues: 'One of the reasons I probably work in Islington and London is because of my sexuality, and the fact that I knew that this would be much more acceptable when I moved to London. I'm very worried that there are people, solicitors, barristers… outside those metropolitan areas, who are probably [suffering] that sort of discrimination and who are very much prevented from coming out.'
He adds: 'If you're closeted at work, Stonewall has said, you're 30% less likely to be productive as an individual. The Harvard Business School said that 73% of people who are closeted at work as gay people will move jobs. This is not great for businesses and it's not great for those individuals.'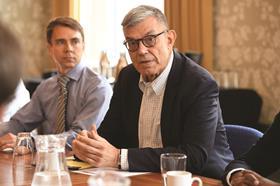 BLP partner Daisy Reeves expands on that business case: 'We work in businesses and while as individual LGBT employees we want to be happy at work, we [also] want to attract and retain the best talent, and that comes in different forms, as do our clients. So, scales particularly fall from non-LGBT people's eyes when they can see there's a business reason: "OK, it's the right thing to do, and we should be doing it to win work".'
In law, Reeves notes, there remains one area where progress is less complete. 'LGB' she notes, can point to legal equality, but 'T' has 'still got quite a long way to go'.
Rachel Reese, who runs the consultancy Global Butterflies, which advises legal sector organisations on transgender inclusivity, confirms this: 'I did a talk in Toronto last year, and I said that it was 21st Century LGB but 1995 trans. We are trailing.'
She notes a 'leap forward with the Gender Recognition Act, and the Equality Act'. But from a transgender perspective, legislation is poor on 'protection, especially during recruitment'.
Ireland, Reese adds, has passed legislation that is stronger on protection.
'So much depends upon the culture of the firm that you work in,' says Christopher Morgan, Law Society Council member for LGBT. 'My current firm has got a young demographic in terms of staff members, and I've rarely worked in a place that is as accepting, tolerant and open when it comes to sexuality.' That contrasts with the firm he trained with, he says, which was 'very much a traditional "small-c" conservative firm'.
He recalls: 'Although they weren't actively nasty about it, you could tell they were slightly uncomfortable. They were trying to do their best to be tolerant and inclusive, and not always succeeding. When I was a trainee, I mentioned I was going on holiday to California. The training partner said to me, "Oh, you'll like it there. San Francisco is there, isn't it? That's very pink." You could hear the gears grinding as they were trying to be nice, but failing completely.'
Some attending our roundtable were 'out' as students, but went 'back in the closet' at the point where they entered a professional services environment. To avoid this scenario, workplaces need to make their commitment to equality and diversity highly visible. Barrister S Chelvan, of No5 Barristers Chambers, says: 'That's why there's an obligation for senior members of any law firm or chambers to be visible. Visibility is so important, that we're creating the safe space so people feel it's not an issue.'
'I don't think that's accepted by everybody,' Dentons associate Esther McDermott observes. 'I think there is more work to be done in terms of educating other LGBT people in our organisations, as to why it's so important that they're visible… in terms of others coming into the profession. At the end of the day, if they're out at work, they are a role model.'
I did a talk in Toronto last year, and I said that it was 21st Century LGB, 1995 trans. We are trailing

Rachel Reese, Global Butterflies
Senior management at Gowling WLG led the firm's efforts in creating a 'safe space' environment, construction law associate Sarah Rock says: 'Everybody from our senior managers down has rainbow lanyards. We have rainbow flags on the reception desk and the minute you walk into the building it's a safe space. This happened before I joined the firm and somebody commented to me the other day that they felt empowered. Everybody was supporting them, but it was the senior management who led the drive – so nobody batted an eyelid about putting on a rainbow lanyard.'
Rock adds: 'We know we still have some closeted employees. Actually, sometimes it's the individual's issue rather than the culture, so I don't know how you fix that for the individual.' Reeves responds with reassurance: 'As long as you've created an environment where people feel that if they want to be out they are able to.'
Across the profession, Hardwicke barrister Brie Stevens-Hoare QC notes, that environment varies hugely: 'We [have] made a huge amount of progress legally. The job is not complete, but it's within spitting distance, it will get sorted.
'The harder job for me,' she adds, 'is the hearts and minds, and that's very patchy. The danger is to be complacent about that, because we can look at a younger generation and think they're actually ahead of most of my generation. I've got stuff to learn from them in terms of their openness, and the way they approach gender identity in particular.'
That openness, she says, does not tell the full story: 'Look at the [recent] Stonewall report [highlighting] the amount of bullying that's going on in schools. We can't say, "Oh, the young are coming through and it's going to feed through in work", because they're coming from an environment where it's not working. They're coming into environments where there are fabulous firms, but there are firms and chambers that aren't great… So, we've actually got quite a lot still to do. The hearts and minds is the much harder job.'
Changing 'hearts and minds' is something those present take some responsibility for, even though prejudice is hardly their fault. Reed Smith's Janine Foster notes explains: 'It's important to be out, not just as a role model, but also for the straight people around.' She has had numerous roles in her career, and is able to reflect on the position in 'very masculine' workplaces where gay jokes are routine.
'Often I'm the only lesbian – the first out lesbian – that they've ever met. When they realise that I'm just a normal person, then suddenly their own views on lesbians change. They keep a bit more of a check on their language or I'll [be able to say], "Oi, you can't say that".' As a result, she concludes: 'Just come out and suddenly people's minds are broadened… magically.'
Looking out
The discussion thus far has considered equal treatment within law firms and legal teams. But as professional services are so intensely client-focused, client conduct and attitudes matter greatly too.
Put simply, how should one deal with open prejudice, strongly expressed, by a client? And – a particular issue for international firms – what about operating in jurisdictions where laws forbid or limit LGBT rights?
Enlightened law firm and legal department management may know that serious business studies, including extensive research by EY, show diverse workplaces to be more productive and profitable, but client disapproval gives matters a hard edge. As for hostile jurisdictions, well – law firms are not usually in the business of pushing 'regime change' when abroad.
We have rainbow flags on the reception desk and the minute you walk into the building it's a safe space. Somebody commented that they felt empowered, everybody was supporting them

Sarah Rock, Gowling WLG
Wheeler begins with a challenging scenario, where he is willing to accommodate a client: 'There's a particular issue in the sort of work that I do, because I specialise in compensation claims for abuse [in] childhood. Often, you have [male] clients who had been abused as children by adult men. They come with an idea that homosexuality was wrong. That was actually very difficult for me… the way I deal with it is, if a client asks me what my sexuality is, I'm not going to lie. If they have a problem with that, then it may well be, for that client, I would say, "Well, I think you just need another lawyer in our team who isn't gay".'
In his own practice area, Gryk feels able to take a robust approach: 'Immigrants aren't all angels and our clients discriminate on all sorts of bases. We have clients who are unhappy if they're assigned to a black lawyer, or we have gay clients unhappy if they're assigned to a non-gay lawyer. We have a zero-tolerance policy of that. We say, "What you need is a good lawyer. This is a good lawyer. If you're not happy, then you should go to another firm".'
Confronting the issue, explaining the position – in effect giving the client a second chance – is an approach also taken by others present. Stevens-Hoare says she would expect the same support from chambers that she received when facing prejudice as a woman. 'I'd been working on a case and… the client had not met me in person, [so] didn't realise I was a woman. We had a conference shortly before trial [where obviously] they realised. I'd dealt with the case up to that point.'
Nothing was said at the conference, but afterwards she got a phone call from the solicitors to say the client wanted to return the brief. The solicitor said: 'She objects to a woman because she doesn't believe a woman can be forceful enough in court and it needs to be returned to one of your male colleagues, who specialises in this area.' Stevens-Hoare recalls: 'I'm proud to say, chambers said, "No, if it's being returned for that reason, you take it out of chambers." What that felt like for me was extraordinary. That degree of support. I hope that is what people would do.'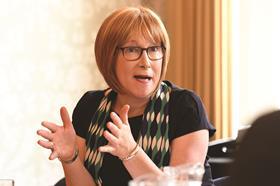 Kevin Poulter, employment law partner at Child & Child, raises the question of a discriminatory jurisdiction. Recalling instances brought to his attention as a committee member of the Junior Lawyers Division, he asks: 'Where there's a trainee who has wanted to do a secondment, or go to a seat in an international office in a country where… it's illegal to be gay. How do the bigger firms deal with that? You're potentially discriminating by not allowing the trainee to go to those places, to have that opportunity, but equally, to put them out there is potentially a risk for them as well.'
Lawyers present point to examples of numerous gay lawyers having the opportunity to work in such jurisdictions, including lawyers who moved with long-term partners. But they are understandably reluctant to put those examples on the record or, given the small size of some foreign offices, to have their firm named. As one notes: 'We will facilitate it but we can't really admit to it.'
Those present accept such practical discretion as necessary. But it is also noted that there are active ways of signalling tolerance and support, even in jurisdictions like this. One says: 'We don't censor the Intranet, but we are careful about what we say in the Middle East… we have an "ally" programme to provide individuals with support.'
Another adds: 'We have screensavers for various events. If you leave your computer for two seconds it seems, somebody pops up to tell you what's going on that day.' One LGBT event was posted globally in this way 'and then we discovered it was actually illegal in the Middle East and we had to take it down'.
An alternative approach was taken up on another day: 'We have a day of wearing pink – everyone in the firm wears pink… We took photographs and tweeted them from the various offices, and there was some slight hesitation about what we were doing with [the Middle East] but they just took it upon themselves to [take pictures and ] tweet it. So, we've gone more from a "when in Rome" approach to [a sort of] ambassador approach. We're trying to make a change in those places.'
Does the issue of client pushback arise on big-ticket corporate deals? Hogan Lovells partner John Basnage says: 'I've never had the experience of that. I think, because a lot of our clients are institutional, like large banks, they wouldn't do that.'
Conversely, some clients are taking the lead in promoting equality and demanding proof that a firm they are instructing takes it seriously. Laura Thornton's firm, Bircham Dyson Bell, acts for many public sector clients: 'We're asked some quite tough questions about… credentials and it's certainly an important consideration in the firm's planning and work in this area.'
Together with the influence of the Stonewall workplace equality index, referenced as influential by several attendees, Thornton notes the power of such questions: 'Lawyers do, I think, follow, so if your client's asking you something, it's pretty important to listen to what they're saying.' With such public sector clients, she adds: 'You feel quite comfortable being yourself.'
Best policy
What should be in a workplace's employment policies relating to LGBT? Does a workplace need a stated policy beyond a commitment to equality?
DWF's Gail Taylor believes policies are important: 'You do need the policy. From a HR perspective, you will always have somebody who does something which is actually against the policy or the culture of the firm. If you haven't got that policy, they will say that they didn't know.'
Poulter says: 'From an employment point of view, I don't see any reason, nowadays, why there needs to be differentiation between men and women in policies. They're just purely down to gender. I think the response to that would also assist across most diversity strands.' An exception, he notes, relates to transgender, because of accommodations needed during a transition period.
Reese expands on this: 'For trans people, in a way it's your shop front. [The policy is there] to say what you are going to do to support trans people in your firm. So, if you have people applying, [perhaps] in "stealth mode", they're going to look to see what you, as an organisation [say]. [The policy] should be a positive statement… It should be written in a really positive, living and vibrant way.'
Reese is asked if the path to equal treatment for transgender lawyers is broadly similar to that LGB peers have been able to take in increasing numbers. 'Our route map is very complex,' she replies. 'The language in our space is not agreed. So, a lot of trans groups argue over space, and trans groups don't necessarily work in a very cohesive way, so we lose a lot of ground.'
As a result, she adds, in supporting equality, some are 'struggling to learn the language that we don't agree'.
Still, Reese is able to advise thus: 'I always say, "trans is actually quite simple. It just comes down to getting my name right, my pronouns, giving me somewhere to pee safely, and giving me a respectful place to work where I can be judged on my skills, and that's all I need". That's the same really as any other characteristic. It just comes down to, "I just want to come to work and do my job, and have that respect".' Still, she owns, 'building that can be quite a challenge in what is… a fluid environment'.
The past two decades record incredible progress towards equality in the legal profession, but there is more to do. As Basnage reflects, many firms have 'a real attrition problem with LGBT', moving from having 'quite a few LGBT associates in the first and second year, and [losing] most of them by the time they become sixth or seventh years'. Despite 'support from senior management, [LGBT] people leave in greater numbers than straight people. So, there's something in the culture that still isn't working'.
Basnage notes that transparency helps, citing Stonewall's equality index. 'The index is helpful because we see that our clients are ahead of us, and so we need to try to [match them]. I think we should be leaders, but a lot of lawyers tend not to be.'
The relevance of networking and networks is mentioned as the roundtable draws to a close. Poulter notes: 'In most law firms, in my experience it's all about the football, the rugby and lots of sporting activities… There's an issue there and it's that masculinity, which transmits down to this day, which affects women as well. I think it certainly affects me, in some ways.' He adds: 'On the flipside, I have clients because I'm gay.'
McDermott adds: 'It's [about] having diverse decision-makers, though, isn't it? If you've got a diverse team, they will feed in those views.' An unvaried offering will result, she says, 'if you've got all white, [straight] middle-class males making the decision on what they're going to do with their B&D and marketing budget.'
Even within LGBT networking, Lewis Silkin's Geraint Lloyd-Taylor adds: 'Some of the things that we default to are evening drinks. That does exclude a lot of people… A way forward, at least, is to have the evening drinks, sometimes, but sometimes to have breakfast meetings. Sometimes, to have lunch meetings. Just really try and mix things up and do things in a different way.' When that is done, he says: 'It's eye-opening, the different groups that come along and then the different views that are fed in. You miss out on that if you're just doing the same thing over and over again.'
Differentiation can be an advantage, Foster says: 'I can say, through my LGBT group I've got a much wider network, I go to lots of amazing events, I have a lot of opportunities that have actually represented themselves, because I'm gay. Also, I'm a bit different – I'm often, for example, the only women at a client event who's not wearing a dress.'
These are authentic points, backed by examples, but in the context of poor hierarchical advancement for LGBT professionals, there remains a bridgeable gap.
As Basnage puts is: 'In the States, I think in the Fortune 500, 0.3% of board members are gay. I have met a few of those and the connection is, I think, better from the beginning than it would be for a straight person.' But, he concludes: 'The statistics, I think, are still not in our favour.'