Much is written about the data-driven law firm, but what does that actually mean in practice? How are law firms really using data to support and grow their business? Joanna Goodman reports from the Gazette's latest technology roundtable
Beyond regulatory compliance, data protection and cybersecurity, law firms of all sizes use data analytics to help them understand their clients' requirements in the context of the business environment, the legal and regulatory landscape, and industry developments. These insights help them enhance and extend their services.
Practice management systems record and measure activities, producing business intelligence that supports management decision-making and identifies opportunities for efficiency/productivity gains. The Gazette roundtable brought together a diverse group of representatives from law firms of different sizes and profiles to discuss ways of leveraging the rich data that law firms collect and create.
In the past few months, the media has focused sharply on concerns around the collection and use of personal data. GDPR and similar legislation worldwide are forming a strong regulatory framework around data protection and privacy, and the heavy penalties for non-compliance have focused all businesses on the data they collect and control. Law firms are no exception as they are responsible for their own and their clients' data. This forces them to focus on effective data management.
GDPR: a data opportunity
Peter Wright, managing director of Digital Law and chair of the Law Society GDPR working group, sees GDPR as an opportunity rather than simply an additional compliance burden. 'Under GDPR you have to be able to demonstrate compliance. The starting point for this is data mapping so that you understand what data you have, where it is coming from, where it's going, how and where it is stored. Decisions also have to be made about when it is retained and when it is destroyed – which means deleting it from all repositories, including cloud servers. Firms need to ensure that they are harnessing useful data (not collecting/retaining more data than is necessary) and deleting it when it is no longer required. The outcome is a leaner, more efficient organisation. Our clients have achieved savings – in money and storage space – because they are making better use of their data, and they are not storing extraneous historical data in hard copy files or on servers.'
Becoming a data-driven law firm involves a culture change, not just a Marie Kondo-style clear-out. Boyes Turner, a mid-market firm based in Reading, has minimised its use of paper. 'We are paper-light rather than paperless, because litigation still requires hard copy, but most of our filing is online,' explains Georgia Shriane, a senior associate in consumer law and data protection. 'This has produced massive cost reductions in storage, printing and filing. However, it requires lawyers to file things correctly and that is where we have found the most resistance.'
Driving client service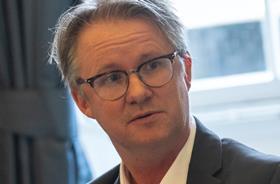 'The definition "data-driven" means nothing unless it is wrapped around the client,' observes Alan Larkin, head of innovation and technology at Family Law Partners, which has a knowledge transfer partnership with the University of Brighton to develop prototype data analysis systems for client-facing applications. 'None of the data that has profoundly changed my firm's business model has come from our mainstream IT systems. It has come from the systems and applications that we have built in-house. That is sad because the legal profession needs a helping hand. We are so far behind other industries; miles behind fintech. For me being data-driven is about understanding our clients' needs and expectations, identifying where we are falling short, and having the courage to change our business model.'
Karim Derrick, head of research and development at insurance-focused law firm Kennedys, agrees: 'A data-driven firm should be about using data to drive value to the client. But what does that mean for legal services? Is it about making the firm more efficient in its existing form, or transforming the service to be informed by the data it collects?'
Metrics that matter
Data can only make a difference if you identify the metrics that matter.
We have access to so much information, so we have to drill down and work out exactly what we need to know

Rachel Roche, Roche Legal
'A data-driven law firm is outcome-oriented,' observes Nick Francis from practice management system provider Clio, the roundtable's sponsor. 'It is said that what gets measured gets managed, so decision-makers need to be data-literate in order to decide which data points to track and manage. How do you know what to measure? Do you ask your clients how they found out about your firm? Do you ask them to review your services? Data-driven firms need to start by identifying the metrics that make a difference – otherwise data will simply be a distraction.'
Vikki Kent, business development director at Taylor Vinters, is coordinating the firm's data strategy. The first step was to identify an overarching purpose: 'For us, the critical elements are strategic alignment, risk exposure, business opportunities and key account management – which clients should we be focusing on? We then identified which data to collect and how to use it.'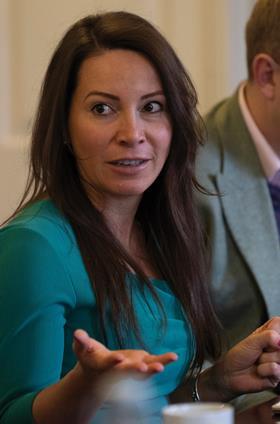 Effective data management is not just for firms that can employ data scientists and conduct academic research. Rachel Roche of Roche Legal has a small firm specialising in wills and missing people. 'We have access to so much information, so we have to drill down and work out exactly what we need to know,' she says. 'At the beginning of the year I was working on data analytics around prospecting, which we eventually boiled down to four or five questions: where do our clients come from? What do they want? How long does it take to convert an enquiry into a client?'
Peter Lee is CEO and co-founder at legal engineering firm Wavelength Law, whose data scientists, lawyers, technologists and design thinkers advise legal departments and law firms. 'The legal services businesses that impress me the most have a sophisticated approach to collecting and harnessing data. Data-driven decisions – using the right data – improve client services and uncover new business opportunities.' In Lee's experience, (internal and external) clients find advice that is supported by hard data reassuring. 'Combining data that you've captured from your own activity with publicly available datasets sends a powerful message,' he adds.
TOOLS OF THE TRADE
Data analytics are transforming how law firms are managed, by informing decision-making. Ian Jeffery, chief executive of Lewis Silkin, proposes a three-stage sampling test to ascertain whether a law firm is data-driven: 'The first test is data visualisation: whatever your role is in the firm, what is your experience of data? What kind of data are you seeing? How is it presented to you?
'The second test would discover whether there was a quantitative framework for important management decisions about work allocation, reward structures, investments, etc.
'The third test is about brand promise. Are you talking to your clients in a way that suggests data is of interest to you? Are they attracted by a data-driven law firm?'
Law firms, several of those present reflect, have long been 'driven' by a key dataset – time recording. Even where firms have moved away from the billable hour as a direct way of setting client fees, time recording remains a significant business management tool. The information gained is used to price matters when agreeing quotes, and to ensure that matters are delegated or passed up to a more senior lawyer at times that make good business sense.
However, Kent rightly warns against too much reliance on data, as the numbers tell only part of a story – sometimes you need to understand the context to explain the findings of data analysis. 'For example,' she says, 'we wondered why a client who had instructed us several times had apparently disappeared from the dataset – it turned out that we are still doing the work!'
Roche agrees, having enlisted expert help with data analytics and interpretation to draw out the findings that help her firm achieve its strategic objectives.
Value-added data modelling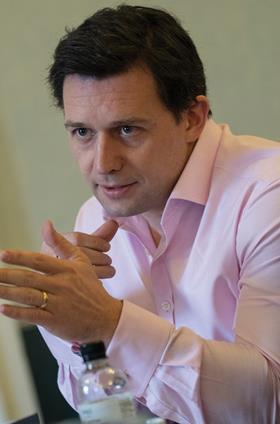 Data analytics and modelling informs standardised client interaction, particularly for firms which handle volume business, and paves the way for process automation. Derrick refers to his background in education tech: 'In education, the examination system provides standardised assessment which enables comparisons across diverse institutions. Kennedys is a volume business and we serve the insurance sector, but our clients aren't standardised and they're not very good at collecting data. We act as data collectors and we use the data we collect to deepen our understanding of their businesses and the sector. This adds value to the client relationships: for example, understanding why particular claims arise and why some claims go to litigation and others do not. This feeds back into policy writing, which is then informed by claims data. Our focus on data leads us to become more than lawyers – we are business advisers too.'
Rich Folsom, a lawyer at technology boutique Kemp Little, and CEO of the firm's tech licensing business, believes that a data-driven law firm needs to use data analysis to manage its own business. 'Some of our data initiatives add value by predicting workloads. This helps our clients indirectly because we allocate better and resource faster. In terms of using client data and balancing automation with expertise, we also need to consider confidentiality and legal privilege.'
Safe and secure
Solicitor Mihaela Padure, practice director at Forest & Co, which was established in 2018, is looking to avoid the mistakes that others have made around data security and protection.
Ian Jeffery, chief executive at Lewis Silkin, adds that data security is on clients' agenda from the start of the procurement process. Consequently, there needs to be an ongoing dialogue with clients about how their data is held – and used.
We act as data collectors and we use the data we collect to deepen our understanding of their businesses and the sector. This adds value to the client relationships: for example, understanding why particular claims arise and why some claims go to litigation and others do not

Karim Derrick, Kennedys
Wright flags up concerns around cloud software which shares data across applications, observing that 'the reluctance of some clients to engage with cloud services has acted as a disincentive to move to the cloud – even Office 365'.
Clio's Francis responds by highlighting the importance of asking the right questions about cloud security. 'Some clients insist on on-premise systems because they feel that a law firm's systems will be more secure than a cloud vendor's, but cloud services' business is predicated on data security and compliance, so it is hard for any on-premise solution to compete with the scale and sophistication of encryption and cutting-edge security applications.'
Notwithstanding this, Derrick flags up a key issue with distributed systems. In the light of GDPR, 'businesses want to know exactly where their data is located. When it's on-premise, clients can inspect it, and own the due diligence'. This produces a sense of security that may or may not be justified.
People, processes – and standards
Data-driven decision-making means joining up data from different silos and applying it to practical situations, which involve people as well as numbers.
Leah Caprani, an employment paralegal at Winckworth Sherwood, underlines the people issue – that effective data management means changing working practices, which is always a struggle for law firms. 'People are fundamental to collecting and managing data accurately. Firms are struggling with inputting the data in the first place. For example, if client relationship data is not recorded, you cannot track referrals. Data security measures will not work if people are not trained adequately.'
Larkin explains that establishing statistically significant data models that underpin a standardised approach requires data analytics over time. 'Although we can map the internal journey of a matter, family law is not about repeat business. Our virtual lawyer onboarding system captures specific data points. But it took us three years of data collection and analytics to reach the point where we could identify the primary factors that influence case duration and cost.'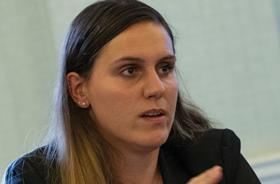 This approach could potentially augment commercial lawyering, which does involve repeat business, but this would require clients to share their data upfront to avoid uneven data entry. Roche believes that people are more willing to participate in data-related processes if they understand how their data is being used and how they will benefit. The outcome is a win-win: 'If we can track how we produce work, and we can make efficiencies and economies, fee-earners will be happier as they will get more done. Clients will be happier because they are getting a quicker service and better value for money.'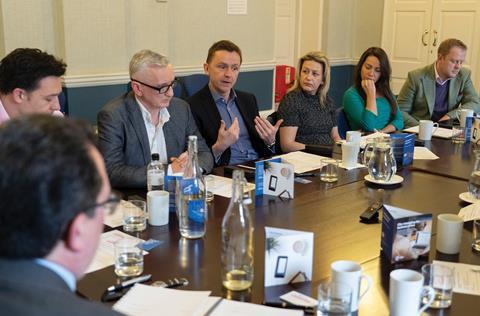 Kennedys relies on data-sharing arrangements to identify fraudulent claims. Derrick explains that establishing data sharing arrangements enables data collection to be built into processes, thereby removing data entry challenges as the process generates the data and provides transparency for compliance and business purposes. When data entry is part of an activity, it enables real-time analytics to inform practical decision-making.
GDPR has compelled law firms to organise their data better and highlighted the opportunities that standardisation brings. How should a firm start to benefit from the data it captures and generates? Francis recommends a two-step approach: 'First, introduce straightforward processes, for example, by identifying the data points you need to capture when you open a new matter. Once you have created standard processes and datasets, you can introduce analytics and automation, to ensure that your data stays clean and organised.'
Larkin encourages collaboration between firms to accelerate learning and progress. He has opened up Family Law Partners' research to other firms to promote benchmarking and increase access to legal services.
Folsom at Kemp Little brings the collaboration challenge back into the firm, encouraging technologists and lawyers to work together to improve products and processes. Kent recommends presenting existing datasets in new ways, such as visualisation, and identifying information gaps. Wright agrees, focusing on greater efficiency and transparency, particularly around costs. Lee goes further, challenging partnerships to think of law as a data business and data as a service model.
Legal services are moving into an era of augmented analytics, where data and technology augment lawyers' value. Meanwhile, data-driven firms are having conversations with their clients to understand how data can be leveraged to improve services and develop business.
You may also find our weekly Cybersecurity & GDPR news digest helpful. Subscribe here, to stay up to date for free.
Joanna Goodman is a technology author and freelance journalist
This roundtable was sponsored by Clio