In the past 18 months, notwithstanding the upheaval of Covid-19, law firm profitability has generally been maintained, with many firms reporting increased profits. Improved productivity has also yielded steady growth, supported by a stream of M&A activity. A critical success factor was that lawyers were able to transition to online working pretty much overnight. This was largely due to the business professionals behind the scenes: the non-fee-earners who plan and manage the systems and processes that enabled lawyers to communicate with their clients and each other, and access the knowledge and information they need. As firms shift their operations to a hybrid model that combines office and remote working, the Gazette brought together senior management figures from large firms to discuss how their firms are leveraging the operational agility and IT capabilities developed during the pandemic to boost profitability and growth.
Agile mindset
Digital transformation is business critical for global firms like Dechert. Chief administrative officer George Pantelides highlights the efficiency benefits of digitising processes and reducing the need for physical presence and paper documents. 'My role on the [firm's] Future of Work committee is to help the firm embrace an agile mindset. Specifically, we want to harness the learnings from the past 18 months, get rid of preconceptions about how work is done and find out how data and technology can help us become more efficient,' he explains. 'My team is the engine room behind what lawyers do, and we are seeing a shift in roles, from supporting document production to document logistics.'
The right allies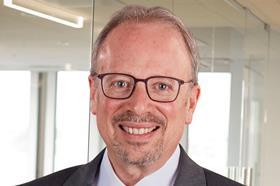 Kerstin Morgan, head of practice transformation at Mishcon de Reya, adds that as business services transition from a back-office function to a service function, they need 'the right allies in the business. Digitising process and driving tech adoption means helping people use and understand the technology we are introducing into the business. The direction of travel for the non-legal roles is positive. I started out 10 years ago in continuous improvement, and back then it was very much about knocking on doors and trying to explain the value proposition. Now business services have evolved into a broader offering, bringing together continuous improvement, business development, pricing, resource management, and include new roles: legal technologists, legal engineers and legal project managers'.
Neville Eisenberg, senior partner and CEO of BCLP Cubed, at Bryan Cave Leighton Paisner, explains that business services underpin almost all routes to growth. 'Business services are critical to opening new international offices. Most of the integration work following a merger happens behind the scenes across multiple business services departments. Even organic growth can only be successful with the right recruitment programmes, training programmes, business development strategy, client relationship management and service quality. Business services are critical components of any law firm growth strategy.'
Business services are critical to opening new international offices. Most of the integration work following a merger happens behind the scenes

Neville Eisenberg, Bryan Cave Leighton Paisner
Multidisciplinary teams
Law firms are increasingly recognising that in order to become a true driver of growth, the business services teams need to become client facing too.
Eisenberg continues: 'So, at BCLP we have put together multi-disciplinary teams, which include lawyers, to deliver legal services. These teams include multiple areas of expertise: knowledge management, process engineering, technology, legal project management, and people involved in running service centres. These teams do not just function in the background but are increasingly client-facing. We've found that clients' response to dealing not only with a lawyer but having access to a wider range of disciplines within the firm, is hugely positive and opens relationships with clients in the most extraordinary ways.'
At Gowling WLG too, multi-disciplinary teams are driving growth by working more closely with clients. 'For example, our legal engineers work directly with clients to apply the right technology,' explains chief operating officer Andrew Edginton. 'The international aspect is another key theme,' he adds. 'It's important to transfer learnings from each jurisdiction to drive growth right across the portfolio. This means making sure that the innovations that we create and use in the UK are properly embedded and rolled out across other jurisdictions.'
Profitability through efficiency
Like Morgan at Mishcon de Reya, Mark Collins, senior legal technologist at Eversheds Sutherland, is focusing on bringing together people, processes, and technology to drive profitability and growth. This includes process improvement for matter management. 'Rather than having a distributed model with lots of different systems that do different things, anybody working on a matter can access the entire process from start to finish on a single platform, from client instruction, through matter opening, document drafting, investigation, negotiation, execution, completion and closure of a matter. This echoes the need to move away from the paper-based processes that firms have had for many years. That single platform integrates with lots of other elements, including AI, data analysis and data visualisation.'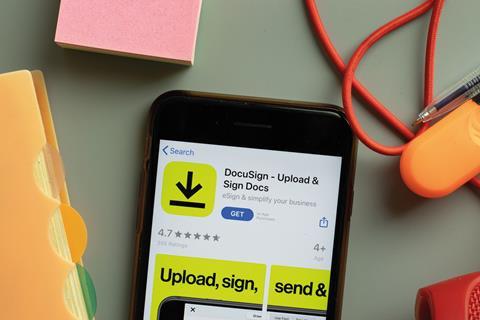 Covid-19 accelerated the adoption of technology solutions that had been available previously but did not gain traction until the pandemic turned them from a 'nice to have' into a necessity.
'For example, organisations have spent years trying to roll out electronic signatures, but have only seen pockets of adoption, but over the last 18 months, people have been asking for these solutions,' says Collins. 'Electronic signatures such as DocuSign are a really interesting example of how the pandemic has moved us on. We've been waiting years for this to happen.'
David Aird, IT director at DAC Beachcroft, adds that growth does not necessarily boost profitability. 'At DAC Beachcroft, we've grown our profits 20% year on year for the last seven years. We have concentrated on sustainable value and profitable growth, rather than just adding lateral hires, which boosts the size of the firm, but may not improve its profitability.'
Changing behaviours drives tech adoption
Kathryn Pearson, head of knowledge and client service solutions at Bird & Bird, observes that the pandemic accelerated adoption because it forced behavioural change: 'During the first lockdown one of our corporate partners used our online deal room for a closing for the first time. When I asked him, "Which new piece of functionality led you to work in a different way?" he admitted that there was no new functionality – the driver was the discipline of working online during lockdown and ensuring that the associates managing each work stream kept all the documents and task lists up to date so that the client had full visibility. It was about the way the pandemic had changed people's behaviours rather than the tech itself. So, our challenge is navigating multiple requirements from across the business and getting across to partners and teams the realisation that successful legal tech implementation requires a lot of "grunt" work too.'
Getting value from data
Nyembo Mwarabu, vice-president and global head of sales at Conduent, observes that the pandemic highlighted the challenges and opportunities around data: the cybersecurity issue, and the opportunities to leverage client data. 'Law firms' efforts to digitise documents and processes have led to increased interest in getting insights out of data they have already collected and analysed; and seeing how the work products that they've developed for specific clients and matters can be reused,' he says. 'This has created more demand for analytics and AI tools, not just to look at individual cases and matters, but to gain broader insights that help law firms become better partners to their clients.'
Neville Eisenberg at BCLP Cubed agrees: 'Particularly with more commoditised legal services, we've seen keen interest from clients on data capture and data analytics. One of the biggest growth opportunities lies in law firms acquiring the ability to digitise their data and use it create business insights for clients. Business services, technologists and data scientists will be critical to opening up that growth opportunity.'
DAC Beachcroft's insurance practice accounts for 50-60% of the firm, and David Aird and his team are sharply focused on data: 'We have a lot of data, and a lot of case management around it, so we have a lot of data points. We are seeing more data analysis in other practice areas too. We've got advanced data capture tools, but the question for more traditional firms is where are you going to record the data? You might have business intelligence tools in your practice management system, but where are you going to record other data points? Before you consider data analysis tools to offer your clients data insights, you need to record and capture the data, and that is quite a difficult thing to get lawyers to do.'
Optimising the hybrid model
The discussion turned to the challenges of shifting from working entirely remotely to creating a new hybrid model that was the best fit for the business.
Sharon Smith, director of multichannel services at Conduent, highlights the value of the digital mailroom that supports agile working and digital transformation. 'Now that firms are in hybrid mode, it's essential to consider structured in-bound digitisation of documentation, so that in-bound documents can integrate easily into back-office systems and offer the agile working that most legal firms are now trying to adopt. We have a range of technical solutions that support different workflows, routine requirements and matter organisation systems.'
Dechert's Pantelides stresses the importance of planning the hybrid workforce and workplace: 'We want to balance the benefits of being together with the benefits that our employees get from the flexible life. This is about balancing trust and autonomy.' He refers to a 2015 report from The Peter Drucker Institute, 'Convene to collaborate, isolate to concentrate', adding that more concentrated work will probably stay remote, and the physical environment will need to be adapted to maximise the benefits of in-person collaboration.
Nyembo Mwarabu, vice-president and global head of sales at Conduent, considers business continuity when building the hybrid model. 'We have seen a lot of organisations trying to make sure that remote working goes from a temporary sub-optimal solution to a permanent superior experience,' he says. 'Managing document review is one of the key challenges for our law firm clients because they were reviewing our clients' most privileged and confidential data. Having to move that service remote and online has forced us to adopt a number of critical technologies, including monitoring people through their webcams. It's been a challenging transition.'
At the table
| | |
| --- | --- |
| Mark Collins, Eversheds Sutherland | Kerstin Morgan, Mishcon de Reya |
| Neville Eisenberg*, Bryan Cave Leighton Paisner | Richard Gaston, Addleshaw Goddard |
| Kathryn Pearson, Bird & Bird | George Pantelides, Dechert |
| David Aird, DAC Beachcroft | Andrew Edginton, Gowling WLG |
| Rachel Dabydoyal, Hogan Lovells | Nyembo Mwarabu, Conduent |
| Sharon Smith, Conduent | Eduardo Reyes, Law Society Gazette (chair) |
Business services and tech procurement
Conduent's Smith emphasises the need to apply a strategic approach to tech procurement and implementation: 'People think that there is a piece of tech for every problem, but each time you add more products, you need more integrations. Processes become complicated and ultimately less productive. It's important to take a strategic view when deciding what tech is most beneficial for your business.'
Richard Gaston, head of knowledge and research at Addleshaw Goddard, highlights the significant gatekeeper role that business services have when it comes to decisions around tech procurement. 'Business services teams tend to work across the entire firm,' he explains. 'While the crisis has been a brilliant catalyst, sustainable growth requires strategy and governance, and recognising that you don't necessarily need sophisticated technology to deliver efficiencies.'
Rachel Dabydoyal, head of alternative delivery solutions at Hogan Lovells, agrees, advocating a strategic approach to tech procurement, supported by collaboration between partners and business services: 'Rather than just buying in shiny new products, it's important to look at what you've already got: what can be used in different ways. Communication is important too, so that lawyers are aware of tech resources and functionality and business services teams understand the products. It is key to take a joined-up approach across the firm and not end up with lots of shiny toys in the sandpit that no one is using.'
Our challenge is navigating multiple requirements from across the business and getting across to partners and teams the realisation that successful legal tech implementation requires a lot of "grunt" work too

Kathryn Pearson, Bird & Bird
Lights-on tech v innovation for growth
Notwithstanding the acceleration in tech adoption, did the pandemic lead firms to prioritise lights-on tech and implementing remote working over strategic innovation for growth? Mishcon de Reya's Morgan flags up one of the key challenges for technology development. 'While tech adoption around electronic signatures and online communications got a massive boost from the pandemic, because people couldn't meet in person, the development of more sophisticated solutions may have been put on the back burner,' she says . 'However, because people needed better communication and coordination, it also brought the concept of legal project management to the fore.'
Gaston highlights the embarrassment of choice created by the growing legal tech marketplace. 'Many new legal tech providers are small startups which are ill-equipped to deal with law firms' long procurement process, which is often about the supplier due diligence that we have to do, because of regulatory requirements and our duty to protect the confidentiality of our clients' data,' he says. 'Sometimes the opportunity cost for a small supplier of going through our onboarding process might mean it's not worth it. So we risk limiting ourselves to large vendors who might have less interesting technology, unless of course they acquire smaller tech businesses.'
Aird also struggles with managing the balance between tech innovation and regulatory and confidentiality requirements: 'Some larger firms are spinning out tech businesses in order to pilot technology without taking risks with client data. We are exploring whether we need to do that or whether there's a way to be innovative, perhaps using a sandbox without upsetting my colleagues in risk, governance and cybersecurity. It is certainly a challenge and it's interesting to try and innovate within our traditional frameworks, because even where we have outsourced IT innovation, we still have to consider our internal governance. We certainly have not got that lit but it's part of our new IT strategy.'
Morgan's tactic is to involve the procurement function as a key collaborator. 'It's really important to develop a mutual understanding of each other's perspective and processes. If I involve them earlier, and I know what checks they have to do in the background, including IT security, that can only streamline and improve the process. I work very closely with our procurement team. The challenge is that lawyers are keen to liaise with tech vendors and suppliers directly, and it's hard to consolidate that,' she explains.
Rather than just buying in shiny new products, it's important to look at what you've already got: what can be used in different ways

Rachel Dabydoyal, Hogan Lovells
'So, I'm working on a legal tech catalogue to take stock of what we already have and monitor adoption and follow up with lawyers and vendors if utilisation drops. It's important to work with procurement on the rationalisation of vendors and tech, and to develop a mutual understanding and a clear process for renewals. It is also important for me to develop good relationships with vendors and suppliers, and I think procurement can play a really big role in looking at the commercials and helping with the more difficult conversations.'
Finally, the group looks at strategic priorities and changes that would support profitability and growth. While delegates agree about business services managing the strategic tension between tech innovation, procurement and risk, Eisenberg's observation that true digital transformation for profitable growth requires lawyers to become less controlling around service delivery is shared by everyone around the table. 'The change that would really make a huge difference is if lawyers came to terms with the fact that, in the future, they will have less control over the way legal work is done. In the past, lawyers had complete control over the way the legal service was delivered to clients. But now, increasingly, they will need to let go a bit and share control over how work is delivered and share client relationships with other disciplines within the firm. Lawyers' acceptance of that will help
law firms grow their businesses in the future. As law firms increasingly professionalise their management, the role of business services will become increasingly critical to law firm growth strategies.'
* Neville Eisenberg has since left Bryan Cave Leighton Paisner