On 25 May 1921, The Times published the bar final examination results. For the first time, the list of successful candidates included a woman: Olive Catherine Clapham. The newspaper marked this milestone with a short article highlighting her achievement, headlined 'The First Woman Barrister'.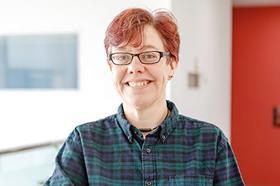 That headline was of course inaccurate. The exams were only one step towards qualification, though an important one. Clapham still had to keep six more dining terms at her Inn of Court, Middle Temple (pictured), before she could be called to the bar, which would take at least 18 months. However, The Times was not alone in being carried away. The Law Coach, a publication for law students, whose editor Edgar Hammond had tutored Clapham for the exams, pointed out The Times' error but added one of its own: Clapham 'will no doubt be the first woman barrister in the course of a week or two'.
In fact, Clapham took several years to complete her dining terms and would not be the first woman barrister. Nonetheless, her high-profile success was important not only in inspiring other women with legal ambitions, but also in shaping perceptions of women barristers. Her obvious ability, combined with her youth and personable character, created positive impressions in news stories about her. As a result, the media coverage left behind questions of whether women could or should become barristers, and moved on to worrying about what these women should wear.
Clapham's pioneering path to the bar, and the reasons for its more faltering final steps, had their origins a long way from the Inns of Court. She had been born in Wakefield, Yorkshire in 1898. She was the only daughter of Walter Clapham, a printer and local newspaper owner who died when she was four. His widow, Catherine, and her children went to live with Walter's sister and her husband in Kingston upon Hull. Olive's aunt was a notable couturier, known professionally as Madame Clapham, who made outfits for society ladies including Queen Maud of Norway. The business was managed by her husband, Haigh. Clapham's mother worked as their housekeeper, looking after the young women employees who lived on the premises. Walter Clapham had left little money to his young family, so Olive's extensive education was almost certainly paid for by her aunt and uncle.
While Madame Clapham was a Christian Scientist, her sister-in-law and family were Catholic. Clapham attended the French Convent School before going to Oxford University in 1916, where she lived in St Frideswide's hostel for Catholic women students. She completed most of her undergraduate degree during the first world war when Oxford was a quiet and sombre place. Clapham first studied English, but transferred to Jurisprudence in her second year, becoming one of only three women law students. When she completed her BA in mid-1919, women were still excluded from the profession. That is perhaps why she chose to stay at Oxford and study for the postgraduate Bachelor of Common Law degree.
Her first term had barely ended when the Sex Disqualification (Removal) Act 1919 was passed, allowing women to qualify as lawyers. Clapham soon travelled to London to join Middle Temple. She was admitted on 17 January 1920 and combined keeping her dining terms with her academic and bar studies. She was among the first women to graduate after Oxford began formally awarding degrees to women later that year.
Thanks to her prompt start, Clapham had already completed six dining terms when she passed her bar finals. However, it would take several more years to finish them and be called to the bar. The delay was likely caused by her going to live and work in Cambridge immediately after taking her finals.
Meanwhile, Ivy Williams overtook her fellow women students when she was excused two terms' dining after receiving a first-class finals mark. She was called in May 1922 but never practised, continuing her academic career instead. That November, nine more women were called, among them Helena Normanton, who had been the first woman admitted to an Inn of Court and would go on to achieve many more firsts; and Monica Geikie Cobb, who within weeks would become the first woman to hold a brief in court.
Clapham was called on 17 November 1924, several years after her peers, and it is not clear whether she practised at the bar. If she did, it was for two years at most: on 31 December 1926, Clapham boarded a ship to Sri Lanka (then known as Ceylon), giving her profession as 'barrister' on the boarding list.
Once in Sri Lanka, she married George Cockburn Miles. He was a civil servant who, like her, came originally from Wakefield and studied at Oxford, although they first met in London after graduating. The couple lived in Sri Lanka for some years before returning to Britain. They had four sons and a daughter. Clapham did not return to legal practice but remained interested in the law all her life, as well as pursuing other intellectual interests. She died in Hertfordshire in 1973.
The centenary of Clapham's pioneering achievements is a good moment to recognise not only her ability and successes, but also the effect she had on the legal profession. By offering a positive public image of the woman barrister at that crucial time, she had a key role in ensuring acceptance of women's entry to the profession. The journey to full equality is, of course, a much longer one which has not yet finished.
Dr Caroline Derry is a senior lecturer at The Open University Law School