An English solicitor is among the victims of the series of blasts that killed more than 300 people in Sri Lanka on Easter Sunday. Anita Nicholson, in-house counsel at mining company Anglo American in Singapore, was killed along with her two children at the Shangri La hotel in the capital Colombo. Her husband Ben Nicholson, also a solicitor, survived.
According to the Law Society's Find a Solicitor, Anita Jane Nicholson was admitted in 2000. Her LinkedIn profile states she was a regulatory and compliance managing counsel at Anglo American. She previously held roles at BP and HM Treasury - where she worked for 12 years - and was also a solicitor at international firm DLA Piper in London.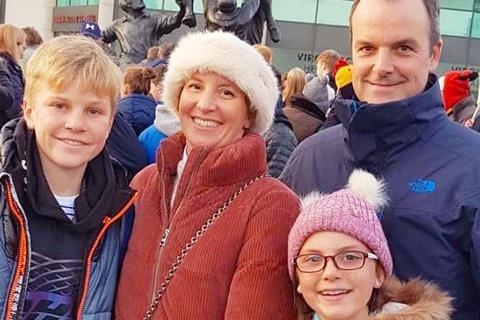 Ben Nicholson is a partner in the Singapore office of international firm Kennedys. In a statement this morning Kennedys confirmed the 'devastating news' and said it is supporting Nicholson in every way it can.
The spokesperson added: 'Ben is now surrounded by the loving support of his family. This is devastating news and our thoughts are very much with Ben at this difficult time. Understandably, we ask that you respect Ben's privacy at this tragic time.'
In a statement released over the weekend Ben Nicholson said: 'I am deeply distressed at the loss of my wife and children. Anita was a wonderful, perfect wife and a brilliant, loving and inspirational mother to our two wonderful children. Alex and Annabel were the most amazing, intelligent, talented and thoughtful children and Anita and I were immensely proud of them both and looking forward to seeing them develop into adulthood. They shared with their mother the priceless ability to light up any room they entered and bring joy to the lives of all they came into contact with.
'I would like to give my sincere thanks for the medical teams at General Hospital, Colombo, for treating Anita, Alex and Annabel with great dignity and me with kindness and sympathy. I would also like to thank the teams at the British High Commission and Adhvan Tours who have looked after me since Sunday morning and the Sri Lankan people I have encountered in Colombo following this catastrophe.
'Anita, Alex and Annabel leave behind a large extended family and many close and cherished friends who are now grieving this tragic loss. We shall all miss them dearly. We are all grateful for the many expressions of support and good wishes. We would ask that the media now respect our privacy and allow us to grieve together.'
A spokesperson for Anglo American said: 'We are in contact with Anita's husband, Ben, and supporting him in any way we can. Our thoughts are very much with Anita's and Ben's families, colleagues and friends and we ask that you respect their privacy at this difficult time.'
At least seven explosions were reported on Easter Sunday with churches and luxury hotels targeted.
Chancellor Philip Hammond tweeted the following this morning:
Along with staff at @HMTreasury, I am sending my condolences to the family of Anita Nicholson and her children, who died in the Sri Lanka attacks. Anita was a former legal adviser at HM Treasury & is remembered by colleagues as a brilliant and dedicated lawyer. https://t.co/PCoxJMU4vM

— Philip Hammond (@PhilipHammondUK) April 23, 2019