Two recent cases have tested the principle of diplomatic immunity.
A career in the diplomatic service must be a bit like working as a foreign correspondent.
You get to live in another country at someone else's expense – although sometimes it turns out to be less congenial than your own. You meet interesting people and ask them difficult questions – but you can't be sure of getting a straight answer. And you're expected to know everything about the country you work in – even if you've just arrived.
There's one big difference, though: unlike journalists, diplomats can park their cars wherever they like – or so they would have us believe. They base that privilege on article 31 of the Vienna Convention on Diplomatic Relations, which says that a 'diplomatic agent shall enjoy immunity from the criminal jurisdiction of the receiving state'. And that's not all: so long as they are performing their official functions, diplomats also have immunity from that state's civil and administrative jurisdiction. Under the Diplomatic Privileges Act 1964, those provisions have the force of law in the UK.
But the diplomats' get-out-of-jail-free card allows them to do rather more than park on double yellow lines. Little wonder, then, that some diplomats have treated it as an infinitely flexible friend, seeing how far it will stretch. The answer is to be found in two recently decided cases, one upholding diplomatic immunity and the other refusing it.
The first of these cases was brought by Fawaz al-Attiya, who was born in London to a family with property holdings in the Gulf state of Qatar. He sued Sheikh Hamad bin Jassim bin Jaber al-Thani, who was Qatar's prime minister and foreign minister until 2013. Al-Attiya's claim, which was vigorously denied, involved the compulsory purchase of his family's land for a state building project – allegedly for less than it was worth.
Fortunately, this is not an allegation that the English courts will have to investigate. Hamad's lawyers persuaded Mr Justice Blake that al-Attiya's claim had been brought, in effect, against the state of Qatar, which was entitled to sovereign immunity under the State Immunity Act 1978. In addition, Hamad was now an accredited member of the Qatari embassy in London and so entitled to diplomatic immunity under the 1964 act.
But was Hamad really a diplomat? According to al-Attiya, a person is a diplomatic agent only if he exercises the functions of an agent, as set out in the preamble to the Vienna convention. In Hamad's case, the evidence suggested otherwise.
Not so, said the former prime minister. His appointment as a diplomat had been accepted by the Foreign & Commonwealth Office (FCO) in London. It was not for the courts to question this.
After considering the case law, Blake rejected the functional approach that al-Attiya had argued for. 'The prerogative power of conducting foreign relations is exercised by the executive through the FCO and not by the courts,' the judge said in February.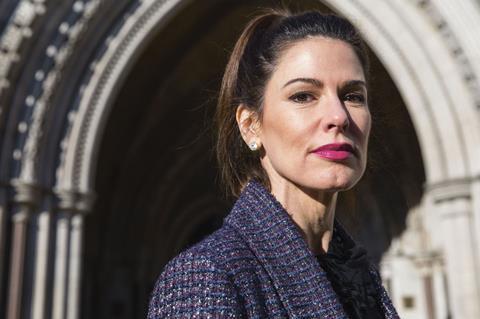 A week earlier, another High Court judge had answered the same question very differently. Christina Estrada (pictured left), a former model, was claiming financial provision after her divorce from Dr Walid al-Juffali, a wealthy Saudi businessman. But after Estrada's divorce petition had been issued, al-Juffali was appointed by the Caribbean island of St Lucia as its permanent representative to the London-based International Maritime Organisation. The FCO confirmed that this made him an accredited diplomat.
Mr Justice Hayden found no evidence that the Saudi businessman had any knowledge of maritime matters or had undertaken any duties since his appointment. Al-Juffali had, however, pledged significant resources to improve health care in St Lucia. 'I am satisfied that what has transpired here is that [al-Juffali] has sought and obtained a diplomatic appointment with the sole intention of defeating [Estrada's] claims,' said the judge. In his view, al-Juffali's assertion of diplomatic immunity was 'spurious'.
But that was not a question for the courts, Lord Dyson held in the Court of Appeal last month. Blake had been right when he said it was for the FCO to decide whether somebody was accredited as a diplomat.
Even so, the appeal judges saw no reason to overturn a separate finding by Hayden that al-Juffali was permanently resident in the UK. That meant he could claim immunity only while exercising his official functions. And defending a financial claim brought by his former wife was clearly not one of these. Estrada's solicitor, Frances Hughes, said her client was delighted the courts had allowed her claim to go ahead.
You can understand why Hayden was considering whether he could describe al-Juffali's diplomatic status as a 'sham'. But there are good pragmatic reasons for leaving the practice of international relations to the governments concerned – even if that does mean free parking for diplomats.