When I started as the first black Briton to study at Harvard Law School, I had several different motivations. First, I wanted to make a difference. My heroes had changed the world by changing the law. From Martin Luther King's struggle for racial equality to Emmeline Pankhurst's battle for women to be treated fairly. After being raised in poverty by a single parent in the shadow of Tottenham's Broadwater Farm Estate, I also wanted some level of security. The final reason I became a lawyer was that I wanted to be like Blair Underwood, from the 1980s TV show, LA Law.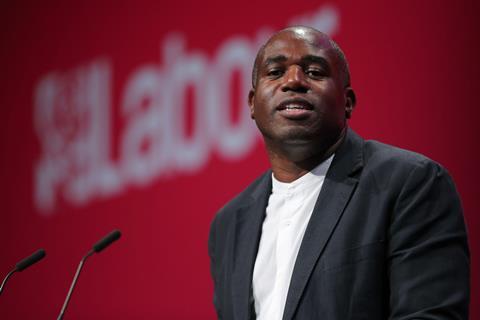 Every lawyer I know has a different set of motivations for getting into the law, but almost all of them share the desire to make a contribution to society. Many firms are already doing fantastic pro bono work, but there remain barriers and a lack of national coordination contributing to huge advice deserts across the country, in particular outside of London.
That is why at Labour Party conference, I was proud to announce Labour's plan for a fully state-funded national pro bono centre, alongside a national pro bono target. Inspired by the success of its namesake in Australia, the centre will promote awareness of pro bono, provide resources, reduce barriers and provide incentives for lawyers willing to contribute a few dozen hours of free-work per year.
The National Pro Bono Target that sits alongside it is a voluntary target of at least 35 hours of pro bono legal services per lawyer per year for law firms, individual firm solicitors, individual barristers and barristers' chambers. There will also be a target of at least 20 hours for in-house legal teams and individual in-house lawyers. The only compulsion in the scheme will be that those firms seeking to work on government contracts will be required to have met the target. If a firm is making profit from the public purse, it is only right their lawyers give back by giving back a modest number of hours per year to those who need help.
There are countless hard-working families whose income exceeds the gross monthly income upper threshold of £2,657, but still cannot afford expensive legal fees in issues ranging in housing, family property, immigration and welfare law. At a time when city law firms are making record profits, there are increasing numbers of lawyers with the capacity and the capital to help those who can't afford legal advice, and are ineligible for legal aid. Lawyers should not balk at this suggestion, or misunderstand it as an attempt to avoid restoring the justice system by asking private practice lawyers to fill in the gaps.
Pro bono work cannot replace the broken legal aid system, because the two are inextricably linked. Twenty-three years after the inquest into Stephen Lawrence's death, his pro bono lawyer Imran Khan said that 'if the Lawrence case landed on my desk today I wouldn't be able to take it.' He went on to explain that cuts to legal aid rates mean he simply would no longer be able to sacrifice the time.
Labour is committed to fixing the justice system after 11 years of Conservative cuts, as I have made clear since day one of my appointment as shadow justice secretary. The whole of our party is proud of the legal aid system that was created by Clement Attlee's Labour government in 1949. Conservative cuts of 38% to legal aid since 2010 have created a legal system that only serves the rich. Our party's record in government shows we can be trusted to fix this crisis. But with the publication of the long-awaited Criminal Legal Aid Review just around the corner and two years out from the next general election, this does not make it the right time to set out detailed spending proposals in every area.
Labour's vision under Keir Starmer is a contribution society. One in which we all have a part to play. One in which we recognise the value of family, community and each person and each businesses' role in the nation's success. A national pro bono centre will help facilitate contributions from the private sector to work alongside, not replace, a justice system that Labour will fix after a decade of Conservative abuse.
David Lammy MP is shadow justice secretary