The low down
The constraints of the pandemic have changed the way we all work for good. Flexible working has enabled many to break free of the strongholds of the office, the commute and city living. For recruitment, the geographic freedom that flexible working enables should mean more choice, both for law firms and candidates. Taking the long view, how many pandemic-related changes are here to stay? Firms say they are looking ever closer at candidates' character and values, while lawyers considering a move want intelligence on firm culture that goes beyond the official version.
When the pandemic hit 13 months ago, many law firms imposed a recruitment freeze and shed jobs in vulnerable sectors such as corporate, as deals ground to a halt. Although it is tempting to draw comparisons between the economic shock of Covid-19 and the dip after the global economic crisis of 2008, there are important differences.
'The cut is nowhere so deep,' says Duane Cormell, director of specialist legal recruitment consultancy Realm Recruit. 'After the global recession there were lots of vacancies, including many in corporate. But for many firms, the recruitment freeze was a knee-jerk response to an unprecedented situation. Now many are poised to recruit again once we reach the new financial year and the restrictions on budgets are lifted.'
After the initial impact there was a pick-up in activity in corporate, as deals were refinanced and repackaged, and litigation, once the courts had moved online. Private client, employment and family have remained busy throughout – as clients sort out family affairs, businesses manage furlough and redundancies, and childcare arrangements and divorces go virtual. These sectors have been actively recruiting.
Wind back a decade and the recruitment market consisted of many active candidates proactively seeking work. This is very different to today's picture, where most candidates tend to be passive.
This is especially true of senior practitioners, who are anxious about moving jobs amid the uncertainties created by the pandemic and so are more inclined to stay in their roles. By contrast, the competition for junior positions is fierce, with many more candidates than roles due to factors such as redundancies and disheartened furloughed staff.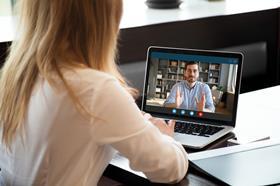 Little change
According to Douglas Scott's 2021 Salary and Benefits Benchmarker survey, there has been little year-on-year change in candidates' appetite to progress their careers. 'At the beginning of 2020, 28% of the legal talent pool were actively looking to change jobs,' says Jonathan Nolan, director at Douglas Scott Legal Recruitment. 'It is the same story this year, with more or less the same percentage of passive candidates.'
The global health crisis is far from over and it is understandable that people are reluctant to make significant career changes. But the lasting effect of the pandemic on law firms' traditional approach to hiring – and a candidate's options – should not be underestimated. For firms that have embraced flexible working, with scalable cloud-based management systems and internal networks, there is the advantage of a larger talent pool, which can be drawn from all corners of the UK and abroad.
'Location is not really a restriction now. We have candidates based in Scotland or Greece helping in-house legal teams in London,' says Mary Bonsor, CEO and co-founder of Flex Legal, a bespoke online platform that connects law students with law firms and in-house legal teams flexibly and on demand.
Regional firms have reportedly not seen a noticeable uplift because of people looking to relocate from London, as City firms gild their agile working policies by providing commitments to continued working from home – for example, Linklaters and Herbert Smith Freehills.
Candidates also have a wider choice of legal structures than ever: boutique, international, regional or virtual (either fully virtual or operating a consultancy platform combined with office premises). They have been empowered to negotiate for their desired work/life balance, with hybrid working set to be, if not the norm, a viable alternative to traditional office-based work.
Advice for jobseekers
In the absence of in-person meetings and visits to the office, we have lost the usual set of cues that we rely on to make value judgements. Here are some points to consider when evaluating whether and how to make the next step in your career.
Research, research, research. Use all the online resources. This means being thoroughly cognisant of the firm's website, exploring blogs, LinkedIn, Facebook, the legal press and more.
Put out feelers to contacts at your target firm or who have dealt with the firm. If you don't know anyone, ask the firm (or recruiter) to put you in touch with someone in your peer group (or a relevant affinity group) who can give you feedback on what you need to know.
Ask questions. In a time of blurred boundaries, it is important to know what set-up you will be going into, how permanent current arrangements are and how much support (whether tech, career development or social) will be provided. Firms expect this from candidates.
Try to tease out whether the firm is outcomes-based or task-driven. This will affect the amount of independence and autonomy you will have in your role.
What is the firm's approach to learning and development? This is particularly relevant for more junior lawyers. What level of access will you have to a supervisor or line manager?
Be absolutely clear about what working arrangements would suit you – office-based, homeworking or a hybrid?
CVs are more important than ever, according to recruiters. 'We are experiencing a surge in demand for talent, but hirers are not compromising on quality,' says Jonathan Nolan, director at Douglas Scott Legal Recruitment. 'This means it is essential that CVs highlight the relevant skills, strengths and USPs, and that they are formatted in a clear and concise matter.'
Investigate the firm's policies in relevant areas, including wellbeing, mental health, and diversity and inclusion. What initiatives does it have? What extra measures did it implement to assist its staff during the ups and downs of the pandemic?
Prepare, prepare, prepare. 'Hirers are very keen on research and prep in the absence of other signs they may pick up on in a face-to-face interview, such as appearance and body language,' says Nolan.
Take responsibility for your career. Where do you want to be in five to 10 years? Set your own personal goals and expectations for your work-life balance.
Consider different legal structures, such as virtual or consultancy-based models that offer an alternative to the traditional law firm.
Different path
Until recently, legal recruitment procedures mainly tended to follow a standard path. Interested candidates were thrust into a formalised process of first interview, second interview and assessments.
'The traditional way law firms recruited is not suited to passive candidates,' says Cormell. 'Especially at the moment, lawyers don't want to jump into anything. They need a stepping-stone approach – for starters, an informal chat with one of the prospective team for both parties to sound each other out. Law firms have come to realise that this is what candidates prefer and have adapted accordingly.'
At the moment, all interviews are conducted remotely and it is inevitable that even when in-person contact comes back, a remote element will be retained – such are the benefits in terms of time management, diary alignment and reduced time to hire on both sides. Law firms have become smarter at teasing out the characteristics of the candidate remotely, to establish whether they will be the right fit for their culture and clients.
'As well as the traditional CV and cover letter, in a recent hiring exercise we requested that candidates send us a two-minute video on what makes them stand out,' says Daniel Lowen, partner at platform-based commercial firm Level, which has an office in London's Covent Garden. 'These measures help us to find the right candidate – one that has the academics, personality, drive, determination and sector focus required to thrive at Level.'
Anecdotally, many firms are increasingly prioritising attitude and values over experience, on the basis that while the latter can be taught, the former cannot. 'Since the pandemic, law firms have moved from being task-driven to focusing on outcomes – this means that trust is very important,' says Peter Taylor, managing partner of south coast-firm Paris Smith. 'Staff have been empowered and have a greater sense of autonomy.'
Candidates expect an open and honest conversation about the firm's values, culture and ways of working – setting out what suits them, whether this is to be 100% office-based, working from home or a split between the two. 'Five years ago, we would not have recommended that a candidate sets out in an interview upfront that they expect some homeworking,' says Andrew Kelly, director at Motus Recruitment. 'This is a fundamental change in the legal recruitment sector.'
How to find the right fit remotely
Although face-to-face interviews are currently rare (and sometimes carried out in office gardens in the open air), candidates have more source materials than ever to research their prospective workplaces. Social media sites such as LinkedIn, Instagram and Facebook are useful, as is a firm's website – the key nexus between not only clients but potential recruits in lieu of the physical office. 'It is more important than ever to ensure that the website – the virtual shop window for the firm – is an accurate reflection of the firm, its culture and values,' says Taylor.
Recruiters recommend tapping up contacts at the firm for the lowdown or asking to speak direct to your peer group (or any relevant affinity group) for their experiences and views.
'We welcome proactive, engaged and informed candidates,' says Jodie Sinclair, head of Bevan Brittan's employment, immigration and pensions team and upcoming senior partner. 'Candidates have infinite resources to research a firm through its website or a Google search. They should also feel that they can direct questions to the firm – this could cover the technology they will be provided with, expectations on flexible working or examples of the firm's commitment to its values.'
An experienced and knowledgeable recruiter is beneficial: they should know the dynamics of the firm, do their homework on the candidate and be able to evaluate whether the firm and candidate will achieve their goals with the hire.
'There are now more questions about roles, which recruiters are required to know about, such as: "Are candidates expected in the office? If so, how many days a week?", "Will the firm supply computers or can they use their own?" and "What technology is the candidate expected to know how to use?",' says Bonsor. 'These issues have become more blurred with people working from home.'
We do not have revenue targets, billable hours or set salaries – our lawyers can work as little or as much as they please

Simeon Spencer, Spencer West
Challenges for juniors
Although hybrid or fully remote working is often sought after by senior lawyers, it is less desirable for trainees or those at a more junior stage of their career. According to Douglas Scott's survey, for trainee solicitors, homeworking is fourth on the list of most wanted benefits, second on the list for zero to five years' post-qualified experience, and third for six to 10 PQE; this contrasts with homeworking as top of the list for 11 to 15 PQE, 16 to 20 PQE and 21 to 25 PQE.
It is hard to replicate the office's 'kitchen culture' where colleagues form bonds through congregating over coffee or learn through observing those more qualified. The numbers of junior lawyers and trainees looking for work in a competitive market also present a challenge.
'The situation at the moment for aspiring junior solicitors is extremely daunting,' says Lowen. 'With all the uncertainty flowing from the pandemic, they do not know the ramifications on the firm they are applying to, as they are not part of the business and do not have the insights. At the same time there is a wealth of opportunities. Technology is a great enabler.'
Many firms have been creative in putting in place support for their trainees and junior lawyers, ensuring that they are monitored and have easy access to senior lawyers and mentors.
Following the enforced step change in attitude across the entire legal sector towards flexible working, the next logical step of progression is the virtual law firm, or those that retain an office but operate on a consultancy basis.
'We do not have revenue targets, billable hours or set salaries – our lawyers can work as little or as much as they please,' says Simeon Spencer from City-headquartered full-service firm Spencer West, which grew from two partners in 2018 to 60 lawyers by the end of 2020. 'This structure is great for those who thrive on flexibility, like to dictate their own destiny and finances but benefit from the support of having an office with meeting rooms, as well as PR, HR, regulation and comms capacity.'
Platform-based firm Level grew by seven lawyers in 2020 and is anticipating more growth in 2021 – as well as opening applications for its first trainee, starting in 2023.
Bonsor also reports a huge influx in virtual law firm hiring from organisations such as Excello, Keystone, gunnercooke and Carbon Law. 'There is no need for an office and lawyers get more than if they were at a traditional law firm – taking 75% of their revenue rather than a salary and offering a more flexible lifestyle to do other hobbies alongside working,' she says.
Future for legal recruitment
Homeworking is not a new phenomenon, as many firms operated an agile-working policy before the pandemic hit. It is also not the right solution for everyone, and there are those who hanker after the clear divide between home and work that commuting to the office provides, as well as the collegiate benefits.
'For candidates looking for high levels of support at the beginnings of their careers, 100% homeworking is not going to cut it,' says Nolan. Some law firms have also not yet decided what their long-term strategy is going to be – and there is clear pushback against homeworking in other sectors, as recent statements from Google and Goldman Sachs have shown.
What has changed in legal recruitment over the past decade, as well as the obvious shift to virtual meetings brought about by our enforced technological reliance, is that individual desires about work patterns (rather than blanket firm policies) are a prominent conversation piece when negotiating for a new role. Firms' policies on mental health, wellbeing, diversity and inclusion, ongoing training, as well as commitment to fostering a supportive culture, are also increasingly relevant and firms should expect candidates to demand tangible evidence of commitment to their stated values.
With hybrid working likely to be normalised and the proliferation of virtual or other platform-based firms promising independence and an enhanced work/life balance, geographical boundaries are no longer the impasse that they once were.
Those passive candidates that turn into proactive jobseekers have more choice than ever.
Katharine Freeland is a freelance journalist