In a special investigation for the Gazette, Melanie Newman reveals that hate crime laws are heavily used by police forces for offences against their own officers. Has the right balance been struck in this important area?
Police-recorded hate crimes are rising but prosecutions are falling - almost a third fewer cases were brought to court last year than three years previously. However the Gazette can exclusively reveal that one group of hate crime victims are having their day in court increasingly frequently - the police.
Data obtained under the Freedom of Information Act shows offences against the police make up a tiny proportion of hate crimes recorded. Yet in some police force areas, one third to one half of all hate crime charges brought in 2019/20 involved a victim who was a police officer or police employee. For most forces the proportion of police victims on the year's charge-sheet increased over the last three years.
For North Yorkshire police 53% of all hate crimes charged involved a victim who was a police employee or officer, compared with less than a fifth in 2017/18. West Midlands police said 43% of all hate crimes charged in its area had a police victim. For Gwent Police, Warwickshire, West Yorkshire Police and the British Transport Police the figure was a third or more with the Metropolitan Police at 29%. For other police forces the figure was as low as 1%, however this may reflect variations in recording practices.
The Metropolitan Police told the Gazette it has a duty to safeguard its officers and staff and does not tolerate any verbal or physical assaults against its officers, including hate crimes. 'On average our officers are subjected to five hate crimes a day,' it said. 'Charging decisions on all hate crimes, whether involving police or public, are taken by the CPS based upon both the evidential and public interest tests.'
An underlying offence is required to bring hate crime laws into play. If a perpetrator shows hostility towards one of five protected characteristics - race, religion, sexual orientation, transgender identity and disability - the offence can be prosecuted as a hate crime. The CPS will then usually ask the court to impose an increased sentence on the perpetrator, known as a sentence uplift, which is meant to reflect the seriousness of hate crime.
In most forces the majority of charged hate crimes with police victims were public order offences. These include a number of verbal offences. It can be a public order offence to say something that causes 'harassment alarm or distress' to an officer or to threaten them, for example.
Rudeness to the police - when is it an offence?
For rudeness to the police (or anyone else) to be a crime under Section 5 of the Public Order Act 1986 there must be evidence a comment was made within earshot of someone likely to be caused 'harassment alarm or distress'.
The 2011 case of Harvey v DPP held that evidence is required - particularly in the case of police officers who have been sworn at because, as was observed in the 1989 case of Orum v DPP, 'they hear such words all too frequently as part of their job'. Swearing is capable of causing police officers to experience alarm, distress or harassment, the court said in Harvey, but 'where a witness is silent it is wrong to draw inferences'.
One criminal lawyer told the Gazette the ruling had resulted in hardened officers appearing in court to claim they were distressed and alarmed by commonly-used swear words.
An obiter comment in Harvey suggested that some words, including racially abuse terms, are so offensive that no evidence as to their impact will be necessary.
Such abuse would also mean the public order offence could be treated as a hate crime, as it is targeted at a protected characteristic, and potentially attract a sentence uplift.
The Gazette's data raises questions about why crimes against the police are over-represented in those cases that proceed to prosecution.
Many police forces have agreed a seven point-policy with Unison and the Police Federation whereby hate crime against police must not be treated as secondary to other offences or victims. Some policies say the force's chief constable will provide a personal impact statement for each case. The CPS includes the plan in its 2020 agreement on offences against emergency workers which says verbal assaults on police should be treated in the same way as physical assaults.
Audrey Ludwig is director of Suffolk Law Centre and Ipswich and Suffolk Council for Racial Equality, which is an official reporting centre for hate crime. The Council assists with complaints by victims about investigation by police of alleged hate crimes.
Asked why she thought police made up such a large proportion of charged cases, Ludwig said: 'It may be that the great increase in body worn video provides police victims with the level of evidence required to meet the evidentiary test in a way not available to other victims.'
Prosecutors may also be growing more reluctant to prosecute hate crime cases where such solid evidence is not present. When only very strong cases are prosecuted, conviction rates rise and prosecutors can cite them as evidence of their robust approach.
The conviction rate for hate crime offences has been increasing. A recent report from the Justice Inspectorate found 86.5% of hate crimes charged now end in conviction - the highest conviction rate for all categories of offence in the magistrates' court.
Hate crime consultant Joanna Perry, who has previously worked for the CPS, pointed out that the service takes a proactive approach to hate crime, meaning its policy is to prosecute if the elements that make up a hate crime offence are met. 'It's correct procedure that if the evidence is there, these crimes are prosecuted,' said Perry.
She added: 'There's also a public policy basis for prosecuting harassment of police officers in the course of their duty - it's important for recruitment of ethnic minority and gay police officers that these offences are taken seriously.'
Police officers are entitled not to have criminal offences against them overlooked, Ludwig agreed. 'It may be that police forces, mindful of their role as employers, are using this prosecution tool to recruit and retain officers from minority communities, who otherwise might be subject to additional abuse not meted out to other police officers.'
Dr Irene Zempi, a sociology lecturer at Nottingham Trent University who has researched hate crime against the police, has called for a debate on whether targeting of police officers' professional - rather than personal - identities should be classified as a hate crime. This would mean any offensive reference to an officer's job could lead to a court appearance if the officer were sufficiently distressed.
Violent hate crimes
However some hate crime victims feel police should prioritise serious physical assaults on members of the public over lesser and verbal crimes against officers.
'Michael' (pictured) was beaten up after leaving a gay bar in Birmingham in late 2018. As he passed a nearby 'straight' bar, he heard someone say 'faggot' before he was knocked out with a blow to the back of the head with a bottle. When he woke his nose was broken, probably by a kick to the face.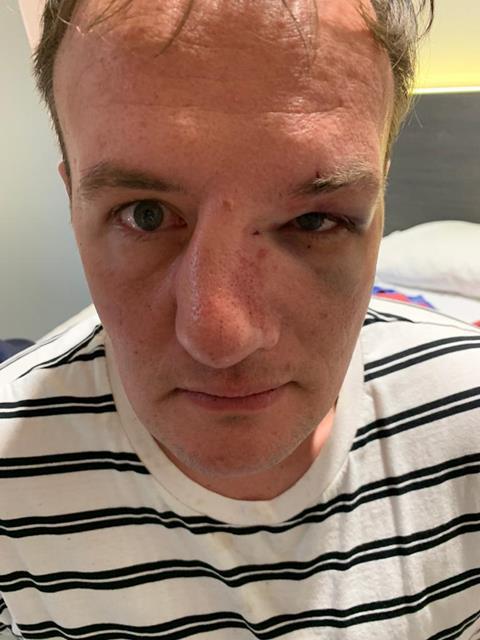 A man who found him and took him to hospital said there had been trouble for months between the bar's clientele and gay nightlifers - the man himself had been pelted with eggs in the same area that evening - but little sign of police action.
'West Midlands police told me they had asked the bar for CCTV then I never heard from them again,' Michael said. Asked about the status of the investigation, the force said it had taken no further action as the bar had not responded to its request for the footage.
Knowing that the police are prosecuting more people for abusing them did not make him feel safer, Michael said. 'It doesn't make me feel I can go back to Birmingham. The priority should be protecting the public from serious harm.'
Chief Superintendent Mat Shaer, West Midlands Police lead for hate crime, told the Gazette one explanation for the figures was the availability of evidence via body-worn cameras. He added: 'Many hate crime offences against officers are committed after a suspect has been arrested for other matters so they are already in our custody when the hate crime is committed.'
On Michael's case he said: 'We should have done more to follow-up that CCTV request and provide the victim with a better level of service.'
While Ludwig is fully supportive of hate crime legislation, she said any evidence that the police were prioritising crime against their own officers at the expense of others would be a cause for concern.
'It would be worrying if - and I don't know this to be the case - contrary to the original intention of supporting very marginalised groups any evidence suggests that police are prioritising the investigation and detection of crimes, whether hates crime or other serious offences, against their own officers, at the expense of those in more marginalised and less privileged situations.'
Professor Neil Chakraborti, director of the Centre for Hate Studies at the University of Leicester, said police victim experiences represent a tiny minority of recorded hate crime. Chakraborti, who has been researching hate crime since 2002, added: 'The main issue is that hate crime is widespread and the vast majority of victims do not get any kind of justice.'
Few would argue that abuse of police should go unpunished. But are fines and prison sentences inappropriate for speech offences?
CPS hate crime reports include examples of perpetrators being given the same or longer prison sentences for verbal abuse of police officers during arrest than for physical assaults on the public and other crimes that led to the police being called in the first place.
Hate crime case studies
In reviewing the application of hate crime laws, case studies highlight two areas of concern. First, the appearance of an imbalance between the sentences attached to verbal offences compared to others. Secondly, the vulnerability of those charged has been criticised.
A woman who assaulted two people in 2020 was jailed for 52 weeks: 26 weeks for spitting at and racially abusing the West Midlands police officer who arrested her and a further 26 weeks for racially abusing another officer in detention, according to CPS West Midlands hate crime newsletter. For the two assaults she was sentenced to nine and six weeks, to be served concurrently with the other sentences.
The newsletter also related the case of a defendant who broke into a car to steal a pair of trainers received a six-week custodial sentence for the theft and going equipped to steal, but nine weeks for homophobic abuse of the arresting police officer.
In June 2020 Thomas Mitchell, a 56-year old, homeless, drunk Glaswegian was jailed for 16 weeks for hate crime by Manchester Magistrates Court. According to the Manchester Evening News, Mitchell called officers 'English bastards' and 'lesbians' when they reprimanded him for swearing outside a police station.
Most hate crimes are not carried out by carrying out deliberate, targeted campaigns, said hate crime expert Paul Iganski, emeritus professor in Lancaster University's school of law. 'They usually occur in the heat of the moment. People are lashing out. They intend to hurt in that instant and they pick on what they see as weak points in the person they think is thwarting or disrespecting them.' Many perpetrators of hate crimes against the police have 'disturbed, chaotic lives, poor social skill and poor emotional control,' he added.
The Law Commission's recent consultation document on hate crime said that multiple studies show perpetrators are commonly part of families with a lack of formal education, and typically have 'life stories characterised by deprivation, mental health problems, domestic violence, drug and alcohol issues, and patterns of criminal behaviour'.
Fining and imprisoning such people for the hate element of their crime is punitive but serves no additional purpose, Iganski suggested. 'The deterrent effect only works where offenders are making a rational calculation before acting.' The other justification for a penalty is to redress harm but Professor Iganski questioned whether the harm being done to police officers may be sufficient to justify months in prison.
'A single incident of abuse can be harmful as I know from the accounts of people who have been on the receiving end,' he said. 'But the punishment should be proportionate. Did the officer require psychological treatment? In my mind if not, there is no justification for a prison sentence or even a fine.'
Rehabilitative interventions would be more appropriate in these cases, he suggested.
Two lawyers the Gazette spoke to also raised concerns about 'police generated crime', in which police interactions with the public in situations such as stop and search result in public order offences. They said they suspected officers could sometimes be provocative to people they knew would be likely to 'kick off', ensuring an arrest.
In 2016 Kirklees magistrates court conditionally discharged a man who had racially abused an officer after finding there had been provocation by the police. West Yorkshire Police Federation criticised the sentence as an 'utter joke' saying it was 'no deterrent and undermines the whole issue of hate crime'.
West Yorkshire Police told the Gazette it investigates all hate crimes and incidents thoroughly and has processes in place to make sure that hate crimes against its members are recorded and investigated.
'I worry about the criminalisation of very vulnerable people where it might be better to find alternative routes than prosecution for low level hate crime,' said Ludwig. 'Clearly, this is a very nuanced situation and more research is needed on this aspect of hate crime.'
In a statement sent to the Gazette North Yorkshire Police said: 'We were also one of the first forces in the country to class misogyny-motivated crime as hate crime, underlining how seriously we take such offending.
'There are a number of reasons that could account for a higher number of charges relating to police officers and staff. The offenders usually commit offences against the police during a confrontational interaction with officers where the evidence is available, such as body worn video and eye witnesses. They also tend to be people who have previous convictions and therefore more likely to be charged - as opposed to an out of court disposal. Also, victims who work for the police are more likely to support a prosecution… We recognise that hate crime is under-reported across all areas and we encourage anyone who has been a victim to come forward and report it.'
A CPS spokesperson told the Gazette: 'We believe that hate crime is abhorrent and will take all necessary steps to prosecute these offences. The CPS is a demand led service where we can only make charging decisions on cases brought forward by the police. We have charged 86.6% of hate crime cases that have been passed on to us in the year ending September 2020.'
Melanie Newman is a freelance journalist
Hate crime in figures
Hate crime prosecutions, convictions and conviction rate - national
| | 2014/15 | 2015/16 | 2016/17 | 2017/18 | 2018/19 | 2019/20 |
| --- | --- | --- | --- | --- | --- | --- |
| Prosecutions | 14,738 | 15,442 | 14,480 | 14,151 | 12,828 | 10,950 |
| Convictions | 12,220 | 12,846 | 12,072 | 11,987 | 10,817 | 9,340 |
| % Convictions | 82.9% | 83.2% | 83.4% | 84.7% | 84.3% | 85.3% |
Proportion of recorded hate crime involving police victim
Metropolitan Police
| | 2017/18 | 2018/19 | 2019/20 |
| --- | --- | --- | --- |
| Hate crimes recorded | 19,240 | 19,673 | 21,948 |
| Police victim | 992 | 930 | 966 |
| % police victim | 5% | 4.7% | 4.4% |
| | 2017/18 | 2018/19 | 2019/20 |
| --- | --- | --- | --- |
| Hate crimes charged | 2770 | 1812 | 1762 |
| Police victim | 705 | 508 | 518 |
| % police victim | 25% | 28% | 29% |
| Police victim and public order offence | 446 | 341 | 339 |
| % of all hate crimes charged that had a police victim and were a public order offence | 16% | 18% | 19% |
West Midlands Police
| | 2017/18 | 2018/19 | 2019/20 |
| --- | --- | --- | --- |
| Hate crimes recorded | 4645 | 5507 | 6436 |
| Police victim | 228 | 332 | 436 |
| % police victim | 5% | 6% | 7% |
| | 2017/18 | 2018/19 | 2019/20 |
| --- | --- | --- | --- |
| Hate crimes charged | 673 | 698 | 711 |
| Police victim | 176 | 250 | 305 |
| % police victim | 26% | 36% | 43% |
| Police victim and public order offence | 149 | 197 | 253 |
| % of all hate crimes charged that had a police victim and were a public order offence | 22% | 28% | 36% |
West Yorkshire Police
| | 2017/18 | 2018/19 | 2019/20 |
| --- | --- | --- | --- |
| Hate crimes recorded | 6696 | 8686 | 8774 |
| Police victim | 221 | 234 | 319 |
| % police victim | 3% | 3% | 4% |
| | 2017/18 | 2018/19 | 2019/20 |
| --- | --- | --- | --- |
| Hate crimes charged | 712 | 680 | 694 |
| Police victim | 167 | 153 | 226 |
| % police victim | 23% | 23% | 33% |
| Police victim and public order offence | 141 | 133 | 187 |
| % of all hate crimes charged that had a police victim and were a public order offence | 20% | 20% | 27% |