When lawyers become standard-bearers for high-profile activism, funding major litigation requires innovative thinking. Social media has a vital role too, writes Grania Langon-Down
THE LOW DOWN
Whether it concerns a big constitutional question, a public health crisis, divorce reform or the right of a child to access education, litigation can be a vital tool in driving change. But, while high-profile cases like the Article 50 challenge and the Owens and Owens divorce are a litigator's dream, it can put huge pressure on those running them. Taking on government bodies or opponents with deep pockets requires creativity around funding. Supreme Court Justice Lord Wilson told a US audience recently that it 'constantly offends me' that UK lawyers have to work pro bono or for a small legal aid fee for individuals to be able to assert their rights. Social media is also proving a double-edged sword in these cases – exposing individuals and firms to vicious abuse but also providing a valuable catalyst.
Win or lose, litigation can drive vital change in people's lives and have widespread repercussions across the legal, political and business worlds. But, while cases such as the Article 50 challenge, the Owens and Owens divorce, and employment tribunal fees are a litigator's dream, the path can be long and costly. And when practitioners take on controversial issues, they can find themselves facing powerful opponents with deep pockets and become targets of abuse.
But in other areas, the very social media used for abuse is proving a positive force in linking up lawyers, families, campaigners and policy specialists to bring strategic cases around the rights of children in a way that would not have been possible before the advent of online platforms such as Twitter.
Practitioners who have played leading roles in seminal cases describe the intensity of the experience – and the need for creativity in funding them.
The Article 50 case went to the heart of key constitutional issues around the rule of law, the separation of powers and the independence of the judiciary.
James Libson, head of private client at Mishcon de Reya, was contacted about the case on the Sunday evening after the 2016 referendum result. There was no hesitation in saying yes – 'never mind the political ramifications, this was a huge constitutional issue', he recalls.
Everyone working on the Article 50 case said it was a privilege and a highlight of their career – it was absolutely a litigator's dream

James Libson, Mishcon de Reya
The firm quickly got lawyers, support staff (including a media 'comms' team) and counsel on board. 'We wanted David Pannick [Lord Pannick QC] from day one and he wanted to come to us,' Libson says.
Initially, Mishcon was the only name identified with the case, making it the target of some vicious abuse. But, once Gina Miller became the named claimant, Libson says she became the lightning rod and the abuse largely evaporated for the firm, though it still spiked around the judgments.
'It was horrible to watch,' Libson says. 'Gina is a very brave person and said it was a price worth paying but it was a massive thing to take on.'
'The case swallowed up tons of time,' he adds, 'but it generated a feel-good factor around the office and there was very little cavilling. Everyone working on it would say it was a privilege and a highlight of their career – it was absolutely a litigator's dream.'
He was horrified by the Daily Mail 'Enemies of the People' front page. However, both it and the torrent of social media abuse made the case feel even more important: 'It is why the case still feels so important in the sense that battles around the separation of powers and assaults on an independent judiciary are being played out around the world.'
It is not his first experience in the spotlight. As a new partner Libson worked with Anthony Julius on the David Irving Holocaust denial case – and was played by Jack Lowden in the 2016 film Denial.
'But the Article 50 was a unique experience,' he notes, 'even down to being locked in a room to read the judgment because the Supreme Court was concerned about it being leaked and its effect on the markets.'
The scale of the Article 50 case had consequences for another big case at the time – 'bumping' Unison's appeal over the introduction of employment tribunal fees from the Supreme Court list. But solicitor Shantha David, Unison's legal officer leading the challenge, says the furore over the constitutional arguments may have been weighing even more heavily on the judges' minds when they came to hear the fees appeal.
Unison had repeatedly lost in the lower courts but 'we always thought our best bet was in the Supreme Court,' she recalls. 'Our head of legal Adam Creme got Dinah Rose QC and her junior Iain Steele on board and we focused on access to justice and indirect discrimination because it was harder for women to bring claims.'
David was sitting on a train when the judgment came through in an email: 'The judgment was spectacular. It is so relevant to the current times. Whatever happens with Brexit, a lot of changes will be brought in through secondary legislation which may not have had the scrutiny of parliament.'
She picks out Lord Reed's comments, where he explained the role access to justice plays in the rule of law: 'Without such access, laws are liable to become a dead letter, the work done by parliament may be rendered nugatory, and the democratic election of members of parliament may become a meaningless charade. That is why the courts do not merely provide a public service like any other.'
Barrister Steve Broach, of Monckton Chambers, brought his campaigning background to the bar after a decade working in the voluntary sector. He says Twitter has provided a platform for creative partnerships between lawyers, campaigners, policy specialists and families to take on strategic cases which have changed social policy.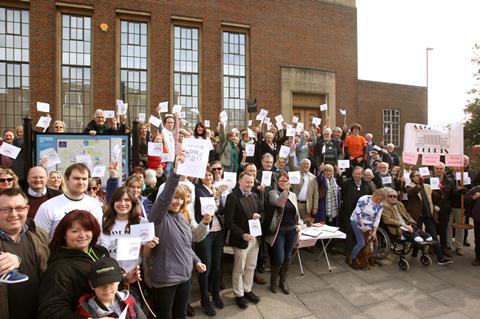 FUNDING CHANGE AND RISKING COSTS
The responsibility of lawyers to help drive change has always been in Yasmin Waljee's mind over the 21 years she has been running the pro bono practice at Hogan Lovells. 'This is really difficult in the UK because of the adverse costs risk,' she says. 'You have to be creative so you don't expose your client.'
She addresses this by working in partnership with local law firms, most recently over the Chichester Court closure, or tries to secure insurance.
Waljee says litigation alone rarely achieves societal change, which often also needs 'media and civil society campaigns all focused on an end game at the same time'.
Funding for SEN and other disability cases is constantly challenging, barrister Steve Broach notes. His recent schools exclusion case was funded by the Equality and Human Rights Commission in the Upper Tribunal as part of a pilot programme, while clients are also crFunding for SEN and other disability cases is constantly challenging, barrister Steve Broach notes. His recent schools exclusion case was funded by the Equality and Human Rights Commission in the Upper Tribunal as part of a pilot programme, while clients are also crowdfunding the cost of initial legal work to see if a challenge is possible.
Costs were also a factor in the Article 50 case. Mishcon's James Libson recalls: 'We agreed to cap adverse costs with the government so we were able to sort out the parameters of the costs and agree it with our clients.'
'The UK government could do a lot more to remove practical and financial barriers for claimants,' is the firm view of Will Rundle, Friends of the Earth's head of legal. Environmental litigation is too often 'David v Goliath'.
'Social media is also a brilliant way to engage with solicitors,' he notes. 'There isn't a huge number working in my area and only a minority of firms have the capacity to do it strategically, such as Simpson Millar, Bindmans, Irwin Mitchell, Leigh Day and niche firms Martin Searle and SEN Legal.'
He worked with Irwin Mitchell partner Polly Sweeney representing the parents of an autistic child in the landmark C&C school exclusion ruling this summer.
He also represented the Mathieson family in their successful challenge to limits on welfare payments to severely disabled children in hospital. Five-year-old Cameron died before the case finished but his father Craig fought on for the greater good.
'He is a remarkable man,' says Broach. 'We lost in the first-tier tribunal, the upper tribunal, the Court of Appeal and then won 5-0 in the Supreme Court. It is hard for families under such strain to keep fighting.'
Broach says the next battleground is going to be over what is a statutory service, as local authorities cut all but 'basic' services. He and Irwin Mitchell partner Anne-Marie Irwin are acting for the families of children with special educational needs against Surrey County Council and the London Borough of Hackney.
He praises the 'stridently independent' judiciary for holding public authorities to their legal duties after a decade of austerity.
In environmental law, litigators take a creative approach to hold governments and business to account. There is growing pressure, for example, for the Earth's atmosphere to be made a global trust. For Anne Johnstone, chair of the UK Environmental Law Association, placing these international law concepts on some quasi-legal footing, such as a non-binding declaration, could well work. 'I think the time is such that there is sufficient intellectual capacity and a global urgency to achieve this.'
The UK government knows to its cost the tenacity of those passionate about the environment. It has had a formidable opponent in ClientEarth, set up in 2007 by James Thornton, a former Wall Street lawyer, to bring an US-style approach to legal activism to Europe.
New Zealander Karla Hill, an English-qualified solicitor, joined at the start: 'For me it was a bridge between my legal practice and my policy and political interests.'
ClientEarth was the claimant in the series of air pollution cases it brought against the government. It had two priorities, says Hill, ClientEarth's director of programmes – to raise concerns about the growing public health crisis and to establish, as a point of principle, that the courts must step in when the government has not done what it is legally required to do.
ClientEarth started work on the case in 2009, issuing the first judicial review in 2011. 'We were given short shrift in the High Court,' she recalls. 'The government's approach was "we are in breach, so what?" We then lost in the Court of Appeal.
'The Supreme Court was the first time we got a declaration that the UK was in breach and a referral to the CJEU. This was followed by the Supreme Court's landmark ruling in 2015, ordering the government to produce new plans to tackle illegal air pollution.'
ClientEarth then challenged the government on the quality of the draft plans it produced on the back of that judgment. 'This was new territory and pushed at the boundaries of judicial review,' she says.
This year has seen further successes against the government, when ClientEarth took it back to court for a third time.
Environmental offences are getting more airplay and there are higher penalties, but they're still nowhere near the American situation because we don't have class actions

Caroline May, Norton Rose Fulbright
Caroline May heads Norton Rose Fulbright's environment, health and safety team and is a member of the Law Society's planning and environmental law committee.
She believes the government's proposed environmental watchdog body to oversee the UK's compliance with environmental standards post-Brexit needs 'real teeth'.
'The government is trying to counter concerns about deregulation by saying that Britain is going to lead the world in environmental governance,' she says. 'But Britain has not always been a leader so the concern is that we shouldn't fall behind.
'Although environmental offences are getting more airplay and there are higher penalties now, they're still nowhere near the American situation because we don't have class actions.'
Stephanie Eedy, a partner in the environmental team at Cardiff-based Hugh James, specialises in representing groups of residents pursuing private nuisance claims and claims made under Part 1 of the Land Compensation Act 1973.
The team has acted for communities from Kent to Cumbria. 'Over the past 12 months alone, our team of four solicitors, supported by legal executives and paralegals, has recovered just under £1.6m in damages for approximately 600 clients blighted by nuisance arising from issues such as odour and noise.'
Hugh James is also lead solicitor appointed by the High Court in two current group actions – the Chirk Nuisance group litigation claim and the Omega Proteins group litigation.
Eedy says they are 'passionate' in seeking access to justice for clients often facing large commercial organisations with deep pockets.
Will Rundle, Friends of the Earth's head of legal, has two lawyers and two legal interns in his team. His current top three cases include the Heathrow judicial review; the challenge to the government's flagship National Planning Policy Framework; and protecting the right of protest.
FoE intervened, with Leigh Day acting pro bono, in the recent successful appeal by three anti-fracking protesters against their jail sentences.
Rundle says some sections of the oil and gas industry want to restrict protest through 'draconian' use of civil injunctions, for example, as against 'persons unknown'. 'We are intervening to row back the worst aspects of this industry initiative and protect people's democratic rights,' he says.
Earlier this summer, divorce reform was forced onto the political agenda by the Supreme Court ruling in Owens and Owens.
Nigel Shepherd, head of Mills & Reeve family law team, was chair of Resolution at the time. The family law organisation was the only third-party given permission to intervene in the case.
'Resolution wanted to intervene to help Mrs Owens but also from a wider campaigning angle and I offered Mills & Reeve's assistance pro bono, with much of the work done by our professional support lawyer Nicola Rowlings,' he says.
'This case shows you don't always have to win to create change – the publicity surrounding it showed what a nonsense the current law is. My view is divorce reform will now happen – it's about how and when, not if.
'As a firm, we had no hesitation about resourcing our role. Being part of a case that can change the law for the better for thousands of people is the key motivation.'
A review is under way but governments do not always follow through on promises. The Supreme Court decision in Radmacher v Granatino on pre-nups in 2010 has yet to lead to statutory reform.
Martyn Day set up Leigh Day with Sarah Leigh 31 years ago to take on big battles for individuals who have suffered injustice.
Cases that stand out for him include suing British Nuclear Fuel in the 1990s over Sellafield and childhood leukaemia, with the trial lasting for nearly a year, though the claim was not ultimately successful.
'Looking overseas, the Trafigura case was a big lesson for the commercial world that you can't just dump waste in the developing world and get away with it,' he says.
Current cases include equal pay claims for about 20,000 women from most of big supermarkets. 'If we succeed, it will cost them hundreds of millions of pounds, if not billions,' he says.
For Hogan Lovells' head of pro bono Yasmin Waljee (see box), using the extraordinary skills of lawyers to make a difference is hugely satisfying. 'But you have to be in if for the long haul,' she warns, 'change doesn't come about quickly.'
Grania Langdon-Down is a freelance journalist