Grania Langdon-Down looks at what solicitors need to consider when applying for a judicial post.
Competition for judicial posts is fiercer than ever. Between October 2014 and March 2015 more than 2,000 people applied for 249 legal posts, ranging from deputy district judge to High Court judge in a series of selection exercises.
While women and minority ethnic applicants showed a 'solid performance', Christopher Stephens, chair of the Judicial Appointments Commission (JAC), says the figures for solicitors were 'disappointing', with fewer applications and recommendations than in previous exercises. This puts the spotlight on the profession because its wide pool of eligible candidates is seen as key to improving judicial diversity.
Mary Stacey, one of the few solicitors to become a circuit judge, says solicitors should consider applying. 'It is the most fantastic job,' she says. 'You are more in control, the law is interesting and the lives of the people who come before you are fascinating. Every day I wake up feeling it is a privilege to do what I do.'
She has a question for law firms concerned about their solicitors applying: 'Do you want the judiciary to be a solicitor-free zone?'
Stacey, who is the diversity and community relations judge for the Birmingham Crown Court area, asks: 'Is that in the interests of the profession? Allowing some of your senior people time off to be a judge is a price worth paying to make sure solicitors are effective within the judiciary. It's also short-sighted because the perspective gained from sitting can be fed back into the expertise of the firm.'
The judiciary is taking bold steps to encourage more people from diverse backgrounds to apply.
For the first time this summer, people without judicial experience can apply for 14 deputy High Court judge posts. The judiciary backed this with a programme to help those from diverse backgrounds with no previous experience to be better equipped to apply. Some 31 legal academics, employed lawyers, and solicitors and barristers in private practice were selected from 200 applicants to take part in the work-shadowing, mentoring and application process workshop.
'This is an interesting move,' says Alexandra Marks, solicitor member of JAC, 'as it is very unusual to expect people to go in at such a high level with no prior experience.'
But radical steps are needed. 'We can only choose from the people who apply,' says Marks, a former real estate partner at Linklaters and now a recorder and deputy High Court judge. 'All our data suggests that those who have been in practice a long time are successful. But there isn't a fabulous story to tell about diversity in those senior roles among either barristers or solicitors – half of solicitors are women but half of partners aren't women.'
So what are the prospects for solicitors who want to be judges?
Pressures on the publicly funded bar mean that more barristers are competing for posts such as deputy district judge (DDJ), traditionally the entry point for solicitors.
In the most recent exercise, 1,114 people applied for 87 DDJ jobs. Only 58% of the applicants were solicitors compared with 69% five years ago. Of the 646 solicitor candidates, only 30 (5%) were recommended for appointment, while 308 barristers applied and 50 (16%) were recommended. In previous exercises, between half and two-thirds of recommendations have been solicitors.
The judiciary and JAC are reaching out to solicitors. JAC is looking at how to introduce social mobility monitoring and has commissioned work on the progression of black and minority ethnic candidates through its exercises. Judges are trying to encourage broader interest through mentoring, work-shadowing schemes and more flexible working opportunities.
The Law Society is also hoping to run another 'Meet the judges' event in the autumn. It runs workshops offering interview training for those currently under-represented in the judiciary.
'Solicitors now outnumber other professions at deputy district judge, district judge and tribunal judge levels,' Law Society president Andrew Caplen says. 'Progress has clearly been made but we would like to see more, particularly at higher levels of the judiciary.'
The Society has been pressing firms to commit to putting solicitors forward and about 21 City firms have signed up to the declaration. A Society spokeswoman says it is still working with firms on this, 'however it is not clear that the declaration itself is enough to achieve this and we are in discussion with JAC on how we can best promote it'.
So for those thinking of applying, where to start? JAC has worked on an improved website with targeted information on career paths, vacancies and how/when to apply. It is also developing a self-assessment feature to help candidates evaluate, anonymously, their readiness and suitability for judicial appointment.
First-time applicants now only need professional references so you will not be disadvantaged if you have no judicial referees. Entry-level posts such as DDJ, recorder and first-tier tribunal judge are fee-paid, so you do not have to stop practising. These are a way to 'try it out' before committing to a salaried role, such as a district judge. It is also vital for promotion because salaried posts require directly relevant judicial experience, except in exceptional cases.
Part-time roles usually require you to be available for up to 30 sitting days a year. Terms and conditions have improved following the decisions in O'Brien and Miller that part-time judges are workers under the EU part-time working directive and entitled to the same pension and conditions of service, pro rata, as full-time colleagues. Fees for part-time judges went up 5% last year – DDJs now receive a daily rate of £488.
However, a recent survey of salaried judges revealed low morale, particularly among district judges, fuelled by a pensions row and poor working conditions, with many saying they would not recommend being a judge to others.
So why become a judge?
Stacey was a senior employment law partner with Thompsons. 'I wanted another perspective on the litigation process beyond that of a party and I thought it would make me a better lawyer,' she says. 'I was also fed up with being partisan – my client right or wrong – and I wanted to be the one making the decision.'
She became a fee-paid employment judge in 1997. Having 'got the taste for it', she gave up her partnership and became a consultant, and, when her youngest child went to secondary school, became a full-time salaried employment judge in 2003, a recorder four years later and then circuit judge on the Midland circuit last year.
Her advice: 'Don't apply half-heartedly, you have to put the work into the application process. Be honest about your abilities and analyse what is holding you back. Solicitors, and women, are often diffident about applying if they have no courtroom experience so do some work shadowing. You sit alongside a judge thinking "could I do this and do I want to do this?" For me it was "yes I can and yes I do".'
Leading the way
Few solicitors have broken into the top ranks of the judiciary but former Baker & McKenzie commercial litigation partner Barbara Fontaine (pictured) is one of those leading the way.
She was the first woman and first solicitor to be appointed as senior master of the Queen's Bench Division and, with her ancient title of Queen's remembrancer, she played a leading role at the recent swearing in of Michael Gove as lord chancellor.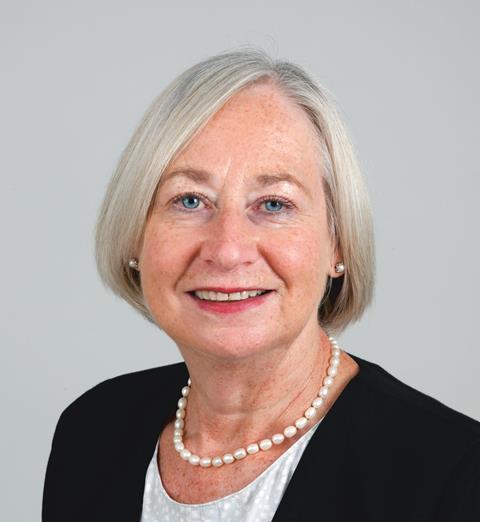 Her experience of the latest sift of applications for new appointments highlights how few solicitors are applying. She is concerned that firms are not encouraging lawyers to apply for deputy appointments.
'But I would say to firms – take a long-term view. This is not about short-term profit. These people will bring prestige to your firm. It is a promotional tool to be able to say to clients that this person must be a very good solicitor because they have been appointed to sit as a judge. In a competitive market, this is a way of differentiating yourself.'
Fontaine's judicial career started after she took a career break to look after her twin sons. Rather than go back into practice once they had reached primary school age, she became a deputy Queen's bench master. Six years later, she became a Queen's bench master with a full-time judicial caseload. In October last year, she was promoted to her current judicial leadership role.
Her advice? 'Do a lot of preparatory work. I shadowed members of the bar and sat with a judge and talked to as many people as possible. When I applied for the senior master's role I talked to people in HR because of its management and leadership responsibilities. Also talk to your clients who will tell you about your strengths and weaknesses and give you references.'
She does not see her role through rose-tinted glasses. 'The IT is hopeless and we need more resources,' she says, 'but the work is intellectually stimulating and you do more pure legal work than as a partner in a law firm where you increasingly become involved in management and strategy. I also enjoy it for the same reason I liked litigation – there is always a human story behind every claim.'
One reason Marks became a judge was her interest in human rights and civil liberties: 'Being a City lawyer was intellectually demanding but it didn't push that other button.' She found Linklaters supportive and believes there is a more positive attitude from firms as they become more conscious of their corporate responsibility.
What is crucial, she says, is not to be deceived by the two-week application window. 'It isn't "bish, bash, bosh" press the button. You need to think about applying well in advance. Talk to judges in the relevant jurisdiction; attend outreach events – just because you may be statutorily eligible doesn't mean you are "oven-ready".'
Sundeep Bhatia, an employment specialist with his own practice Beaumonde Law, is a Law Society Council member for ethnic minorities. He has applied unsuccessfully for judicial office but will try again.
He recommends preparing early by building your self-assessment form, collecting examples of skills and thinking about the questions you are likely to be asked. 'Do a lot of soul searching,' he says. 'And if you don't succeed, don't be put off. There is much more competition now publicly funded work has shrunk. But failure will make you stronger and more aware of the process so you do it better the next time.'
It is also important to keep your options open, advises Marks, who had never done contentious work or been in court as a qualified lawyer before being appointed a recorder in crime.
'You can learn the law and study the cases,' she says. 'What is much more important is developing judicial instincts and behaviours, so don't feel restricted to the tax tribunal if you are a tax lawyer.'
For many solicitors, the starting point for their judicial career is the tribunal service, where two-thirds of judges are solicitors compared with a third in the courts. Supreme Court Justice Lady Hale has suggested there is an 'officer class mentality' about the roles, but recent legislative changes mean there is more room for flexible deployment between the two.
Stacey, one of the new judicial mentors, says tribunals are an 'excellent' place to start because they are more informal and there are already a significant number of solicitor judges.
'I found it good preparation for moving to the Crown and county courts,' she says. 'There may be a generic stereotype that being a tribunal judge is somehow a lesser, rather than a more specialist, role but that doesn't translate to the treatment of individuals. When I went to Birmingham Crown Court I was something of an outsider – the only person not from the Birmingham bar – so the only solicitor and the only non-local, and one of only two women judges. But everyone was very welcoming.'
Becoming a judge can be daunting but there is support. The Society's Solicitor Judges Division provides communications, events and networking opportunities. The UK Association of Part Time Judges, founded by Peter Causton, a professional indemnity solicitor with Berrymans Lace Mawer who sits as a DDJ, provides support and gives them a voice.
Looking ahead, the report Accelerating Change: Judicial Diversity, prepared by Sir Geoffrey Bindman QC and Karon Monaghan QC, said the time has come for quotas, while the president of the Supreme Court Lord Neuberger has suggested there might need to be a career judiciary.
But for Causton, more immediate steps to boost solicitor applications are 'more support from firms, more part-time opportunities and a clearer, flexible career path with more on-the-job training and assessment, and a fairer application and promotion process so candidates aren't given false hope or left in a limbo situation once appointed as a fee paid judge'.
Grania Langdon-Down is a freelance journalist