We likely all know someone who decared the restrictions of pandemic lockdown was their opportunity to learn Japanese or to start making sourdough, possibly while exercising with an online fitness trainer. Perhaps a more common expeience, however, has been to have less, not more, time as many things become harder and more time consuming to achieve.
But finding space and time for something is important, and I'm especially pleased when I see examples of people finding time for art.
The Law Society Art Group is one of the society's oldest clubs, and it was thoroughly heartening to be told that its 61st annual exhibition would go ahead, albeit online. The exhibit is now open, and I hope you'll take a look.
Art can work very well online. There is no such thing as a badly lit corner of the gallery, you can zoom in on the finest detail that catches your attention, and for some mediums (watercolour especially), the screen's irridesence is very helpful, providing more of the prized light you are taught the paper behind the paint should give you.
On the downside, texture and size are hard to convey – no reproduction in a book or online can do justice to a 2 metre wide Joan Eardley seascape.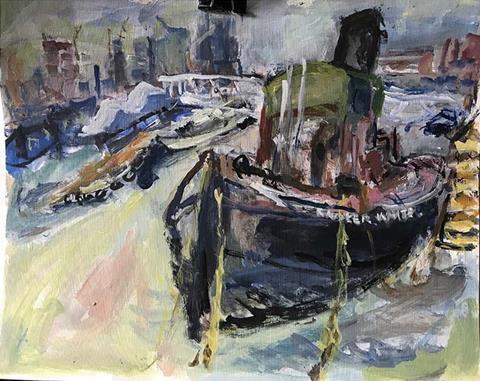 The art group's annual show never has a theme, though in normal times there are shared painting trips (absent this year). But given the shared professional status of its membership, it is tempting to try and discern some wider meaning in the work on display.
Some members have chosen images of travel, and especially water. Oils become attractive water and light in #9 JC Bradwell's 'Venice at dawn' – textbook technique, but very nicely done. Michael Flint is also drawn to the Venice for an etching and acquatint of the lagoon (#22).
Are the paintings emptier than usual? It is tempting to think they are, reflecting a year of isolation. Peter Haycroft's 'Rue Fermee' (#34, oil) has blank, faceless buildings lining an empty street, and Kay Kante (#46, acrylic on paper) presents us with a near empty 'Fetter Lane'. Clive Sayer depicts a woodland scene titled 'Beyond here lies nothing' (#79, oil).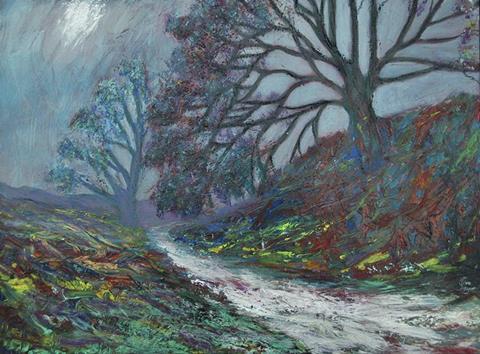 There's a very direct character to several portraits. In Homa Wilson's 'Manuela with a pink scarf' (#108, oil) a strong face looks straight past the viewer, unsmiling. Jane Hinde's teracotta head 'Malcolm' (#40) does the same, and Jenniver Tovey's striking 'Model 2' won't even look your way(103, oil). There are striking blank eyes in Rabiya Magi's 3D faces (#74 and #75). David Fraser's 'Dress Sense' (#26, oil) seems to show a late 18th Century figure with a facemask pulled down over his chin.
Of course, there's no obligation to reflect bad times in art. 2020 saw a glorious spring and summer, with lockdown pushing our appreciation of outdoors. John Joseph's 'Pines' (#43, oil) is a traditional painting that to me captures this time. I also like Richard Davidson's 'Umbrella Pines' (#15, oil), and Brian Stevenson's still life flowers (notably #85, 'Abstraction released', goache).
Most of the works are for sale – a chance, not least, to enliven the backdrop for the interminable Zoom calls the pandamic has given us.
Which ones stand out as being in the running for a prize?
Pey Kan Su's acrylic painting of a boat 'Knocker White' (#89) has a very successful warped perspective, and brushwork that appears 'loose', though every stroke has a job to do – technicaly and visually a very successful painting.
I'd love to know the size of Errol Neill's 'TXT' (#78) – incorporating collage and a crisply dressed woman there is symbolism relating to what is lost or closed in almost every detail. I hope it's big – it would work at scale.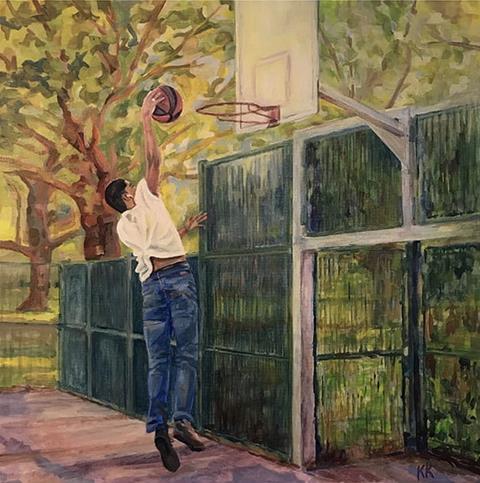 Kay Kante's 'London Fields' (#45, acrylic) presents us with a lone basket ball player, though the star of this painting is Kante's backdrop – sharp perspective in the fencing and loosely painted trees beyond.
Jane Hinde's teracotta 'Malcolm' you similateously feel her hands and tools on the clay, while sensing it coud come alive. That's a nice balance of artifice and depiction.
Any of Michael Flint's etchings are good – from the subtle lines of Venice's lagoon to the fun of his playful 'Green and blue boat' (#20). Tom Butler's screen print 'Artwork 01305' is a striking picture – smart, glamorous and sad (#13).
Of course, 'winning' isn't the point for this group. I found joining a Facebook drawing group one of the nicer diversions of lockdown, and art has clearly been a good thing for members of the Law Society Art Group. When you have viewed the exhibition, why not join?


Features editor