Children and young people with special educational needs (SEN) risk being left with inadequate provision as local authorities struggle to meet the demands of the new system of education health and care plans, practitioners are warning.
This is supposed to be a milestone year for the reforms introduced in the Children and Families Act 2014 – the biggest changes to the SEND (special educational needs and disability) legislative framework in a generation.
But the requirement to bring together provisions for special educational needs with the health and social care needs of more than a quarter of a million children and young people up to the age of 25 comes as local authorities warn that they face a £2bn funding gap for children's services by 2020.
As Cllr Richard Watts, chair of the Local Government Association's (LGA) children and young people board, says: 'We know that demand for SEND support is on the rise and, unless the government commits to additional funding, councils will struggle to meet this demand, given the current pressures.'
Councils are drawing up thousands of new education, health and care plans (EHCPs) a year – 36,000 in 2016-17. They were also given four years – with a deadline of 1 April of this year – to transition the existing SEN statements of around 237,000 children into the new plans, which involves conducting the same needs assessment.
Pressures on local authority resources have meant that much work on the plans has been outsourced to private companies or staff within schools.
So far, between 3,000 and 4,700 appeals a year have been registered with the First-tier SEND Tribunal since the plans were introduced in 2014. The appeals cover three grounds – refusing to assess a child for an EHCP; refusing to issue a plan; and the content of the plan. While most are conceded by the local authority or withdrawn, more than 80% of those decided by a tribunal are all (or in part) in favour of the child.
While the percentage of families appealing is relatively small, practitioners argue that it is very hard for parents to challenge decisions when faced with such a complex web of education legislation, policy and procedure, as well as new health and social care elements which are governed by different legislative frameworks and thresholds.
Seeking legal advice can cost up to five figures for an appeal, while legal aid is very limited and does not cover representation at the tribunal. And just how legal aid will be accessed after September is up in the air after the Legal Aid Agency (LAA) cancelled the procurement process earlier this month because of a lack of tenders.
However, practitioners warn that some councils are just 'tipping' statements into plans in their rush to meet the April deadline, while many new plans are 'not worth the paper they are written on' because the health and social care teams will not engage in the process.
When asked whether resources for the reforms had been ringfenced, a Department for Education (DfE) spokesperson tells the Gazette that councils have been given more than £252m over four years in 'an expectation the resources would support the transfer process'.
Councils are making 'good progress' in implementing the new system, she maintains. Where concerns are raised about quality, for instance by parent carer forums, 'we have followed up directly with individual local authorities, and, where necessary, provided guidance'.
A significant number of authorities will not meet the April deadline and the legislation makes it clear that all SEN statements will continue to have legal status following the transfer deadline. However, the DfE would not be drawn on what sanctions might be imposed on those councils which fail to complete the task on time, beyond saying the department's actions would be 'proportionate'.
Graham Cole, former Lawyers in Local Government lead on education and children services, says implementing the legislation has been a major exercise at a time when budgets are tight and expertise is being lost as councils cut back on staff, including legal teams.
So, what is the experience of practitioners specialising in this field?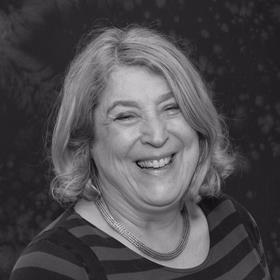 Solicitor Melinda Nettleton set up her firm SEN Legal 20 years ago after going through the tribunal process for her son Michael, then eight. He has dyslexia, dyspraxia and a severe language disorder, and had a SEN statement throughout his education. After graduating with a first in philosophy, Michael now works with her. Nettleton co-authored Special Needs & Legal Entitlement – The Essential Guide to Getting Out of the Maze with her husband, barrister John Friel.
'There was a lot of local publicity about Michael's tribunal,' she recalls. 'People started contacting me, so I set up the practice as there weren't many people specialising in this area. I now have a national practice with six solicitors and a trainee and over 20 staff in Bury St Edmunds. We also see clients in London and are opening an office in Poole to meet demand there.'
Her firm runs between 400-600 cases a year. About 200 go to appeal and, last year, the firm achieved 97% successful outcomes.
'We are seeing really poor plans,' she says. 'Parents don't understand what the legislation requires and so many accept them. Over time, I imagine the system will settle down but many good council officers have retired and are being replaced by inexperienced staff.'
Solicitor Qaisar Sheikh is head of the education law team at the Coram Children's Legal Centre (CLC), which holds one of only two legal aid contracts to provide SEN advice through the telephone gateway, alongside national law firm Simpson Millar. He supervises six regular caseworkers undertaking education law and associated discrimination law matters.
He has identified a growing trend where local authorities cease supporting young people once they finish school, arguing they will no longer benefit from an educational programme. But he argues: 'The whole point of extending EHCPs from the age of 19 to 25 is to avoid a young person being left at the cliff edge with no prospects or development plan.'
Imogen Jolley is head of Simpson Millar's education and community care team, which comprises 55 staff covering education, community care and Court of Protection work. The team acts solely for individuals, mainly against local authorities, and 80% of its work involves SEN issues.
'The vast majority of local authorities are using EHCPs to cut provision from what was in a child's SEN statement,' she says. 'There appears to be greater use of generic approaches so there is less consideration of the child's individual needs. I was also told by one council that its policy is only to issue plans that don't accrue any additional funding.'
She describes a recent case of a child receiving applied behaviour analysis, an intensive one-to-one therapy for managing challenging behaviour. She acknowledges it is a divisive therapy but says it appears to be working for this child and the local authority is giving the parent a personal budget to fund it.
'However,' she says, 'the authority refuses point blank to put it in the EHCP to avoid setting any precedent over funding for this type of therapy, which leaves the family in a precarious position. This is the kind of argument going on, where local authorities are looking for a back way to put in place unlawful arrangements and stop clients going to a tribunal.'
Jolley believes EHCPs can be an improvement 'if everyone embraces this as a way of having more open engagement between different agencies and a much more holistic approach. But what is happening in practice at a time of austerity is appalling'.
Barrister Steve Broach, of Monckton Chambers, says central government has not resourced the process properly and councils are 'culpable' because they have not taken the issue of transitioning children into the new plans seriously enough. This has led to some authorities, he says, doing 'rubbish transfers – paper exercises which are contracted out to private providers who are paid a pittance. Some are not worth the paper they are written on'.
At national law firm Irwin Mitchell, the education team is split into two, with one group acting for schools and colleges and the other for parents and young people. Solicitor Steven Baylis specialises in SEN issues. 'This isn't an area to dabble in,' he stresses.
'While it isn't an over-legalistic process, it has become increasingly contentious between local authorities and parents as budgets get squeezed.'
EHCPs which are done properly, he says, are an improvement and it is positive they cover young people up to 25. But he has had to raise concerns over the way some are drafted which are not compliant with the law.
The next major development is a national two-year trial which will expand the powers of the first-tier tribunals to make recommendations about the health and social care elements of plans drawn up after 1 April.
Broach, who worked in the charity sector before being called to the bar, says one of the 'absurd things' about the new system is that the gateway to an appeal can only be an educational issue. 'The government's answer was to give tribunals the power to make recommendations on the health and social care elements,' he says. 'But are the tribunals equipped to deal with these elements, as these are very different issues to grapple with? And are local authorities going to respond positively to recommendations which are non-binding? If they don't, then the process won't be effective and the remedy will remain a judicial review.'
Simpson Millar's Jolley says it would have been helpful to have had joint training with the tribunals and councils so everyone knew what is expected of them.
Judge Jane McConnell, the lead judge for the SEND tribunals, is known for two catchphrases which highlight the complexity of the issues: 'local authority policies do not trump the law' and 'know the law and apply the law'.
But there has been growing unease about councils' determination to fight parents at tribunals. This flared up in 2016 when Milton Keynes law firm Baker Small, which acted for councils, posted flippant online comments about 'winning' appeals (see box, p16).
As one tribunal panel representative noted in an education research report last year: 'We can see the same LA over and over again but we can't say, "Stop it!'' It's a numbers game for some LAs.'
'There is a degree to which local authorities are quite cynical about this,' Broach says. 'An LA may make a number of negative decisions in refusing to assess children. If only two out of 10 challenge those decisions and the authority caves in the day before or is ordered by a tribunal to carry out an assessment, that is collateral damage and it has saved the cost of the eight that weren't challenged.'
But he also acknowledges that there are cases where the provision parents want could potentially cost huge amounts. 'The local authority can't just sign a blank cheque because it has a fiduciary duty to taxpayers,' he says. 'However, what concerns me is that the authority can instruct a barrister with 15 years' experience to argue their case and the parent is expected to do it on their own.'
Ed Duff, former practice manager at Coram CLC, is senior associate solicitor with Cardiff-based HCB Widdows Mason, part of the HCB network of 24 offices. The group's education practice, which covers both England and Wales, is run from Cardiff and Bedford. Its five solicitors are in tribunals at least once a week, all running 60/70 appeals at a time.
Duff says the costs of challenging councils can be 'astronomical. I have heard some ridiculous fees of £20,000-plus. We keep costs to £6,000-£10,000 per appeal'.
Legal aid is only available through the telephone gateway, which last year received 3,991 calls, referring 1,878 to Coram CLC and Simpson Millar. Only one case was referred for a face-to-face interview; the rest were done via telephone, email, Skype and conference calls. To obtain legal representation at a First-tier Tribunal, an appellant would need exceptional case funding. Only five applications have been made since 2013 and none were granted. Legal representation for Upper Tribunal appeals is in scope for funding, subject to means and merits tests, with nine certificates issued in 2016/17.
A Ministry of Justice spokesperson confirms it is conducting a full review of the legal aid reforms, including the telephone gateway service, and will report back later this year. She says the procurement process for the new contracts was cancelled due to a 'lack of compliant tenders', though she could not give any more details because this is 'commercially sensitive'. However, she stresses: 'We will ensure people can still access these services after 1 September and will set out our approach shortly.'
Simpson Millar has 15 paralegals based in Lancaster solely working on cases referred by the telephone gateway. In the vast majority of cases, Jolley says the parent or young person then has to self-represent at the tribunal, though the firm offers very reduced rates for paralegals to help them or, if there is capacity, will represent them pro bono.
She cannot go into details about what happens next as the firm is in negotiations with the LAA. But she says there is enough time to plan and they are flexible, having coped with two providers dropping out during the last contract.
At Coram CLC, 99% of work is legally aided. But it also has some charitable funds from Children in Need. The latter proved vital in the case of Mr C (on behalf of AB) v X Council. Sheikh explains: 'We used those funds to pay for barrister Mark Greaves, from Old Square Chambers, and an expert to attend the tribunal. Without a barrister, there is no way Mr C, with no legal training, would have been able to navigate the complex arguments around a "waking day" curriculum or go through the experts' findings and the LA evidence.'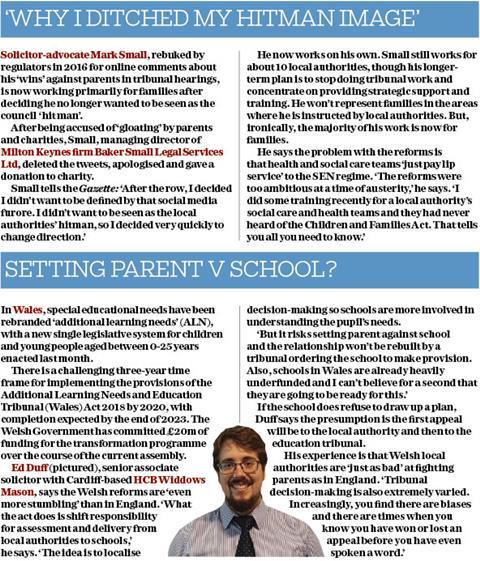 Katy Watts, a solicitor with the Public Law Project, says the MoJ should abandon the mandatory telephone gateway, which is a 'barrier' to access to justice, and increase the scope of legal aid.
There are independent advice bodies such as IPSEA (Independent Parental Special Education Advice). Chief executive Ali Fiddy says demand for its services, which include a helpline, casework support and representation at tribunals from volunteers, has increased by 56% since the 2014 reforms.
'Our advice services are delivered by a national network of around 200 highly-trained volunteers, supervised and supported by IPSEA's six legal team members,' she says. 'If LAs understood and applied the law correctly, demand for our services wouldn't be so great. But we know that parents can't always get a helpline appointment and we can't take on all of the cases that we're approached about without more volunteers and funding.'
IPSEA is developing a protocol for working with law firms in which their lawyers will build up their pro-bono work with IPSEA. So far the body is working with two law firms and four solicitors.
Another area causing concern for practitioners is mediation. Clients have to consider mediation before they can appeal to a tribunal. But approaches can be inconsistent and depend on the local authority representative having the power to make decisions.
Broach says parents are often asked to 'mediate away' their children's rights. 'The parent may be asking for an hour a week speech and language therapy and the authority may say "how about we pay for an hour a month and you won't have to go to a tribunal'',' he says. 'Understandably some will feel they can't face a tribunal, so they accept. But if you have an expert report saying the child needs an hour a week, the tribunal is likely to order that.'
For Irwin Mitchell's Baylis, another critical area for challenge is councils' home to school transport policies for young people, particularly in transition years post-16 and post-19.
The DfE is reviewing its guidance after a report by Contact, the charity for families with disabled children, found that half of local school transport polices in England included unlawful statements.
The LGA's Watts welcomes the review, warning that the duties of councils in this 'priority' area are 'significantly underfunded'.
So, while the government talks about putting families 'at the heart' of the reforms, the reality for many involves hugely costly and emotionally exhausting battles.
Grania Langdon-Down is a freelance journalist