Small practices are the 'backbone' of the UK legal profession, states Law Society president Christina Blacklaws in her opening address to this year's Small Firms Division annual conference in London (there is a parallel conference in Leeds).
THE LOWDOWN
Do you dazzle your clients with wit and erudition when you should be more interested in what it is they actually want? Do you understand that pricing your services is a frame of mind and can be addressed in more than 20 different ways? And can you simultaneously operate as a technician, a manager and entrepreneur? These and many other urgent questions were addressed at this annual conference of the Law Society's Small Firms Division, held at Chancery Lane. Deeply woven into their local communities, 'high-street' firms are the backbone of the solicitors profession, comprising four-fifths of all law firms. Their demise has been confidently predicted for years, yet local practitioners continue to adapt with aplomb to a working environment that never seems to get any easier.
Their offices are on the high street. They sponsor local sports teams and events. Their names are woven into communities. It is no surprise, then, that it is to them that most consumers turn when in occasional need of legal services, such as when buying a house, writing a will, going through a divorce or having employment problems at work.
Local businesses similarly gravitate towards small firms, where they meet face-to-face with legal advisers who know their needs and history – and charge less than larger corporate firms.
Future uncertain
'Small firms are a crucial element of UK law's success,' Blacklaws adds. 'There are more than 8,000 small firms, ranging in size from sole practitioners to four partners, in England and Wales. That is around 80% of all firms. And yet their future is uncertain as they face increased regulatory challenges, cyber threats and competition from unregulated bodies.' She ends on an optimistic note: today's conference will help delegates address these problems.
Business coach Tim Browne gives the keynote address, Selling the Invisible. He begins by inviting delegates to sell their mobile telephone to the person on their left. The auditorium descends into a babble of voices extolling the virtues of a device that not only makes and receives calls and texts, but also transforms into a camera, calculator or recording device.
The business coach stops us. 'I've been watching you,' he says, in Big Brother Browne alliterative mode, 'and the vendors are doing all the talking. How many of you asked your prospective customer what he or she wants out of a new telephone and then explained how your phone will meet their expectations?'
Managing expectations
None of the delegates had done this, which, like Browne's next question, is food for thought. 'Are you interesting or interested?' He means that it is tempting to dazzle clients with your wit and erudition – to be 'interesting' – when you should rather be 'interested' in what outcome they want from the matter they have brought to you. How else can you manage their expectations? The old salesman's adage that you have one mouth and two ears and should use them proportionately comes to mind.
Browne next asks delegates to define their role in their own businesses. 'Just because you understand the technical work of your [law firm] business, doesn't necessarily mean you understand the business that does the technical work.' Running a small firm, he observes, means at times being a technician, at other times a manager and at still other times an entrepreneur. 'How many of you block out time in your diary to be a manager?'
He goes on: 'And anyway, what business are you in?' Delegates reply variously that they are in the business of providing opportunity, peace of mind, redemption or access to justice. Browne persists: 'But what are the reasons that clients come to you? Are you explicit about the value you provide?'
He concludes with an acquaintance's argument for not 'racing to the bottom' on pricing. 'I could do the job for half the price,' the acquaintance is alleged to have told a penny-pinching client, 'but I don't know what parts of my experience and knowledge you would like me to leave out.' And there we have a masterclass in selling the invisible.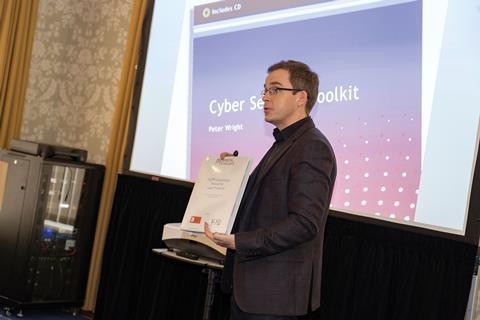 'AHEAD OF THE GAME' ON GDPR
The Gazette also caught up with Peter Wright, DigitalLawUK managing director, who delivered a presentation on the General Data Protection Regulation.
GDPR standardises personal data protection law across all 28 EU member states (of which the UK is still one) and imposes strict – and enforceable – rules on the controlling and processing of that data. It came into force on 25 May 2018.
Wright says: 'Small firms can't afford to throw a big budget at data security. What is important is that they can demonstrate compliance by showing the regulators that they are aware of the challenges and have the appropriate processes in place. Private client and conveyancing practitioners are particularly vulnerable to data theft because they handle large sums of money. In the event of a breach, they should tell their clients and keep updating them.
'On a more positive note, the legal services sector, compared with other sectors, is ahead of the game with GDPR. This is probably because we have, out of necessity, got used to a high degree of regulation.'
Price transparency
A dual presentation from the Law Society and the Solicitors Regulation Authority next gives delegates an update on the new rules on price transparency with which they should comply by December this year.
The Society's head of regulatory affairs Paul Wilson cites the Competition and Markets Authority (CMA) 2016 legal services study that found: 'The legal services sector is not working well for individual consumers and small businesses.' He adds that an SRA 2017 consultation endorsed the CMA's findings, saying: 'Without accessible information, competition in the legal market is restricted and purchasers are at a disadvantage.'
Accordingly, delegates hear, law firms are required to put additional information on their websites that gives clarity on pricing, and is accessible and easy to understand. The Society, Wilson says, is to support members' amendments to their websites with information and guidance, publications, training and events.
SRA director of regulatory policy Chris Handford introduces the 'regulated by the SRA' digital badge, which looks like a rosette and informs potential clients of the protections that apply when using a regulated firm. The price information required on websites by December 2018, he tells us, should cover: total cost, average cost or range of costs; the basis for fees, such as hourly or fixed fees; description and cost of likely disbursements; and whether clients are expected to pay any fees when offered conditional fees and damages-based agreements.
Pricing is a skill. It demands that professionals stop undervaluing their worth. And it is having the confidence to say we're not the cheapest but we'll do an excellent job

Richard Allen, Burcher Jennings

Furthermore, websites should tell consumers the experience and qualifications of anyone carrying out the work; the key stages and likely timescales of the matter in hand; and details of internal complaints procedures and how complaints can be made to the Legal Services Ombudsman.
Unsurprisingly, some disquiet is expressed from the floor. 'We are lawyers, not website designers,' is one delegate's typical response. 'How can we make these changes in just a few months? How much is it going to cost us?' Another points out that each matter is different and so how do you predict with confidence the likely cost? And what happens when there is 'mission creep' and clients keep asking for more? Firms need not worry, insists Handford. Price and information guidance, and templates are 'to be published shortly'.
Solicitor and co-author of How to be an Ethical Solicitor Mena Ruparel now takes the podium. She, too, has news of forthcoming changes, in this instance changes scheduled for April 2019 to the present regime of outcomes-focused regulation. Regulation, we are told, is to become 'much more ethics-based'. Ruparel says: 'Ethics are the moral principles that govern a person's behaviour or the conducting of an activity… (but) there is currently little or no ethics training post- qualification.'
Ethical issues
It is left to the individual practitioner, according to the SRA's statement of solicitor competence, 'to act honestly and with integrity… recognising ethical issues and exercising effective judgement in addressing them (and) understanding and applying the ethical concepts which govern their role and behaviour as a lawyer'.
This is all somewhat abstract. Are your 'moral principles' the same as mine? Are we allowed any degree of latitude when considering the ethical approach to a problem? Does the milk of human kindness have a role to play? Ruparel reminds us that the Law Society has an ethics helpline. She also gives us a useful checklist: 'If someone suggests something that violates your common sense, don't do it. If you wouldn't want a judge to see your correspondence, don't write it. If you would be embarrassed for your loved ones to hear your opinions, don't say it. If you aren't sure what to do about an ethical situation, get a second opinion. And if you are trying to justify a course of action you have chosen, think again. Justification usually means you know the action isn't legitimate.'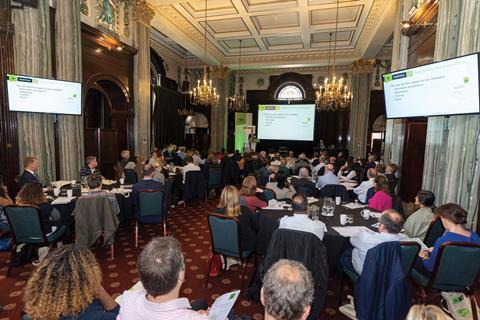 This, along with seeking help from your firm's Compliance Officer for Legal Practice, the Law Society's Practice Advice Service or the SRA's ethics chat box, is sound advice.
Richard Allen, a senior consultant at law firm pricing consultancy Burcher Jennings, effortlessly seizes our attention at the beginning of a breakout session with: 'We exist to help you make more money.' That's no way to start an argument, but talk is cheap. How exactly is he going to help us achieve this? 'By giving you the confidence,' he says, 'to adopt a more sophisticated approach to pricing.'
Sophisticated approach
Allen points to 'countless market-based research reports' that demonstrate 'unequivocally' that a 5-15% increase in turnover is 'readily achievable using a more sophisticated approach to pricing'. And increased turnover, he states, leads to a disproportionately high increase in profits.
So what is a 'more sophisticated approach'? Allen says: 'First of all, it is recognising that pricing is a skill, a frame of mind. It demands that professionals stop undervaluing their worth. And it is having the confidence to say we're not the cheapest, but we'll do an excellent job. It is also accepting that losing clients and rejecting pitch invitations can be good for the bottom line – because some work just never pays.'
Choice is 'paramount', he continues, and we shouldn't just offer clients hourly billing, take it or leave it. He lists 20 billing options, including hourly rates, and suggests bespoke pricing models for each client depending upon the matter in hand. 'It's a huge challenge for law firms,' he concedes. 'Firms are like oil tankers, not speed boats, when it comes to turning them around.'
Vanessa Ugatti draws the conference to a close with How to Charge What You're Worth and Get It. Like Richard Allen before her, she dangles the alluring prospect of 'making more money', but with the added refinement of also finding the 'time and freedom' to do the things you want to do outside work. 'Unless you're motivated by stress or pain and enjoy it,' she says, 'you need to recognise your true self-worth and charge more accordingly.'
Deserved reward
She gives the analogy of learning to drive a car. At first, you are overwhelmed by the need simultaneously to steer, change gear, look in the rear view mirror, use the indicators and get safely from A to B. With time, however, it becomes second nature and you find you can do – without thinking about it – what seemed impossibly complicated before.
'You have become unconsciously competent,' she states. 'The same applies to your legal expertise. You take your training and experience for granted, but in reality you are doing something that few others can do – and you deserve to be rewarded for it.'
She relates an anecdote about an engineer who is called into a factory because a piece of plant has broken down and it is costing the business £10,000 a day. After five minutes, the engineer hits the machine with a hammer and it springs back to life. The following day, his invoice for £2,000 arrives on the factory manager's desk. When asked to justify his charging, he responds that it was £50 for hitting the machine with his hammer and £1,950 for all the years he has spent learning where to hit it.
Ugatti concludes: 'Your clients will only really value you when you value yourself. Understand your own value by reflecting deeply on your expertise – this is not a five-minute job. Become a master at understanding your clients' needs. And increase your self-worth with 100% confidence.'
The Law Society's Small Firms Division offers a shared community to take advantage of expertise in marketing, business development, tax and accountancy, as well as news, campaigns and changes in regulation affecting small firms and sole practitioners. For more details go to https://tinyurl.com/Lawsmallfirms