Bach Commission vice-chair and former judge Sir Henry Brooke has demanded action to reverse assaults on the criminal justice system, claiming the 'liberties of England are at risk' because of cuts in funding.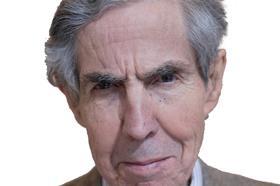 Writing for the Criminal Bar Association's weekly message, Brooke says 'few are opting to become criminal defence lawyers'. According to Brooke, in one case last week nobody could be found to prosecute in a three-day appeal to the Crown court because the fee on offer was 'so miserly'.
The former Lord Justice of Appeal urged people to get to know the findings of the Bach Commission's report and said CBA members should 'do all they can' to get its message across.
In September the Bach commission's report proposed a Right to Justice Act, which would codify and supplement existing rights and establish a new right for individuals to receive reasonable legal assistance, without costs they cannot afford.
Explaining his findings when preparing the report, Brooke wrote: 'Although I had heard talk of how much things had deteriorated, some of the evidence we heard was a complete eye-opener.' He added that research studies found that interviewees had witnessed unrepresented defendants not understanding what they were charged with, pleading guilty when they would have been advised not to and receiving tougher sentences because they did not know how to mitigate.
Criminal justice is particularly topical now, Brooke wrote, given the imminence of the government's announcement about the future structure of the Advocates' Graduated Fee Scheme (AGFS).
Brooke wrote: 'I do not know enough about AGFS to make any useful comment except to say that it is clearly high time it was reformed in the light of experience, and that new money must be introduced.
'Seen in isolation, more money for lawyers is not a cause with which to rally the troops, but something has to be done to reverse the assault on a system of criminal justice that was once the envy of the world. This is not about money for lawyers. It is the liberties of England that are at risk.'
Justice stalwart Sir Henry Brooke dies at 81
1

2

Currently reading

'Liberties of England at risk' without more money for lawyers, warns former appeal judge

3

4

5

6

7

8