Lawtech is flavour of the month, but innovators face confusion over regulation and lack of access to data. The government-backed Lawtech Sandbox can help – but its own future is uncertain
When entrepreneur Danae Shell set up Valla, an online tool to help ordinary people handle employment grievances, she knew she would need to talk to legal regulators. But then came an 'eye-opening' discovery – there was no easy way to find out which ones were relevant.
'We knew we had to talk to the Solicitors Regulation Authority, but as it unfolded we learned about claims management regulation as well,' she said last week. For Valla's business model, which involves introducing clients to legal representatives, claims management compliance is essential.
Luckily, Valla was one of eight businesses to have the chance to test out processes and systems in the latest iteration of the Lawtech Sandbox, set up under the government-funded LawtechUK initiative.
A sandbox, in technology circles, is a ring-fenced virtual environment where innovations can be tested to destruction without putting lives or money at risk. (The term presumably originated with the military practice of modelling battlefields in, literally, a sandbox.) The lawtech version went live last year, giving innovators access to data and expert mentors as well as regulators. Valla was one of the eight members of the second cohort of users, who reported their experiences in a virtual showcase event last week.
The event heard that, for all the fashionable enthusiasm around lawtech, digital innovators face unnecessary barriers. For example Shell pointed out that startup funders are not impressed by regulatory dithering. 'As a venture-backed business we have a very short window in which we can test our model,' she said. 'We need very clear answers and need them very quickly.'
This need not mean putting clients at risk. 'We would accept any oversight, any supervision, in exchange for freedom to operate,' she said. 'What would kill us is having to stop execution while we wait.'
Former SRA director Crispin Passmore offered an intriguing possibility for simplification: 'I wonder if its time to consolidate to a single professional services regulator, with a single point of entry?', he mused. But for the meantime, his advice is to learn to live with ambiguity. 'Ambiguity can be your friend, it opens up small windows you can drive a tank through.'
Another barrier highlighted at the event is access to real-world data – contracts, litigation paperwork and court decisions. Such material is essential for training machine-learning 'artificial intelligence' systems, but, perhaps understandably, custodians of these resources are reluctant to open them up, even anonymised. Another member of the cohort, document automation business Avvoka, went to the sandbox to test whether AI could help speed up law firms' adoption of automation. 'We found the technology is there but lack of data was holding us back,' said David Howorth, director. A particular obstacle is the reluctance of law firms to share their precious intellectual property.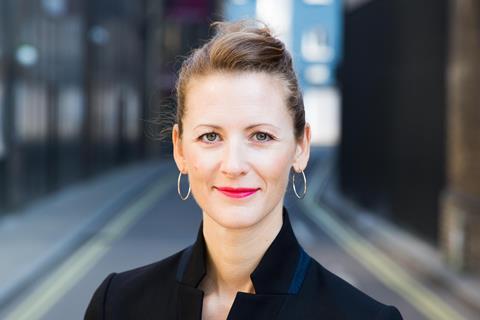 Here, Jenifer Swallow (pictured), head of LawtechUK, was able to report a breakthrough – and a dirty secret. She found in-house lawyers 'very willing' to share redacted contracts for AI training purposes. 'What was interesting when we received these documents, 95%-plus were exactly the same,' she said, accusing the profession of 'fake bespoke' work.
Bruce Braude, chief technology officer of Deloitte Legal, agreed that 'a lot is not bespoke IP' – but suggested that the obstacle is with clients. 'Even with data anonymised, they are still our clients' documents.' He suggested that more needs to be done to get consent from clients up-front for the re-use of data in this way, including possibly a cross-industry approach.
Access to third-party data will become increasingly important as the emphasis of lawtech innovators evolves from improving the efficiency of legal practices to offering services directly to clients.
But ironically, just as it is beginning to crack the problem, the LawtechUK initiative may be running out of time. Its funding is due to run out with the current spending cycle, on 31 March. It is understood that a decision on future allocations will be made in the next few weeks. This means the future of the sandbox is uncertain. Swallow told the Gazette it is still very much needed. 'It is clear there are no shortage of priority areas of focus for future cohorts, for example across themes such as risk, AI, SMEs, access to justice, the future of contracts.'
But for the moment, at least, the initiative seems to have a friend in government. Opening the showcase event, justice minister Lord Wolfson (David Wolfson QC) said: 'I'm passionate about lawtech because this seems to be the way forward for law. The time to join the lawtech train is now.'

News Editor